WASHINGTON ― Progressives wondering whether President Donald Trump will give any notice to their concerns hold out hope that his daughter Ivanka will intervene.
Sen. Kirsten Gillibrand (D-N.Y.), a longtime champion of paid family leave, on Tuesday reintroduced her Family Act, which would guarantee 12 weeks of paid family and medical leave for all workers.
The legislation, which proposes a universal paid leave program funded by a small payroll tax, failed to advance in the previous session of the Republican-led Congress, and likely faces the same fate under Trump.
But Gillibrand and Rep. Rosa DeLauro (D-Conn.), sponsor of a companion bill in the House, on Tuesday expressed optimism that the president would be receptive, in part because Ivanka Trump has spoken about the issue.
"I am hopeful that the administration will reach out to me and work with me on a national paid leave plan," Gillibrand said on a call with reporters.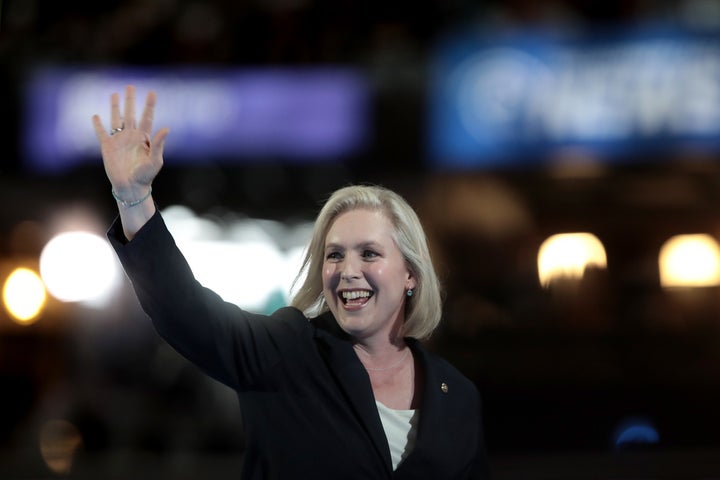 Trump's proposed paid leave plan, like most of his policy proposals, contains little substance and is limited in scope. It allows for six weeks of paid leave, and only applies to mothers.
"I am hopeful that the new administration will focus on it because they did run on it, they did talk about it, and it should be nonpartisan.

Sen. Kirsten Gillibrand (D-N.Y.)
"We'll wait to see what the dimensions of it, what the details are," DeLauro said of Trump's proposal. 
"I don't know when they will move forward with making a substantive proposal," she added. "We're waiting for them to join the debate. We're on the field.
The push for universal paid leave is growing, with state legislatures and businesses enacting more expansive plans.
Gillibrand said she hopes to gain bipartisan support because the issue affects everyone.
"Despite the fact that we don't have a Republican yet, I am optimistic that people will be demanding action on this issue, that people will rise up and say we need a national paid leave plan, and really call on their elected leaders to listen to the challenges that they're facing," Gillibrand said. "I am hopeful that the new administration will focus on it because they did run on it, they did talk about it, and it should be nonpartisan."
BEFORE YOU GO
PHOTO GALLERY
2017 Scenes From Congress & Capitol Hill