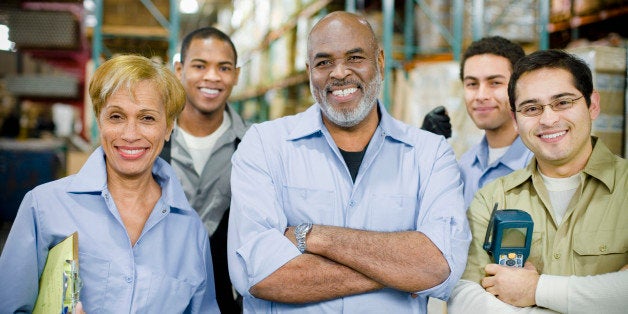 The announcement that White House Senior Advisor Valerie Jarrett and U.S. Secretary of Labor Thomas Perez will soon kick off a historic 'Lead On Leave' tour is exciting news that comes amidst strong, widespread demand and support for paid leave.* And the announcement by Microsoft that it will require many of its suppliers to offer a minimum standard of paid leave to their employees, is very welcome and meaningful progress that demonstrates that employer and employee interests are aligned. We heartily applaud both new initiatives. As a nation, we are primed and ready for 21st century leave policies.
Employers like Microsoft and others that have made similar policy changes recently are helping lead the way. Earlier this month, Vodafone announced a new global paid maternity policy. Change.org made headlines for establishing an 18-week parental leave policy last year. And large and small companies have come out in support of paid leave standards, including Care.com. These companies are leading on leave and taking critical steps that pave the way for the national policy standards the country needs.
States and cities have long been leading on leave as well. Three states -- California, New Jersey and Rhode Island -- have paid family leave programs in place, and Hawaii and New York join them in also having temporary disability insurance programs that provide paid medical leave. Twenty-one jurisdictions have, or will soon have, paid sick days laws. And several other states and cities have already taken steps this year to do the same. The momentum around these policies is undeniable.
At the federal level, the Obama administration has taken major steps to advance paid leave and paid sick days. In addition to this new tour, the administration has expanded federal employees' access to paid sick time that can be used for caregiving purposes, dedicated and proposed funding to help states advance paid leave policies of their own, and urged Congress to take action on both paid sick days and paid leave.
Members of Congress have also reintroduced the Healthy Families Act, which would set a national paid sick days standard, and the Family And Medical Insurance Leave (FAMILY) Act, which would establish a national paid family and medical leave insurance program modeled on the successful programs in California, New Jersey and Rhode Island. These proposals are sound, tested and ready for approval.
And voters across party and demographic lines have shown time and again that they want these common sense policies. In the November 2014 election, voters in Massachusetts and three cities approved paid sick days laws, following in the footsteps of voters in several other cities. And in a national election poll, 81 percent of voters said it is important for lawmakers to consider new laws like paid sick days and a family and medical leave insurance system. People know these policies are good for them, their families, communities and the economy.
It's clear that America's families, lawmakers and employers are ready for action to advance paid sick days and paid leave policies. And the administration's new effort, combined with continued progress in jurisdictions and at individual companies, will make that even clearer. At the National Partnership, we look forward to building on this moment and momentum to help workers, lawmakers and employers more quickly secure the inevitable future progress we all need.
* Note: Paid family and medical leave and paid sick days are distinct policies. Paid family and medical leave or "paid leave" refers to longer periods of time off - partially or fully paid - taken for a personal serious illness or medical condition, including pregnancy or childbirth, or to care for a family member with a serious health condition. Some employers provide this leave. In addition, workers in three states have access to paid family and medical leave through state-administered programs funded through employee and/or employee-and-employer contributions. Paid sick time or "paid sick days" refers to shorter periods of time off - fully paid - that workers can take to recover from common short-term illnesses or health issues, such as the flu, or for preventive care. The most effective paid sick days policies allow workers to use this time to care for a sick child or loved one.
Related
Popular in the Community