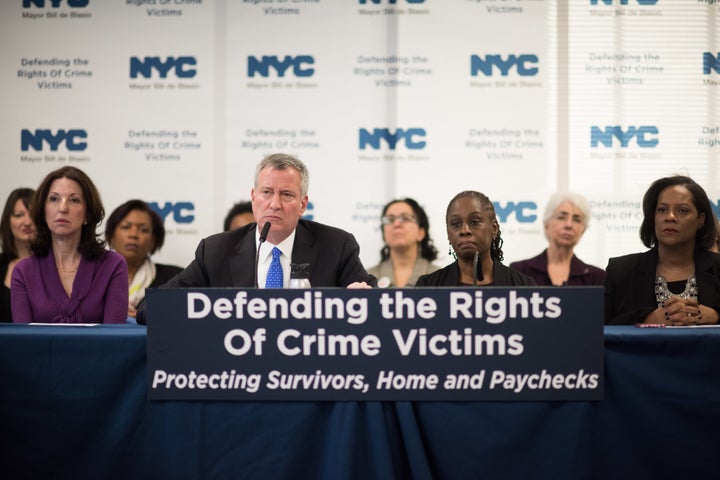 Victims of domestic violence in New York City may soon benefit from paid "safe leave" if they need time off from work to seek services related to the abuse.
The proposed legislation, introduced on Wednesday by New York City Mayor Bill de Blasio and NYC Council Member Julissa Ferreras-Copeland, would allow domestic violence survivors to take paid leave to attend to their safety needs ― without the scary prospect of losing their job.
"No woman should have to decide between her safety and her paycheck," de Blasio said at a press conference announcing the measure. "We need to make sure that work will be protected, not interrupted; that pay will be protected, not interrupted while a woman pursues justice ― while she takes care of things she needs to ensure her safety."
He added that on average, the New York Police Department receives one domestic violence report every 2 minutes.
"That is an unacceptable state of affairs in the greatest city in the world, and we aim to change it," he said.
The Paid Safe Leave legislation would amend the current paid sick leave law, which requires that some businesses provide up to five paid days off each year for workers to use if they or their family members fall ill.
Under the new legislation, victims could use those five days as paid safe leave to seek medical help, file an order of protection, meet with law enforcement or an attorney, relocate, enroll a child in a new school, or access other related services.
While it's well understood how domestic violence negatively affects a victim's physical and mental health, abuse can also take a significant toll on a person's financial security.
Marium Durrani, public policy attorney at the National Network to End Domestic Violence, noted that personal safety and economic security are tightly linked.
"For many victims, inability to provide financially for themselves or their families is a reason for staying or returning to an abusive relationship," she said.
Currently, five states ― California, Connecticut, Massachusetts, Oregon, and Vermont ― and Washington, D.C., have laws requiring employers to provide paid safe leave to employees if they are victims of domestic violence. A growing number of municipalities and counties also offer paid time off for victims.
Other states have laws that protect victims of domestic violence from losing their job or being penalized if they need to take time off from work to deal with matters related to domestic violence, such as appearing in court.
"Unfortunately, the majority of states do not offer paid leave for victims of domestic violence," Durrani said. "Victims of domestic violence face a difficult choice every day ― take time off to stay safe or lose a paycheck or their job."
Linda A. Seabrook, general counsel at Futures Without Violence, a nonprofit that has helped organizations across the country address how domestic violence affects their workforces, called the legislation a crucial step in the right direction. But she said there's lots more that employers can do.
"Work is a huge part of our lives — we spend more time working than any other waking activity — and at the same time, millions of women are victims of domestic violence, sexual violence, and stalking each year," she said. "If we don't deal with these issues in workplaces, we're missing a major opportunity to help women move from victims to survivors."
She said all employers should take proactive steps, such as offering prevention and awareness education, referrals for services and flexible leave policies.
"For victims of domestic violence, the workplace can represent a place of safety ― away from the violence experienced at home," Seabrook said. "An employer having policies in place, resources, and other support for a worker experiencing violence can literally save her life."
______
Melissa Jeltsen covers domestic violence and other issues related to women's health, safety and security. Tips? Feedback? Send an email or follow her on Twitter.
______
Related stories:
Popular in the Community