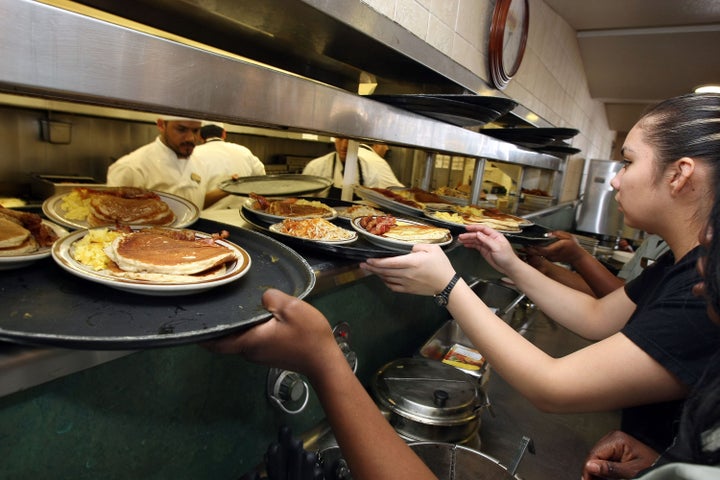 Voters in Denver, Colo., will head to the polls next week to decide whether or not the city's employers should be required to give workers paid sick days. Among the first of its kind in the country, the contentious ballot initiative has attracted plenty of attention from restaurant owners outside of Colorado -- and plenty of money, too.
The Washington-based National Restaurant Association, the formidable lobby for the nation's eateries, has poured $100,000 into a local effort to defeat the legislation known as Initiative 300, which is on a Nov. 1 ballot. If passed, the initiative would give employees one hour of paid sick leave for every 30 hours they work, capped at nine days for large businesses and five days for small ones.
Big out-of-state restaurant chains like KFC and Pizza Hut have also chipped in to the cause, making donations to a group called Keep Denver Competitive, which has raised more than $600,000 to fight the legislation through ad buys and canvassing. A competing group, Campaign for a Healthy Denver, has brought in $164,000 to support the initiative.
Why the national concern for a city ordinance that would affect 600,000 Coloradans? It has to do with both the cause and the method of the initiative.
Denver's is just the latest in a string of similar proposals pushed by labor and public-health groups around the country, including one signed into law in Connecticut earlier this year. Employers in industries with low-paid part-time workers are growing concerned that mandated paid sick days could become the norm rather than the exception, thanks to a raft of local legislation.
But a ballot initiative is particularly worrisome for business interests. Paid sick days are generally a popular idea with the public, and ballot initiatives can preempt mayors, governors and state legislators who've come out on the industry's side on workplace issues.
"Denver, in particular, is very problematic because they've gone to a ballot initiative," said Scott DeFife, executive vice president of policy and government affairs at the National Restaurant Association. "They've bypassed the city council, the mayor and all the local elected officials. If you want to have paid time off, going to a ballot initiative is the worst-case scenario for sound public policy."
DeFife added, "We're not really trying to debate whether workers in general should have time off when they're ill. This is about the specifics of the initiatives they've been advancing."
Worker and public-health advocates describe the sick-day initiative as commonsense legislation. Not having paid leave encourages non-salaried workers to come in sick, exacerbating their illness and spreading it to colleagues and customers, the argument goes. Proponents of the law argue that it's more important for restaurants than any other businesses, given that cooks and servers are handling food throughout the day. And that's why they're galled to see the restaurant industry fighting the Denver initiative so strongly, lambasting it as a costly job killer during an economic downturn.
"It would seem like the least logical group to oppose it," says Saru Jayaraman, co-founder of Restaurant Opportunities Center United, a national advocacy group for restaurant workers. "But they're neck and neck with retail as the largest growing industry with little unionization and little worker voice. That's resulted in a large lobby."
"They're putting a lot of money into Denver because they don't want to see [paid sick days] spread," she goes on. "But there's a lot of momentum and energy right now."
Among the supporters for Initiative 300 is Denver resident Laura Baker. Baker, 24, has been working part-time as a barista at Starbucks for more than a year, a job she says she enjoys very much. She's on the company's health plan but has no sick days. Though she doesn't like to admit it, she's gone into work sick at times and handled customers' drinks.
She feels guilty about it, but she says she can't afford to miss a day of work. If she doesn't work, she doesn't get paid.
"If I work an 8-hour shift I make about $65," Baker says. "That's enough to pay my utilities for an entire month, or groceries for a couple of weeks. It has a very real impact if I miss my shift."
"I care deeply about my customers," she adds. "It freaks me out to think I may be infecting them with what I have, but the reality is we have to survive. That means going to work sick." Baker says the economic downturn doesn't diminish the need for sick days so much as reinforce it, arguing that workers should be able to miss a day's work due to illness without worrying they'll be replaced. She says she's "appalled" by the restaurant industry's opposition to the law.
Keep Denver Competitive, the group campaigning against the Denver initiative, says on its website that the law would create "a mountain of red tape" for small businesses and "require a costly new city bureaucracy to oversee the program." "In Denver we care about people," the site reads. "That's why at first blush, the mandated paid sick leave policy in Initiative 300 may sound like a good idea. But read the fine print and you'll see that Initiative 300 is the wrong approach." The group did not respond to a request for comment.
The restaurant lobby isn't the only powerful voice opposing the initiative. Colorado Gov. John Hickenlooper (D), former Denver mayor and restaurant owner, flayed the initiative last month, telling an assembly of executives with the Economic Club of Colorado, "You could not pick a worse initiative at the present time. ... If anything, it's going to cost jobs."
Denver Mayor Michael Hancock went so far as to tape an advertisement opposing the initiative, saying it "may look harmless enough, ... but it will create a huge city bureaucracy, at the same time we're cutting services ... and cost thousands of jobs."
Of course, Hickenlooper and Hancock may have more to gain by opposing the measure than by supporting it. Voters will ultimately be the ones to decide whether or not the initiative goes into law, and if it does, the politicians can tell business leaders they did what they could to stop it.
But Erin Bennett, spokeswoman for the Campaign for a Healthy Denver, an advocacy group for women workers that's pushing the sick-day initiative, believes that voters will ultimately come out in favor of the law, regardless of what more influential parties may have to say.
"We've been talking with voters in Denver for 8 months," Bennett says. "We go door to door, around town, and it's just a commonsense issue. People get it."

Popular in the Community