The number of Americans with access to paid sick days increased dramatically in the past two years, the direct result of new laws mandating the benefit passed mostly by Democratic-controlled state and local governments on the West Coast and in the Northeast.
Sixty-eight percent of employees in the private sector now get paid sick days ― close to 79 million people ― an increase of 7 percentage points from 2015, according to data released by the Labor Department last week. Last year, 64 percent of workers had access to paid sick days.
"The jump in access is an enormous testament to work of advocates and lawmakers passing common-sense policies that obviously and clearly are shown to increase access to sick time," Vicki Shabo, vice president of the National Partnership for Women & Families, one of the groups pushing hard for the benefit. "And they've created ripple effect."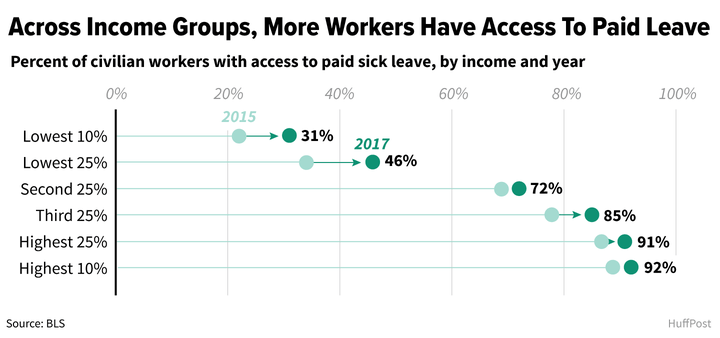 The push for paid sick time began with legislation in San Francisco in 2006 and Washington, D.C., in 2008. Connecticut was the first state to enact a law in 2011. About a year or so later, researchers at the Center for Economic and Policy found that the law had only a very modest impact on local businesses.
When other cities and states saw that businesses weren't adversely affected by the new laws, they went full-steam, Shabo said.
Over the past three years, six states and 27 municipalities ― mainly on the West Coast and the Northeast, with a sprinkling of cities in between ― have passed new sick-day legislation, including California, Massachusetts, Oregon, Pittsburgh and Chicago.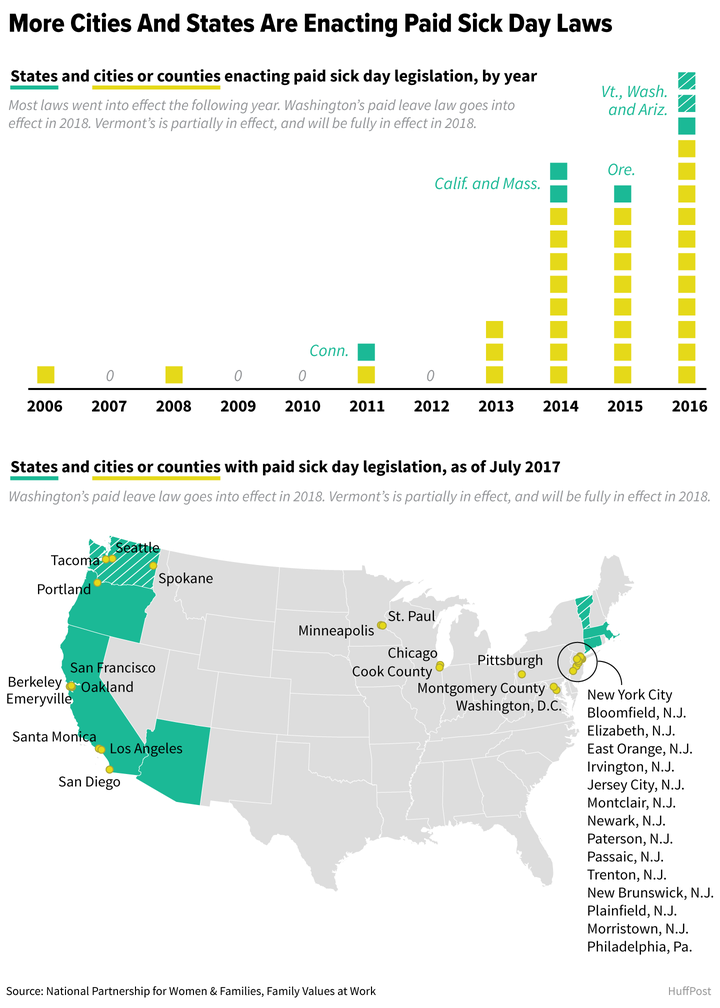 The new laws typically allow employees to "earn" an hour of sick time for every 30 hours worked, and cover workers who need to take off to care for a sick child or partner, and to visit the doctor.
The laws have mainly passed Democratic legislatures and city councils. In a few cases, voters approved the measures at the ballot box. The legislation has proven popular across party lines. In November, Arizona voters passed a new sick-day law ― and also elected Donald Trump president.
The increase in access to paid sick time was even more dramatic for low-wage workers. In 2015, just 31 percent of the lowest quartile of private-sector employees had access to paid sick days; in 2017, the number jumped to 43 percent.
The United States is the only developed economy that doesn't require employers to provide workers with paid time off when they're ill.
There's a lot of upside in increasing access to paid sick days. The flu rate would actually decline if the U.S. mandated sick leave, one study found.
For low-wage workers, missing just a day or two of work ― and pay ― due to an illness can be devastating.
Trump, who ran for office promising help for working Americans, hasn't said anything about sick time, but did include a provision for paid parental leave in his budget proposal. He's also let stand an Obama-era executive order that requires federal contractors to give workers paid sick time.
However, House Republicans are reportedly crafting legislation that would allow employers to skirt local paid leave laws, Shabo said. "We're worried about that."
Popular in the Community