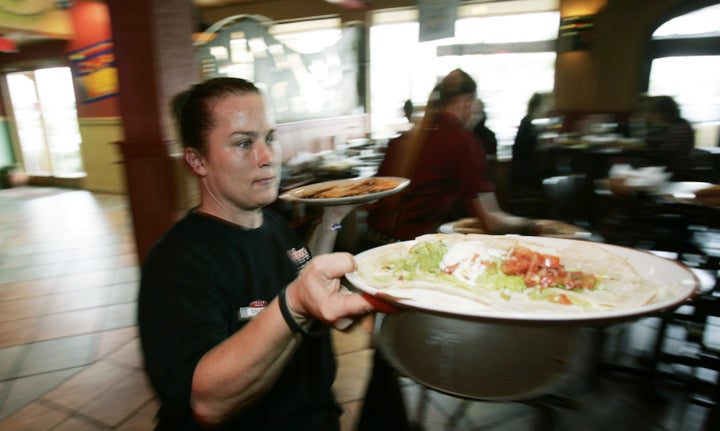 WASHINGTON -- Millions of American workers face an ugly choice when they fall ill: Either tough it out and head into work, or stay home and not get paid for the day. But in cities and states around the country, that's starting to change.
Perhaps as early as this week, Connecticut Gov. Dannel Malloy (D) is expected to sign a bill into law that would make his state the first in the country to require large employers to provide their workers with paid sick days. State legislators approved the bill Saturday after 11 hours of debate in the House and a narrow one-vote victory in the Senate back in May.
Later this week, the Philadelphia City Council will probably vote on a similar sick-day measure and the Seattle City Council will likely introduce one. On the state level, a group of Georgia legislators has brought forth a bill that would let workers use their sick time to care for family members who've fallen ill.
For people who are sick of working while sick, the passage of the bill in Connecticut marked a major victory.
"I think it's a big deal for our state and part of a trend in this country," said Jon Green, director of the Connecticut Working Families Party. "It's partly a matter of public health, and partly a matter of common sense and common decency. We all agree that employees should not have to choose between their health and their income."
Although many people don't realize it, employers aren't required to give their workers paid sick days unless local law mandates it. Local chambers of commerce and restaurant trade groups have strongly opposed such laws, including the one in Connecticut, which they claimed would burden small businesses and kill jobs.
The law in Connecticut will give service-industry employees who earn an hourly wage one paid sick hour for every 40 that they work. Even though it exempts businesses with less than 50 employees, House leader Larry Cafero (R-Norwalk) warned before the vote that passing the bill would be "the absolutely worst thing we could do" in a sluggish economy.
But worker advocacy groups say the impact on businesses' bottom lines will be either negligible or non-existent, while the boon to workers' quality of life and morale is considerable. The Drum Major Institute for Public Policy studied the impact of a paid sick-leave law in San Francisco and found "no evidence" that local businesses were hurt by it.
Advocates also say there are public health concerns to consider. According to Green, the workers who don't have paid sick days tend to be concentrated in "industries where you would least want people to come in sick": nursing homes, day care centers, and restaurants, among other areas. Many of the same workers also receive modest wages, making them more likely to work through their illness.
In Connecticut, paid sick days became an unlikely campaign issue last year for Malloy, now in his first term. Malloy had loudly supported such a measure on the campaign trail, while one of his Democratic competitors, Ned Lamont, had aligned himself with small-business concerns.
A spokesperson for Malloy, Colleen Flanagan, said the governor remained committed to the issue once he took office. "It's just one of those things he really does believe is good public policy," she said. "It makes little sense to have front-line workers coming in sick."
Among those who had testified in favor of the bill was Cheryl Folston, a former livery service driver from Newington, Conn., who ignored pains in her chest because she didn't have paid sick days to use for a doctor visit. It turned out she had a tumor in her chest.
"Working a job without paid sick days nearly cost me my life," Folston testified. "Sick or not, I went into work. Even if I had a cold or a flu or a stomach bug, I would be driving sick patients to the hospital and special needs kids to school. I couldn't afford to stay home." Folston didn't find out about the tumor until after she was laid off. She had surgery in December and is still recovering.
Currently, only three cities -- San Francisco, Washington, D.C., and Milwaukee -- have sick-day laws on the books, according to Ellen Bravo, executive director of Family Values at Work, a consortium of state groups that has made paid sick days its primary issue. In Milwaukee, the law remains contentious more than two years after it was passed, with business interests pressing lawmakers to roll it back. Wisconsin Gov. Scott Walker recently signed a bill into law that will prevent local municipalities from enacting such laws, pre-empting the Milwaukee ordinance.
Despite the heavy pushback from business groups, Bravo said she expects other municipalities to follow Connecticut's lead.
"Every time there's been an effort to pass some modest protections for workers, we've heard the same arguments," said Bravo. "But I think we're going to see a wave of this ... There are many people for whom basic fairness matters."