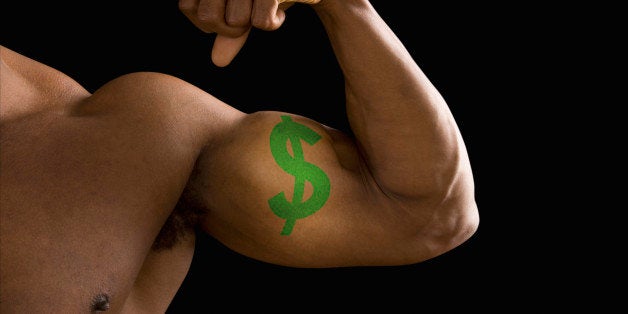 Two years ago, Cindy Palmer only visited her gym to use the tanning machine and get massages. Now, she works out three to five times a week, eats 16 or more servings of fruits and vegetables weekly and she logs into her food diary most days of the week. And she credits it all to Pact, an app that actually pays her every time she follows through on a commitment she made to her own health.
Palmer is one of over 500,000 people who have downloaded Pact, according to the company. But her new lifestyle isn't just about keeping slim and trim. The 30-year-old Palmer lives in Lawton, Okla. and was diagnosed last August with rheumatoid arthritis, an autoimmune disorder that causes joints to swell and become stiff. Her doctors didn't give her much advice when it came to caring for her joints except to prescribe pain medication. But because she was already steadily working out, Palmer quickly discovered that regular exercise was one of the only things that helped ease her joint pain.
"The pain medications I've been prescribed don't really do much on really horrible days," Palmer told The Huffington Post. "If I can find it in myself to go out and do 30 minutes on the elliptical, it actually helps more than pain medication would."
Initially launched in 2012 as "GymPact," the app was conceived as a way for users to keep themselves accountable with financial rewards and punishments. Users choose their own commitment levels (Palmer started out with one gym workout a week) as well as their own financial stakes. Last January, the app relaunched with its new name and added food logging capabilities and a new system to set healthy eating goals.
Pact users can prove their healthy behavior by "checking in" to certain locations like gyms or by uploading photos of their meals. Pact also syncs with popular health apps like RunKeeper, which records every run with a geolocator, or MyFitnessPal, a food diary.
Palmer's success rings true for mental skills coach Carrie Cheadle, author of the sports psychology book On Top Of Your Game. In an interview with HuffPost, Cheadle praised apps that provide financial incentives for healthy living, and noted that money and rewards can go a long way toward taking that first baby step toward a healthier lifestyle.
"One of the things we know through research is that knowing health risks is not enough to get people to change their behavior," says Cheadle. Extrinsic motivations, like money, may be the push that helps someone step outside his or her comfort zone for the first time, she explains.
Pact isn't the only financial incentive app out there. StickK is money optional, but also include things like studying, eliminating debt, getting to sleep earlier or helping others, in addition to the usual health goals. The app Earnedit rewards successful users with points, which they can cash in for rewards or donate to charity.
Financial incentives work, Cheadle explains, because the risk of financial loss can compel a person to pause before making the decision to sacrifice their long-term wish (to exercise regularly, for instance) for a short-term desire (like a few more minutes in bed). That pause can be enough to refocus people on their true goals instead of momentary desires, she says.
There is some research to show that financial incentives can be effective for those setting fitness goals -- at least in the short term. A 2009 study published in the journal Econometrica found that paying non-gym goers to exercise resulted in more trips to the gym and also helped participants improve health indicators like weight and waist size. Researchers found that even in the short term, after the sizable financial incentives stopped, participants continued to go to the gym.
But with longer-term behavior changes, financial incentives might not be quite as effective as they were in the beginning, and can even backfire, according to Cheadle.
Extrinsic rewards like money can be very effective at controlling behavior at first, but if enough time passes and a person still hasn't found their intrinsic motivation -- that force that comes from within -- a person could feel bored or even controlled by financial rewards for health.
"If they have no intrinsic motivation at all, [the lifestyle change] is not going to last for a very long time," says Cheadle. "If you feel like you're no longer in control because you're being forced to participate, [financial incentives] are no longer going to work."
Not all extrinsic motivation is financial. In a 2009 exercise study published in the International Journal of Sport and Exercise Psychology, researchers divided participants into a control group that had no goals, a second group that was given an "outcome" goal (to lose a certain amount of weight), and a third group that was given a "process" goal, which focused more on goals about how to exercise.
The researchers hypothesized that the "process" group would have more intrinsic motivation than the other groups. They found that the "process" group did indeed have significantly higher levels of adherence to exercise, while benefitting from feelings like enjoyment and choice, much more than the "outcome" and control groups.
More research needs to be done to establish how financial incentives can translate into lifetime behaviors, says Cheadle.
To date, Palmer has earned a little over $125 for making all her pacts and hasn't given up any money at all over a missed commitment. She sees herself using Pact "indefinitely," she says, despite the fact that she's discovered her own intrinsic motivation for exercise: managing joint pain.
To others thinking about trying Pact or a similar extrinsic motivator, Palmer says go for it. "Give it a shot," she says. "What do you have to lose? If you set one small goal for yourself and you achieve it, how great will it feel?"