A prominent Southern Baptist Church leader who is known to have made inappropriate comments about abuse and women's bodies was removed from his position early Wednesday after thousands of evangelical women signed a petition calling for his ouster.
Paige Patterson, formerly the head of the Southwestern Baptist Theological Seminary in Fort Worth, Texas, was demoted to president emeritus of the church after a 13-hour board meeting on Tuesday, according to a statement.
He will receive compensation for the position. The statement didn't refer specifically to his comments about women, but said the discussion about the new leadership direction focused on "challenges facing the institution, including those of enrollment, financial, leadership and institutional identity."
Dr. D. Jeffrey Bingham, dean of the School of Theology, was appointed as interim president. He currently serves as the vice president of the North American Patristics Society.
"We are shocked by the video that has surfaced showing Dr. Paige Patterson objectify a teenage girl and then suggest this as behavior that is biblical," the letter says.
"We are further grieved by the dangerous and unwise counsel given by Dr. Patterson to women in abusive situations. His recent remarks of clarification do not repudiate his unwise counsel in the past; nor has he offered explanation or repentance for inappropriate comments regarding a teenage girl, the unbiblical teaching he offered on the biblical meaning of womanhood in that objectification, and the inappropriate nature of his own observations of her body."
A 2000 audio clip resurfaced online recently in which he counseled physically abused wives to "pray through" the situation, stay in abusive relationships, "be submissive in every way" and try as hard as possible not to get divorced.
"I had a woman who was in a church that I served and she was being subject to some abuse and I told her, I said 'All right, I want you to do this every evening,' " Patterson said. "'Get down by your bed as you go to sleep, get down by the bed when you think he's just about asleep, pray and ask God to intervene.' I said, 'Get ready because he may get a little more violent when he discovers it.'"
He has also joked in the past about how everyone should "own at least one" woman and has spoken inappropriately about the body of a 16-year-old girl, defending the comments by claiming it's what the Bible says.
And he reportedly encouraged a woman who had been sexually assaulted not to go to the police and instead told her to forgive the assailant, the woman told The Washington Post.
Although some Southern Baptists have urged Patterson to resign, others have defended him. A petition defending him, which garnered almost 600 signatures, referred to the resurfacing of Patterson's past comments as "malicious attacks" and "wrong."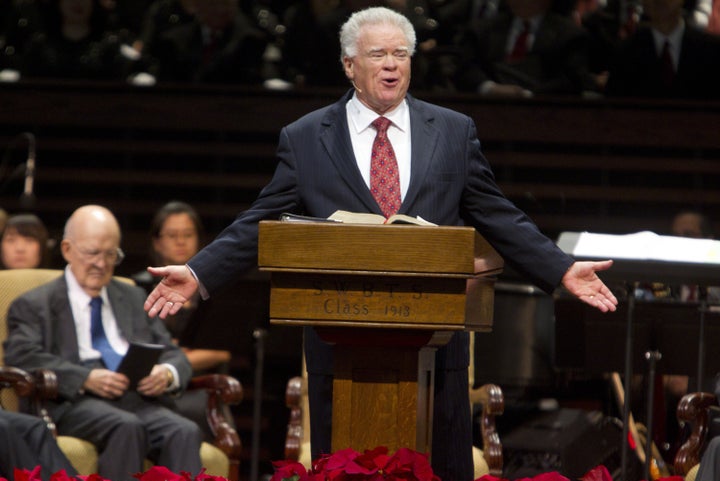 Related
Popular in the Community