I'm a Scot by origin. So in matters of culture the word "fringe" can mean only one thing. That would be Edinburgh, evoking in part the annual international festival there, but even more its huge and much livelier attendant program of fringe events.
In fact, the attendant has now vastly overtaken the one-time principal player, and it is Edinburgh's Fringe that qualifies these days as the biggest arts festival in the world, with more than 3,000 shows taking place over three weeks.
Scotland's inimitable offering for 2015 is approaching its end (August 31st), and with its usual chutzpah my adopted hometown of New York has started its annual attempt at emulation. There's no point, though, in trying to match Edinburgh's quantity. The New York International Fringe Festival mounts just under 200 theatrical shows in two weeks (from August 14th to 30th).
As for quality, New York has found itself unaccustomedly in the non-leading position held by Avis during the old car-rental wars, and consequently it has had to "try harder". And quite successfully, I'd say, since NYFringe has through its 28 years of existence become admired for providing "experimental, provocatively quirky and often hard-to-categorize performances", to quote the (partisan, just possibly partisan) local newspaper The New York Times.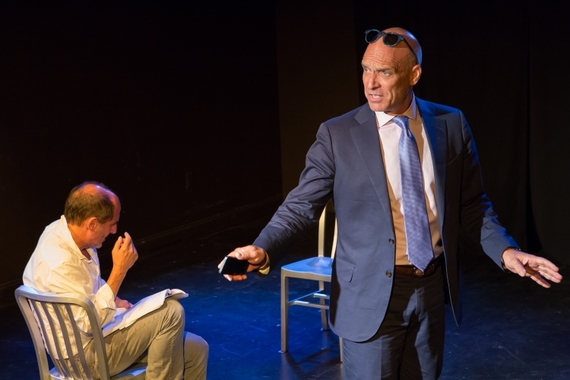 I've already been seriously impressed by one powerful example from NYFringe. It's "The Screenwriter Dies of his Own Free Will", a one-act, 2-character dramedy directed by Craig J. George and starring the redoubtable Steven Mark Friedman (pictured standing - Photo by Hunter Canning) and Jim Shankman, who authored the piece. Shankman's work is a familiar and perennially welcome part of NYFringe.
Friedman plays, adroitly and fiercely, a Hollywood producer who's doing his sincere - and insincere - best to fend off the eponymous screenwriter (Shankman, of course) who has brought along his probably last-ever movie script. The screenwriter is dying of cancer, and their negotiations or non-negotiations become an edgy battle of wills, and a contest between art and commerce, principled stands and tactical maneuvers, truthfulness and crafty manipulation.
The play is also deeply meta, in a deeply self-conscious way (of course), contriving to be about the writing of the play itself as much as anything else.
Each of us, it was claimed at one point, need a second, shadow-like mind, in which we can second-guess what we do and say with our first mind. And the joke is on us, since the play is second-guessing everything it puts before us as we watch it.
Friedman's character gets most of the best lines - given him by a generous Shankman. And he's no simple cartoon caricature straight out of the Chateau Marmont, such as you could probably expect in a low-budget, avant-garde theater. During one of several passages trying to claim he has a soul (kind-of), Friedman cries out at the audience, ridiculously and yet somehow totally believably, "I LIKE feeling human ..." before he slides into a sly diminuendo of "... once in while".
Some of the jokes are decidedly meta, or at the least very "in" for the off-off-Broadway crowd. Even before Friedman ever gets to speak, Shankman has the audience concentrate on the other man's brilliant white teeth. And those in the know will remember him well when Friedman finally does speak ... in the rich soothing baritone that this ever-versatile vocal actor employs for his very recognizable TV commercials for Crest toothpaste.
One remarkable achievement - for all the crackling wit of "The Screenwriter Dies ...", I saw audience members shedding tears, even at times when belly laughs were filling the auditorium. There are just a few more performances being staged, in the festival's 64 East 4th Street venue, before NYFringe closes next Sunday.
Read more of David Tereshchuk's media industry insights at his regular online column, The Media Beat at its new site. The Media Beat Podcasts are always available on demand from Connecticut's NPR station WHDD, and at iTunes.
Calling all HuffPost superfans!
Sign up for membership to become a founding member and help shape HuffPost's next chapter