As anyone who pulls up to a pump can tell you, the constant state of fluctuating gas prices can be aggravating. The price for a gallon of unleaded fuel can swing noticeably based on geopolitical unrest in the Middle East, the shut-down of an off-shore drilling rig or if it just so happens to be a holiday weekend.
Sometimes, the reasons given for hikes at the pump seem more like excuses -- a way to squeeze more money from consumers who have no choice but to pay so they can get back and forth to work. And with many Americans having to spend more with less, the need to wean ourselves off imported oil is once again at the forefront of the energy debate.
The case for increasing the use of alternative fuels is nothing new, but now it seems the energy industry is really trying to do something about it. One of our nation's biggest energy resources is natural gas and business is flourishing at both the consumer and commercial levels.
Compressed Natural Gas, or CNG, vehicles are becoming a more common sight on the road and commercial fleets are leading the charge. Public transportation has been using CNG for years with over 15 percent of all public transit buses running on compressed or liquefied natural gas.
Other major companies with significant transportation operations such as UPS and AT&T not only have long histories with this technology, they also forecast steady increases in the future. The benefits are clear. CNG generally costs 30 to 40 percent less than gasoline and it is a much cleaner burning fuel source, leaving a 25 percent smaller carbon footprint than gasoline.
Consumer use is also on the rise as more and more states offer tax credits and incentives to people who buy or convert vehicles to run on CNG. Auto manufacturers are doing a great job of educating customers about the value of this option and there is positive growth in the consumer infrastructure for CNG filling stations.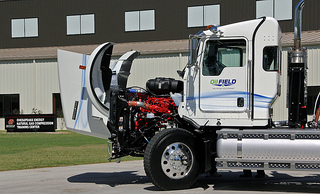 Of the 12 million CNG vehicles worldwide, about 250,000 are here in the United States, according to General Electric. In fact, Kenworth recently rolled out a new line of tractor trailers that run completely on CNG. Oklahoma State University Institute of Technology was privileged to have one on hand during the recent dedication ceremony of our new Natural Gas Compression Training Center.
The natural gas industry in this country foresees a large percentage of their employees retiring over the next decade, and with the unprecedented number of shale deposits now being explored, it's a perfect storm for job creation in this emerging industry. Energy companies like Chesapeake Energy, Devon Energy, ONEOK and Energy Transfer invested millions of dollars to get this new training facility constructed on our campus just so they could have a pipeline of skilled CNG workers to fill needed positions.
A little technical explanation if I may: As natural gas travels through miles and miles of interstate pipelines, it has to remain highly pressurized. In order to keep it at the correct level, natural gas must be compressed along the pipeline at compressor stations every 50 miles or so. This requires highly educated and experienced workers to manage the process and equipment properly. As natural gas consumption increases, and more and more pipelines and compression stations are constructed, the number of skilled technicians needed to keep CNG traveling safely across the country will also go up.
The new 24,000-square-foot facility at OSU Institute of Technology is a means to help fill some of that skilled worker gap. Our Natural Gas Compression program recently went from graduating about 40 students a year to close to 80. With the new facility, that number nearly doubles again to about 150 students a year.
As the President of OSUIT, I can't help but feel proud about what we are doing to assist the natural gas industry. I see our technician training program isn't just growing, it's flourishing. I see we've established great partnerships with companies who have workforce needs that we can fill. And I see graduates in the Natural Gas Compression program who already have jobs waiting for them.
It's simple supply and demand. It's also a great example of a significant industry trend requiring focused action by higher education. To be most effective, colleges and universities should be in tune with industry needs so they can produce talented graduates who excel in their careers right away. Better yet, educational institutions should have strong relationships with industry partners so they can actually place graduates into meaningful jobs immediately upon graduation.
I only hope our efforts with CNG training will eventually translate to less pain at the pump.
REAL LIFE. REAL NEWS. REAL VOICES.
Help us tell more of the stories that matter from voices that too often remain unheard.