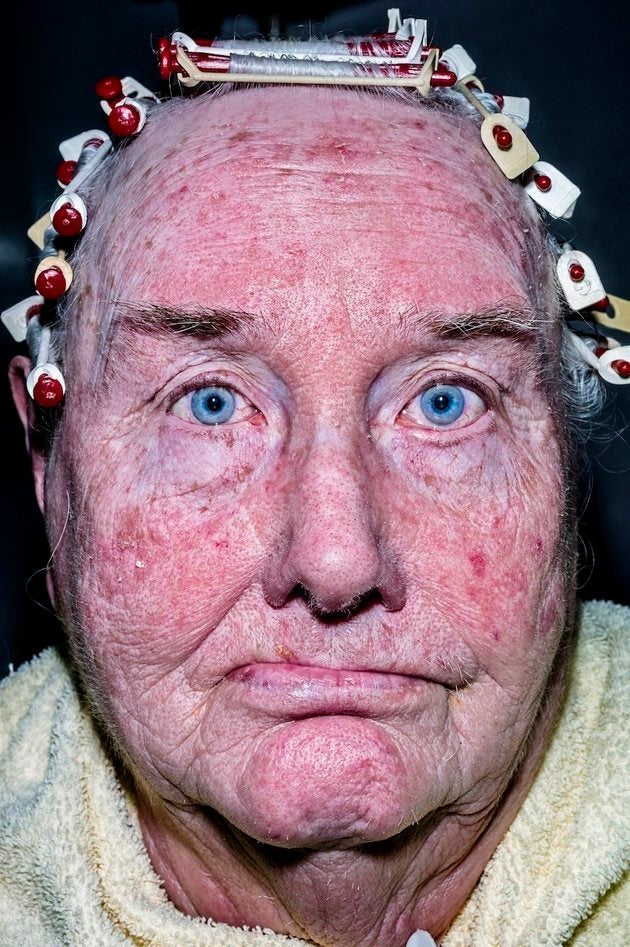 Glance at a crowd of people from a great enough distance and they'll cease to even look human, their particular parts fading out of focus until the pack resembles a uniform army of flesh-colored toy soldiers. 
Zoom in and you'll see their hands and hair and the choice of shoes. Keep going and you'll make out the shapes of their noses, the textures of their faces, the color of their eyes. Keep zooming and the temporary relief of human familiarity is ripped off like a scab, as every tooth, every ear, every pimple, every scar, becomes a singular visual event. 
"I get close because I try to get close to the soul of the people in my pictures," he added. On the way to the soul, Gilden surely gets a good glimpse of the face, every blemish, wrinkle and pore, turning one of photography's most tried and true tropes -- portraiture -- into something unsettling, a little gut-wrenching.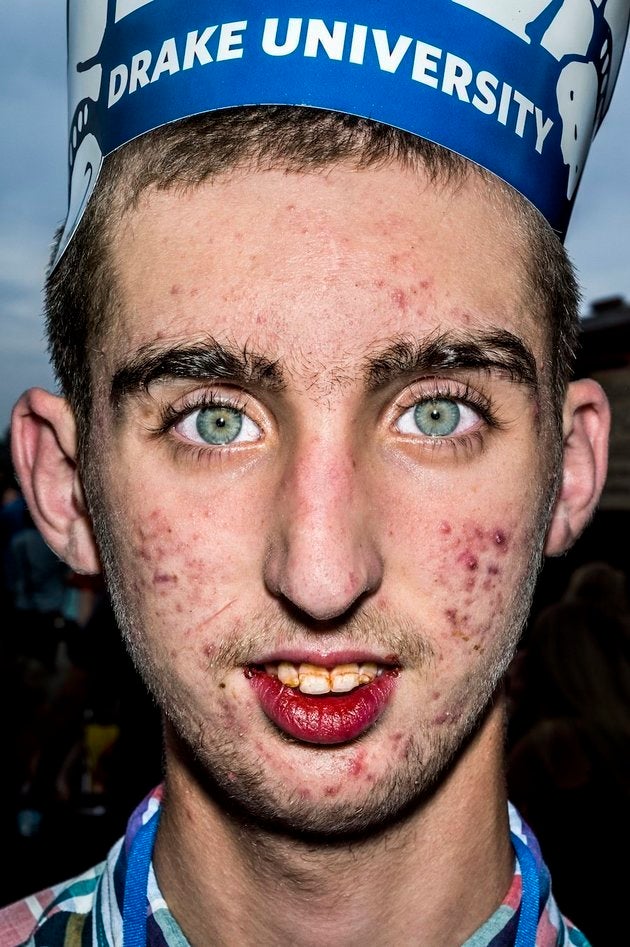 Gilden, who is now 68 years old, has been taking photographs since 1968, when he was a student in college. He's known for his impulsive style, catching intriguing pedestrians off guard, leaping before them with his camera in one hand and his flash in the other. "Some are taken unawares, some are surprised," he told PBS. "Some didn't know what hit them. And I think most people like to be photographed. But since I work in a spontaneous way, I have to be a little bit sneaky because I don't want them to know that I'm going to take a picture of them."
Gilden's series, "Face," captures the full frontal expressions of people he describes as "underdogs," those outside the zones of gentrification, not privileged enough to possess the plasticky exterior of the masses. Finding subjects in places from Las Vegas to Des Moines to Milwaukee to West Bromwich, England, Gilden snaps their every quirk and blemish with the authority of a mugshot and the precision of a medical image. Whiteheads bulge with the promise of puss, foundation cakes up like dust gathering on a corpse. What Lucian Freud did to the body Gilden does to the head.
Gilden's portraits may be unforgiving, brutal, ugly, even grotesque. Yet this visceral ugliness isn't the signal of a monster, but of a human being. One not sanitized and scrubbed clean, buttoned up and plugged in. For Gilden, the ugly is the good stuff, and maybe even lets the soul peer out.  
PHOTO GALLERY
Wild X-Rays And Medical Photos
REAL LIFE. REAL NEWS. REAL VOICES.
Help us tell more of the stories that matter from voices that too often remain unheard.