I finished the book and opened my eyes to see I was still in my cinderblock dorm room. Only moments before had I been raiding brothels in Cambodia, operating on fistulas in Ethiopia and teaching girls in rural India how to read. Half the Sky: Turning Oppression into Opportunity for Women Worldwide took me on a global journey through some of the most difficult realities facing women in the 21st century. With each page I was more driven, more empowered to be the next hero, to save the world. Yet, I shut the book and was thrown back into my reality: a sophomore university student still a little bit hungry for some diner food, and still behind on that history essay. And just as quickly as I had been fired up by Somaly Mam and Edna Adan and all the amazing women in the book, the flame extinguished. Book closed; case closed.
In a year's time, I had not forgotten about those women, but let others be the heroes while I ran around university trying to figure out what I would do with my life. Then Half the Sky Movement came out with their documentary. Within minutes, I was back on that global journey, but this time in vivid color rather than black and white text. The women I had read about came to life on screen, and I soon realized that as I spent time trying to "figure out" who I was going to be, the stories of these women had unraveled in real time.
I began to burn brighter than ever for change. That fiery feeling in my chest, the feeling of empowerment, returned; and I promised myself to not let it subside. Saving women was not as clear cut a career choice as the occupational therapist I originally intended to be. Yet, I figured, if I am driven, I will find my way.
I began by liking every organization of Facebook related to Half the Sky's mission. I followed my pages feed, reading articles about women related to sex trafficking, genital cutting, education, etc. and I reposted what I read. I remember when a friend of mine messaged me he was glad I was trying to spread awareness, but my posts were a bit depressing. I wasn't deterred. I wasn't giving up on these women because their stories were hard to swallow. These women needed me; more importantly they needed us all.
I got home from that school term this past December. I had decided earlier in the year that I would travel to Cape Town, South Africa to study for the semester. I had already researched and marked partner organizations of the Half the Sky Movement I hoped to work with, but felt trapped thinking I could only help by having an internship, by running my own non-profit, by traveling with a program that serves women. And here I was taking a hiatus from life and flying off to Cape Town.
Maybe I could raise money somehow before I left. Maybe I'll make bracelets like my sister sold online. Maybe I'll write songs about women's rights and sell the album?
Days later, I found myself painting Malala Yousafzai, the young Pakistani girl targeted by the Taliban for advocating for girl's education. And in the process, I got to know her. She was with me in my room. Her story was with me. And that's when I realized that this is the way I want to share her story and my journey to bettering the world.
Through sharing my artwork, paintings no others have seen, I would share the stories of brave women making a difference in our world that too often have never been seen as well. It began with an idea that manifested into reality. And now I am 7 portraits in after 5 months of blogging, and reaching an audience of over 1800 viewers in over 15 countries.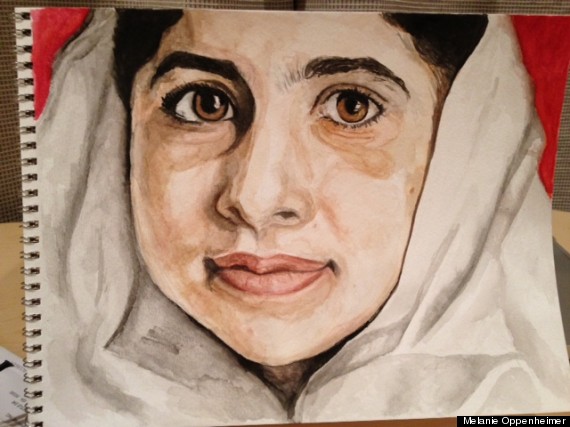 Saying that feels great. But that is not the point of my story, because this is not the end of my story. I am only at the beginning of my fight; I have put my foot in the door for making a difference. Sometimes, I'm not even sure I can say I have put the whole foot in. It is difficult to weigh the impact of my efforts and it is unclear whether writing words and painting pictures will really help free the next girl from the brothel. But, we must begin somewhere, or we never will.
When I pick up the brush to paint, I always start with the eye first. I build and build until the woman's face begins to manifest and eventually I see her and she is complete. But the time it takes getting there is not so easy. Even after seven portraits I struggle to get it right. At some points, I want to give up and just trash the painting because I already made her nose look funny and her neck isn't right and she just doesn't scream "Somaly Mam". But I take a breath and continue and in the end, I always see it. I always see it whether or not other people do. And that is the beauty of painting and that is the beauty of living. We must paint this world a better place than the way we have entered it, whether or not others see the picture we have envisioned and even if that process is hard and time consuming and even if the painting doesn't always look right in the making.
My painting began with the book Half the Sky: Turning Oppression into Opportunity for Women Worldwide. I got lost, put the passion aside and picked up the paintbrush a year later to finish what I started. I didn't have to win a trip abroad, get the internship or have much experience in this field to make my mark. Anyone can paint, and the more that do, the brighter the picture, the deeper our impact, the better our world can be.
For the women of this world, let us all begin with just one stroke.
Calling all HuffPost superfans!
Sign up for membership to become a founding member and help shape HuffPost's next chapter