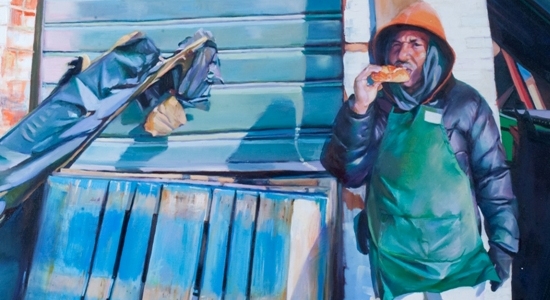 Photo Credit: Nicole Bourgea
Say you leave your house at the usual time, and head down the same old street that takes you to work everyday. Only this time, you find a life-size oil painting of yourself with a note attached saying, "If this is you, this painting is for you to take." How would you feel? This may sound like a weird scenario to be in, but not impossible.
In Washington, DC, one artist is doing just that. Artist Nicole Bourgea is known for her life-size oil paintings. The paintings are part of her latest work, AS IS: An Urban Portrait Project. After photographing random people, she creates a painting and returns it to the photo-spot with a note.
She began this project as her way to fulfill her "desire to meet people where they are, to give my full attention to them there, and to leave the experience of being noticed as a gift for their taking." The paintings took between 40-80 hours to complete and was completely funded by Bourgea herself.
We spoke to Bourgea about her inspiration behind this project and her plans its potential expansion.
Youth Radio: Can you explain your project?
Nicole Bourgea: I paint large-scale formal oil portraits of strangers going about their day. These paintings are several feet in length and take between forty to eighty hours to complete. The finished portraits are then installed in the public spots around the city where I first met each subject. Next to each painting I post a handwritten sign stating that the portrait is a gift for the person it depicts. The signs read "If this is you, this painting is yours to take." Unlike my commissioned work, these portraits are intended as unexpected presents for their
YR: What inspired you to go around taking pictures of strangers and then painting them?
NB:In a world where most human interaction is strained down to its digital pulp, this project asks the question "Do we really see each other anymore?" by bringing fine art onto the street. AS IS developed out of my desire to meet people where they are, to give my full attention to them there, and to leave the experience of being noticed as a gift for their taking.
YR: How did you choose your subject?
NB:Whenever I find myself hurrying past someone for any number of reasons, it is usually a good sign that I should slow down and take a closer look. While the subjects for AS IS were somewhat randomly chosen, they each mark a time in the past year when I have successfully slowed down to really look at the person in front of me.
YR: Were people hesitant to participant at first?
NB: A few were, but overwhelmingly people were game. I always introduce myself as a portrait artist and ask if I can take a person's picture or do a quick sketch for a project that I'm working on. I let the potential subject be free to ask any follow up questions or not about what that project is. None of the ten people that I photographed knew the full extent of the project (i.e. that i would be painting life sized portrait of each person and that those portraits would be installed back on the streets as gifts fir the subjects to take.)
YR: What were the hardest parts of this project?
NB:The hardest part was forcing myself to slow down and give the gift of notice to the people that I was passing in the first place. We are all so engrossed in our "very important, very busy" lives that that kind of simple acknowledgement is becoming so rare. I think it will also be hard in a different way to let go of the portraits when I install them on October 1st--some of them have been beside me in my studio for a year!
YR: What were the easiest parts of this project?
NB: The easiest part was actually painting the portraits. Since every person is unique, everyone is inherently interesting, and painting a portrait is such a fun way to study those differences and really pay attention to someone.
YR: What is your ultimate goal with this project?
NB: Well, I believe that while the attention that we pay to each other requires very little of us, we don't often give it away freely. I want to tell people that they are seen. It is my hope that in some small way this project will ignite conversation about the power and the gift of notice.
YR: Can you talk about your plans for October 1st and how you'll be distributing the paintings?
NB: Sure. I plan to be up with the sun on the morning of the first, installing each portrait in the public spots around the city where I met each of the subjects for AS IS. Next to each painting I will post a handwritten sign which reads "If this is you, this painting is yours to take." I will be leaving a small box with contact information about the project next to each one, in case people want to share if they have found their portraits or have spotted a painting of someone else.
YR: How are you funding this project?
NB: I am funding this project on my own with the exception of the eight portrait, for which I received painting supply assistance from the public art project, Habitat For Artists. Ultimately, I would love to receive funding to be able to continue the project on a larger scale after the initial October 1st install...but until then, I will continue to take commissioned work to pay my bills!
YR: What other projects are you working on?
NB: I am always taking on commissioned projects for clients, but AS IS is something that has been brewing for so long that I have been really happy to dedicate every spare minute to the project! You know the feeling when you go for a really long run and you hit a big hill right before the finish line? Right now, I'm just concentrating on getting to the top of that hill. I'm racing to finish the tenth urban portrait before it hits the streets next week--then, who knows!
Originally published on Youthradio.org, the premier source for youth generated news throughout the globe.
Youth Radio/Youth Media International (YMI) is youth-driven converged media production company that delivers the best youth news, culture and undiscovered talent to a cross section of audiences. To read more youth news from around the globe and explore high quality audio and video features, visit Youthradio.org
REAL LIFE. REAL NEWS. REAL VOICES.
Help us tell more of the stories that matter from voices that too often remain unheard.