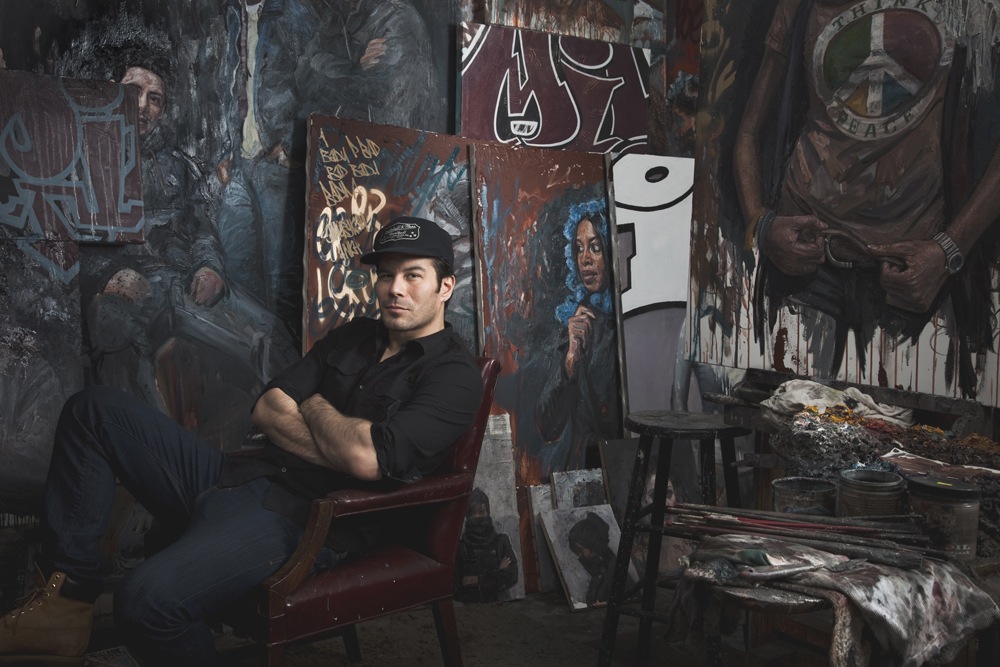 Tim Okamura (photos provided)
"As an artist who has worked with portraiture up to this point, I have been drawn to models I felt were compelling as subjects, who were interesting to me on an aesthetic and personal level, and that has generally been a diverse, multicultural group," said Brooklyn-based painter Tim Okamura. "I'm aware that this also happens to be a group that I believe has been under-represented in portraiture and figurative art on the whole -- to put it simply, these are faces that we need to see on gallery walls in the 21st century."
A native of Edmonton, Canada, Okamura earned a B.F.A. with Distinction at the Alberta College of Art and Design in Calgary, Canada before moving to New York City to attend the School of Visual Arts in 1991. After graduating with an M.F.A. in 1993, he permanently relocated to Brooklyn.
He describes his artwork as "investigating identity, the urban environment and contemporary iconography through a unique method of painting -- one that combines an essentially academic approach to the figure with collage, spray paint and mixed media."
His paintings are filtered through the lens of his own personal experience as someone of mixed race growing up in Canada, where he was often identified as "different," and even ridiculed for that perception. Therefore, themes including culture and ethnicity and social identity are evident in his artwork, incorporated to challenge stereotypes.
Okamura's paintings have been exhibited in galleries throughout the U.S. and Canada, and the National Portrait Gallery in London, England. He was even short-listed by the Royal Surveyor of the Queen's Picture Collection for a commissioned portrait of the Queen of England.
His paintings are featured prominently in the romantic comedy Prime (2005), a film starring Meryl Streep , Uma Thurman and Bryan Greenberg in the role of "David," a young, talented painter in his 20s living in New York City. Okamura's work is also shown in the films Jersey Girl (2004), School of Rock (2003) and Pieces of April (2003).
Celebrities including Thurman, John Mellencamp and Ahmir "Questlove" Thompson have obtained his paintings for their private collections. His work is included in the permanent collection of the Toronto Congress Center, Standard Chartered Bank and the Davis Museum in Massachusetts.
He has two solo exhibitions opening in September: This Story Has Not Yet Been Told...The Work of Tim Okamura at the Robert and Sallie Brown Gallery and Museum in The Sonja Haynes Stone Center for Black Culture and History at the University of North Carolina (UNC) at Chapel Hill on display Sept. 12 through Nov. 29; and Depicted/Connected: Paintings by Tim Okamura on display Sept. 20 through Oct.31 at the Joan Hisaoka Healing Arts Gallery in Washington, D.C.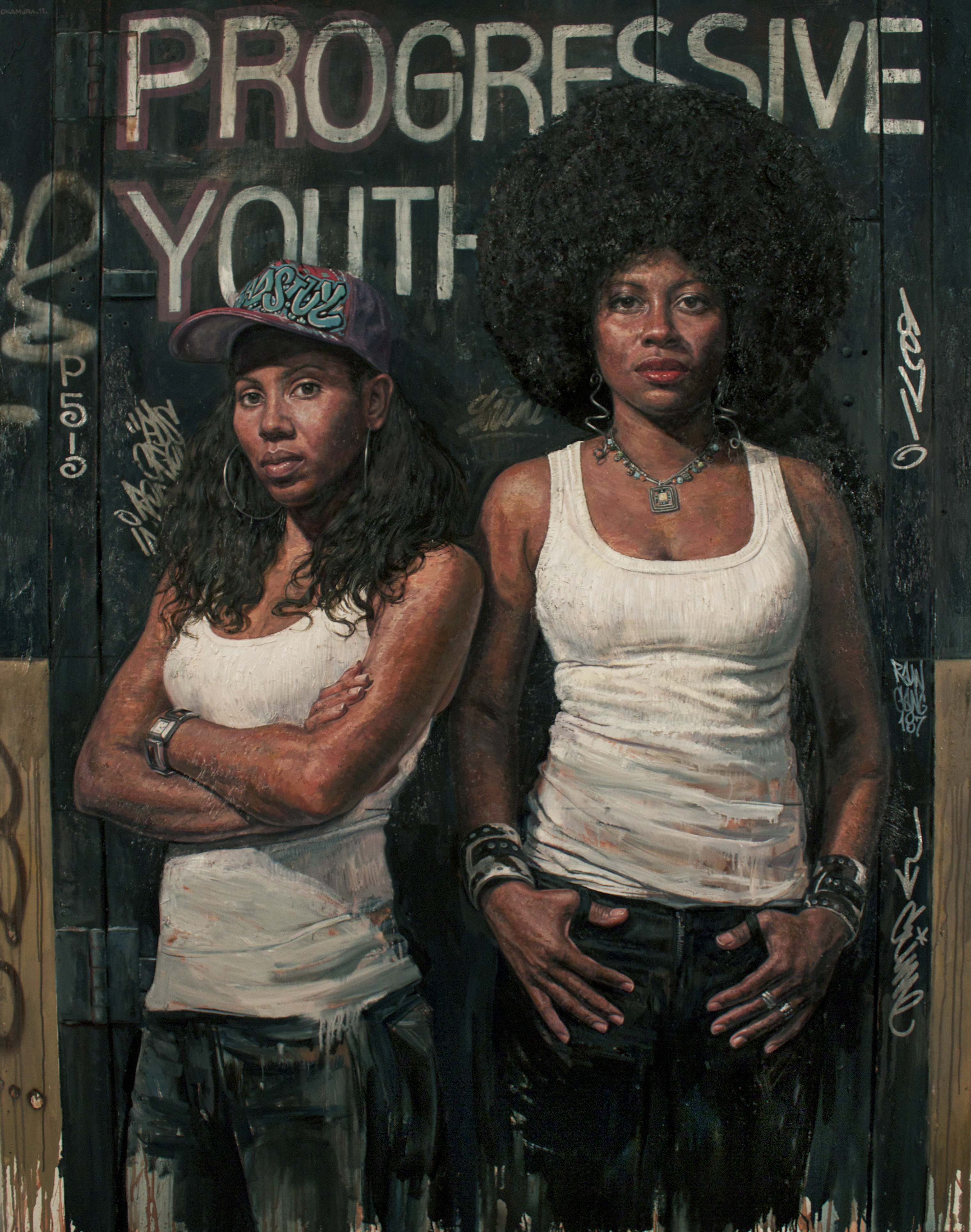 "Progressive Youth," oil, mixed media on canvas, 76 x 60", (2011-12); in This Story Has Not Yet Been Told
Okamura was contacted by Dr. Joseph F. Jordan, associate professor, African/African-American Studies, and director of the Sonja Haynes Stone Center at UNC. He asked if the artist would be interested in putting on an exhibition to help celebrate the center's 25th anniversary.
"I was really honored and humbled to be given the opportunity, and became excited that it ended up coming together as a survey of work I've created over roughly the past 10 years," he said. "Most of these paintings have never been in the same room together, so I'm looking forward to seeing how they interact with one another."
Okamura explained his over-arching narrative for past 10 years has been about using portraiture to tell positive stories, mostly of the many friends he's made while living in New York City. In the process he discovered a welcomed challenge of telling the stories of women.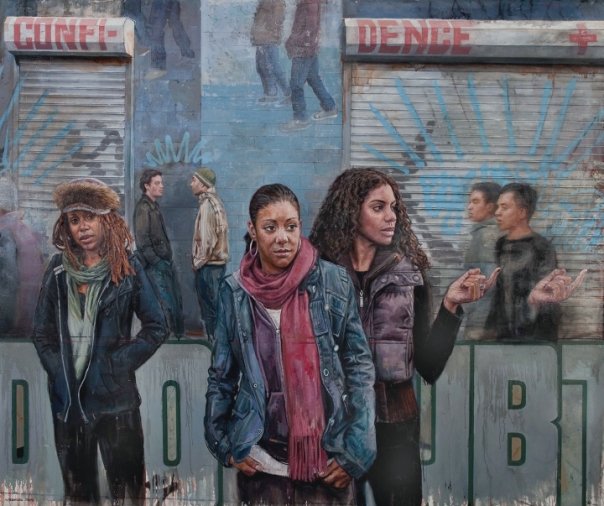 "Confidence and Doubt," oil, spray paint on canvas, 72 x86", 2009
"As I explained recently, I've gravitated primarily towards painting women in the last several years, and I think that's reflected in this show," Okamura said. "But, initially, I painted my way through many different subjects, including my hip-hop heroes; I did self-portraits, or portraits of mostly male friends -- whoever was around really -- before eventually becoming focused on the idea of portraying women, which I had always found to be more challenging to depict."
The artist, who offers an amazing combination of a classical academic approach to portrait painting, the use of contemporary spray-painting graffiti, realism and symbolism, searches for the inner strength in all of the women he paints -- sometimes it's apparent, sometimes it's more of a discovery process.
"But I have always found it -- that's part of what has been so engaging for me as a painter," he commented.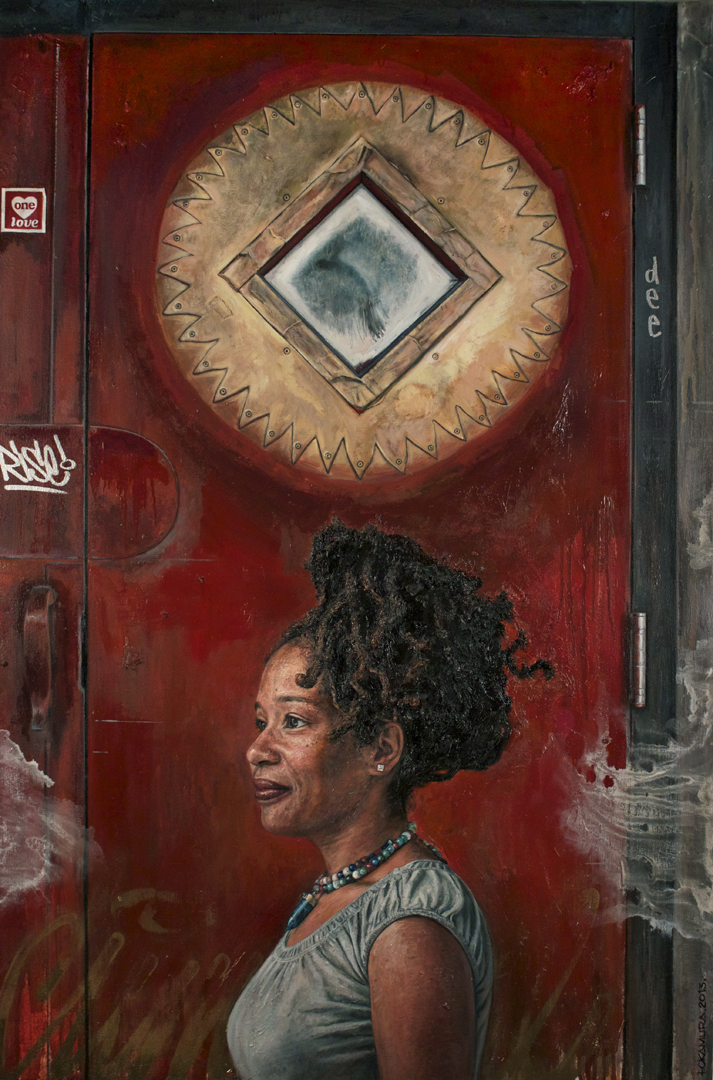 "Sun Rise on U Street," oil, mixed media on canvas, 40 x 60", 2013; featured in Depicted/Connected
His first solo exhibition in Washington, D.C., Depicted/Connected: Paintings by Tim Okamura was organized by Joan Hisaoka Healing Arts Gallery at the nonprofit Smith Center for Healing and the Arts, and is a part of Art4All DC (Sept. 13-Oct. 6) presented by Cultural Tourism DC. The Joan Hisaoka Healing Arts Gallery has special meaning for Okamura.
I was put in touch with the gallery by my cousin Robert Hisaoka. The gallery is named in honor of his sister who unfortunately lost her battle with cancer several years ago. She was a brilliant mind, a member of Mensa, ran a very successful public relations company, and was really one of the bright lights of D.C., so it really takes on a special significance that I have the opportunity to show at this gallery. I can assure you it was made clear to me that the gallery has very strict guidelines though for the quality of the work shown there. My paintings had to speak for themselves, and my relationship to who the gallery is named after was not a factor in the decision-making. Fortunately the gallery director, Brooke Seidelman, felt that it was a good fit for my work. I'm really looking forward to this show.
Okamura said that in a larger sense the same types of positive themes are being explored with this exhibit. However, the goal of this show is to focus specifically on women of D.C., of varied backgrounds, and with a cross-section of interesting personal narratives.
Below is an excerpt from his artist statement for the exhibition:
Depicted/Connected is an exhibition focused on capturing the beauty, strength and resilience of a cross-section of women who proudly call Washington, D.C., their home. The subjects in this series of paintings were primarily born and raised in the D.C. area, and have been witness to the evolution of culture and environment that has taken place over the last few tumultuous decades in the nation's capital. They are artists, musicians, socialites, members of the military, mothers, daughters and even "spiritual sisters." They have all experienced, first-hand, the collision of a multitude of "positive" and "negative" forces that have shaped their own personal narrative, including, amongst other things: the city's battle with crime, poverty and economic upheaval; the emergence of "go-go" music, gentrification and the election of the first African-American president in the history of the United States of America.

Tim Okamura is represented by Lyons Wier Gallery in New York, and Douglas Udell Gallery in Canada.
IF YOU GO
What: This Story Has Not Yet Been Told...The Work of Tim Okamura
When: On display from Sept. 12 through Nov. 29, 2013. Opening Reception and Artist Talk: 7-9 p.m., Thursday, Sept. 12.
Where: Stone Center's Robert and Sallie Brown Gallery and Museum, 150 South Road, Chapel Hill, N.C.
Info: Learn more here.
What: Depicted/Connected: Paintings by Tim Okamura
When: On display from Sept. 20 through Oct.31, 2013; Opening Reception: 7-9 p.m. Friday, Sept. 27; Artist Talk: 6:30 p.m., Thursday, Oct. 17.
Where: Joan Hisaoka Healing Arts Gallery, 1632 U Street, in Northwest D.C.
Info: Learn more here.
The Pond, the Mirror, the Kaleidoscope is an exhibition at the School of Visual Arts' (SVA) Chelsea Gallery, 601 W. 26th St. 15th floor in New York City, on view through Sept. 14. The show contains paintings, drawings and sculptures created by alumni, including Tim Okamura, of SVA's B.F.A. Illustration and M.F.A. Illustration of Visual Essay departments. A reception is 6-9 p.m. Wednesday, Sept. 11. More info: http://www.sva.edu/events/events-exhibitions/the-pond-the-mirror-the-kaleidoscope
Popular in the Community