"Falling Into Ends" New Paintings by Liat Yossifor. June 11- August 30 Galerie Anita Beckers, Frankfurt Germany | Frankenallee 74 | D-60327 Frankfurt a. M.
Powerful art and extreme nature have a lot in common. This spring when the Icelandic volcano grounded all European planes and the most arresting images cascaded through my internet browsers - so much so that I had to catch my breath - my mind immediately went toward the work of painter Liat Yossifor.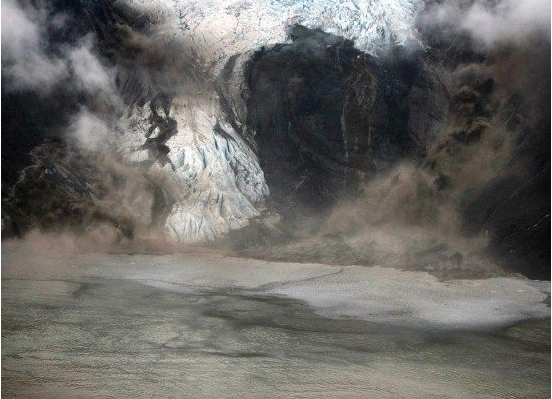 Smoke erupting from Eyjafjallajokull volcano. Getty Images 2010
The last time I wrote about Yossifor's work was 2007. Southern California was engulfed in smoke from the wildfires and the palette of the sky has descended into a muted orange grey -- the entire region was thrown into an altered state. At the same time, the daily casualties of the war in Iraq streamed through our televisions and for those of us not in the military-- it was all perfectly the abstract. It was through Liat's paintings of battle scenes in her exhibition "The Tender Among Us" -- with the twisted bodies below a similarly muted atmosphere -- that I started to feel a connection to the war.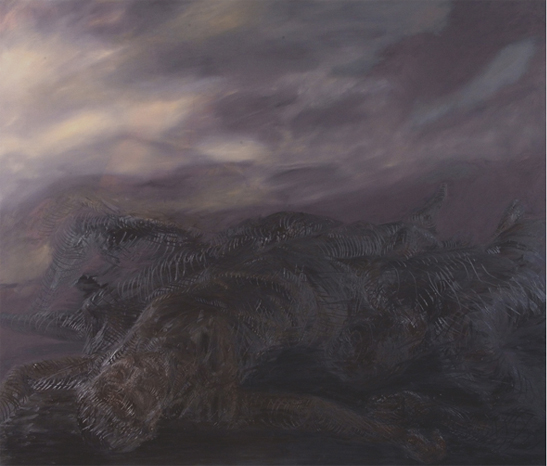 "The Tender Among Us" 62 x 72 in. Oil on Panel 2007. Liat Yossifor
Yossifor has created a technique where she paints portions very thickly but moves the paint around with a fine sturdy brush which renders the surface more like sculpture. The reflecting light and the painting itself change with each step as you walk toward and around it. While some artists' work stay within the same series of notes, Yossifor's work steadily transforms and each exhibition captures a state of that evolution. That her latest body of work has figures emerging from black as thick as the tar washing up in beaches off the Gulf of Mexico is surely a coincidence, (or is it? one never knows), in person she is not dark at all, but a bright, fiery burst of energy and intellect -- a painter's painter. I caught up with her while she was finishing a three month residency at a Kunstverein in Frankfurt and just opened her solo show at Anita Becker Gallery in Frankfurt. KB: You have been a recent resident at the Deutsche Borse Residency Program at the Frankfurter Kunstverein for three months. What was the program about and what was it like for you? LY: The residency program hosts two residents at a time: an artist and an art historian, a writer, or a curator. My experience here has been a rich one -- from the people I met to the collections in the museum row in Frankfurt to the Kunstverein's own programming to much more. For example, I finally saw Beckmann's The Night at the k21 museum in an exhibition entitled Silent Revolution, and I completely lost myself in front of the most beautiful blue and black Rothko. The Städel Museum, just minutes from the residency, has a room with all my favorites: early Baselitz, Kirchner, and Dubuffet. I also love that this particular Kunstverein in Frankfurt exhibited works by Max Beckmann when he was still unknown. KB: How has this experience affected your new work? LY: Before coming to Germany, I felt that a shift in my work was coming, and in my mind, I saw the new paintings, but I also felt a little crippled in my LA studio, going back and forth between old and new processes. Then, I came to Frankfurt and encountered the new studio, new light, new experiences, and new materials (I began working on rough linen). All of these changes contributed to the shift in the work.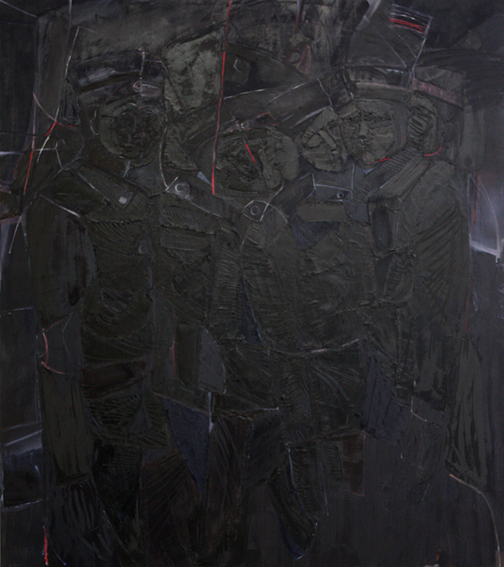 "Falling into Ends" 71 x 63 inches. Oil on Linen. Liat Yossifor Courtesy Gallerie Anita Beckers LY: In some ways I believe that, in Los Angeles, I was making black paint surfaces on panels that were condensed and object-like, while in my stay here I became more interested in pictorial space. The heavy black texture element in my new work is done in layers that are on top of thin layers on linen; whereas before, the thick layer of paint was done at once and all over, sealing the surface tightly. I am not crossing out the heavy object-like "walls" that collapse inward from before for the new thin layers on linen; rather I am imagining them together. There just seems to be more possibilities now.
KB: How would you describe the new work compared to "Tender Among Us" or your other work? LY: I am using a lot more symbols than in my previous work. I have a large collection of images at this point of statue-like national monuments, of soldiers from various wars, and of paintings of soldiers (specifically from post war I German painting). I think of these references as documents and archetypes and also as ideas that are nostalgic and broken, like painting itself. I see painting as a medium that abstracts and confuses the "subject" -- nothing is specific or hierarchal; a shape is a shape. Also, in painting, the idea of a return is not linear because history is always present. My attraction to these qualities in painting is how nothing stays fixed, so the most stubborn symbol or idea falls apart. When I decided to work with old strategies (such as post-World War I German painting), I was not aware of how troubling a relationship it would be. In a way, it made me very aware of today's post-war reaction in art (or the lack thereof), and things came around to full circle, which was interesting -- to be connecting identities (mine and German) across time.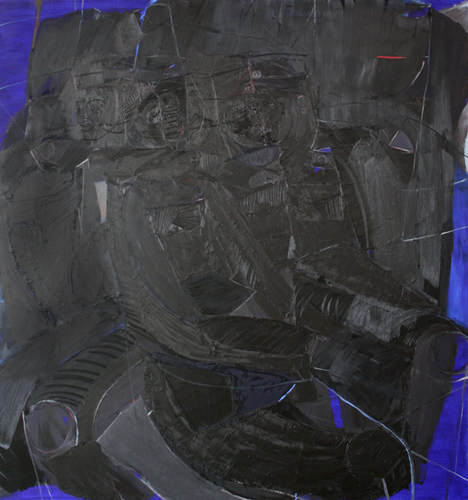 "The Monument" 180 x 160 cm Oil on Linen. Liat Yossifor. Courtesy Galerie Anita Beckers LY: (cont.) Ideas flip in my head; for example, the monument is not just a failed idea, but also a shape that still impresses me. I'm working with thin cadmium red lines that separate large black shapes in the paintings. One tiny red mark in a black painting changes the whole composition. Then, when I insist on repeating a small red line, it becomes a "thing" too, not just a guide or a line. It's fascinating for me at the moment, to allow these symbolic color combinations - often used for propaganda - to mess with me, to let them manipulate the way I see space, and to see the red mark gaining more and more power compositionally as I repeat it and see it deepen. I am painting the soldiers freely in the sense that their medallions, uniforms, hats, and flags are a mixture of various styles and origins. I find myself making a mass of bodies, where the soldiers melt into each other, and are grouped together for the sake of the overall structure of the painting. They seem to me to be celebrating an end of a war, or its beginning; moreover, they seem to be gathering but it is not clear for what. For me, their state of becoming "one" is both heroic and pathetic.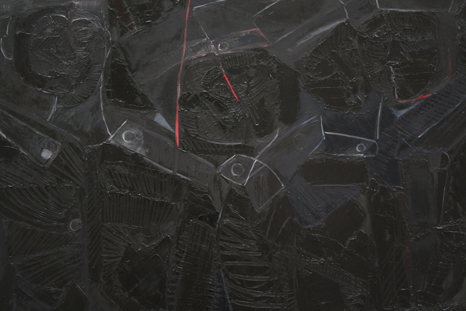 "Falling Into Ends" Detail 1
KB: I think of your work as one that requires a slow viewing. Has that changed? How do you approach the viewing of your own work now? LY: I am thinking right now about two experiences when viewing the work: one that is immediate and structured, such as bright red lines separating black space, ultramarine blue peeking through black shapes; and the other that is the experience of making up the slight differentiation between one black shape next to another and of the figures that are trapped in there. The bright red and blue lines work like a quick grid and an armature -- they get the eye moving fast. I have been resisting the quick viewing of art for a while now because I wanted to slow down the act of seeing and to challenge myself to accept information in layers. This reminds me that I was just looking at a black Ad Reinhardt at the Falkwang Museum. It was so quite to slowly see the grid, and I felt like the surface was very flexible still, maybe even still wet, because it was changing so much while I was looking at it. But over time, for my own work, that has begun to be less interesting for me, and maybe even a little stubborn of me to continue to focus on slowing down time when seeing can happen in many ways and tempos at once. What's wrong with fast? Or more accurately, why not have multiple (simultaneous) tempos to view the painting?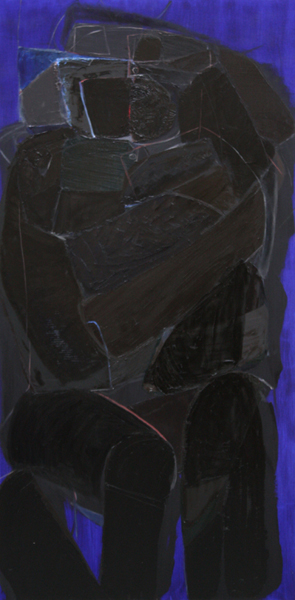 "The Lovers (Soldier and Mask) 70 x 35" Oil on Linen. Liat Yossifor Courtesy Galerie Anita Beckers
KB: What's next for you? LY: My next show will be at Angles Gallery in Los Angeles, January 2011
"Falling Into Ends" New Paintings by Liat Yossifor. June 11- August 30 Galerie Anita Beckers, Frankfurt Germany | Frankenallee 74 | D-60327 Frankfurt a. M.