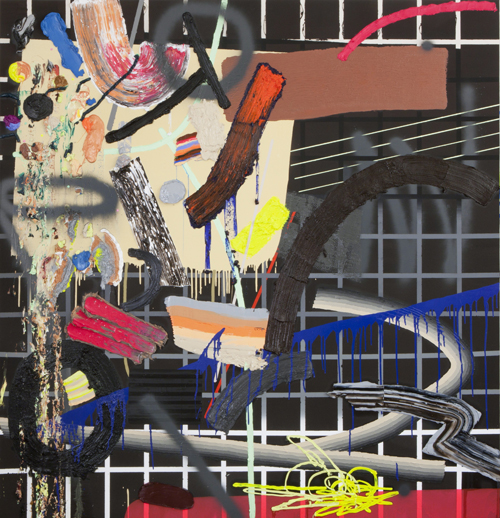 Actual/Virtual, acrylic, Flashe, oil enamel, spray paint, and oil on canvas, 80" x 77", 2011, Courtesy Mike Weiss Gallery.
This week I start a Q & A series for painters. Art world people have been saying painting is dead since the '80s. Painting is having a rebirth, again, so here's to proving the naysayers wrong.
Why do you use these particular materials?
These paintings are made with acrylic, Flashe, One-Shot enamel, spray paint and oil paint. Each of these materials creates a very different kind of mark as well as a different surface quality. I started out incorporating One-Shot into my work because the drips you can make with it are just unparallelled. I use Flashe because it is a very matte paint that has almost no surface to it. It is a stark contrast to thickly applied oil paint and it also creates a halo effect around the oil paint because of its inherent dryness. I'm interested in the physical, graphic quality of oil paint which naturally has a viscous surface. Flashe sets this off quite well.

Also, my very first abstract paintings were made as a child on an ancient black and white mac with Microsoft Paint's built-in tools: the pencil, the paintbrush, the spray can, the fill bucket, and the gradient.
Name an artist you'd like to be compared to.
Elizabeth Murray. I think she really changed the game as far as painting is concerned. She broke through the traditional picture plane of painting more than anyone else. In Murray's work, there is no illusionistic space, the painting is an object as well as a space.
What can't you live without?
My husband, who is a genius painter, Russell Tyler. Oh, and water. And oxygen.
What jobs have you done other than being an artist?
I've been a babysitter, a waitress, a gallery intern and a receptionist, but mostly I've been a waitress.
What forms first in your mind, a concept or a skill you want to explore?
The concept comes first. I approach each painting with a different idea of the kind of space I want to explore. I like to think of myself as a slave to the paint, I don't try to force it to do anything it wouldn't do naturally. No more glazing!!!
Does where you live influence your work?
Definitely. I grew up in Richmond, Virginia, where I stubbornly made figurative work. Moving to New York and being exposed to the unavoidable history of abstraction made me rethink what I am really invested in. I found I was more interested in the formal and physical aspects of painting than any kind of depiction. Since I moved here for graduate school, I had just the right combination of freedom and support that I needed to make the shift.
Is there any kind of media that affects the way you approach your work (i.e. film, TV, radio, social networking, print)?
My work is influenced by virtual spaces and how they influence our mindspace. I think about the shallow space of early video game systems, which is almost like the shallow stage in theater. Lately I have found myself almost recreating the space of the computer screen, and the balancing of attention between different browser windows or solitaire games or music programs we have become accustomed to. Some of my latest paintings deal with a kind of a hovering of painting tropes superimposed in front of one another, like panes of glass floating in space.
What's the most important career break, you ever got?
That would have to be having my first solo show at Freight + Volume Gallery one week after my thesis exhibition. It was pure dumb luck and very last minute, but it went better than I could have imagined.
What are the fundamental beliefs that drive the way you work?
Never make the same painting twice. Always experiment. Never make an easy painting. Chance is a part of the process of painting, so let spilled paint lie. There's no substitute for hard work.
What comes first in your work, pleasure or pain?
Pleasure. If you are not enjoying yourself in the studio, then what's the point? Being an artist is one of the worst career decisions one could make, so an artist has to really love what she is doing.
PHOTO GALLERY
Trudy Benson Answers 10 Questions
Trudy Benson received her BFA from Virginia Commonwealth University in 2007 and her MFA from Pratt Institute in Brooklyn in 2010. Benson had her first exhibition at Mike Weiss Gallery at the end of last year; it was her second solo exhibition in New York. Her works have been included in multiple group exhibitions in New York City as well as in the Richmond, Virginia area.
REAL LIFE. REAL NEWS. REAL VOICES.
Help us tell more of the stories that matter from voices that too often remain unheard.