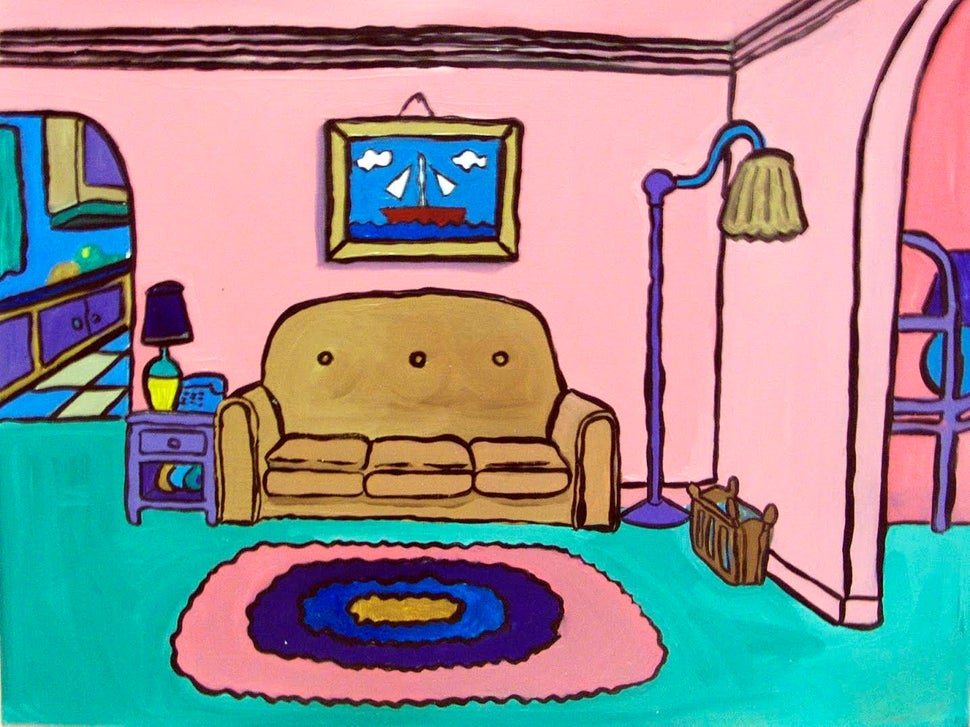 Hit Backspace for a regular dose of pop culture nostalgia.
Growing up, Babak Ganjei had regularly scheduled playdates with "Friends." Specifically, Chandler and Joey, the screwball odd couple on the popular '90s TV show.
"Every Friday at 9 p.m., I would be hanging out [with them] for a half hour," he told The Huffington Post. "It builds a relationship over time."
The camaraderie he feels with the duo ― and also with Jerry Seinfeld, the Fresh Prince and Frasier ― was the inspiration for a series of impressionistic paintings he made of '90s sitcom living rooms, rendered dreamily to show the spaces as they swirl around in his memory.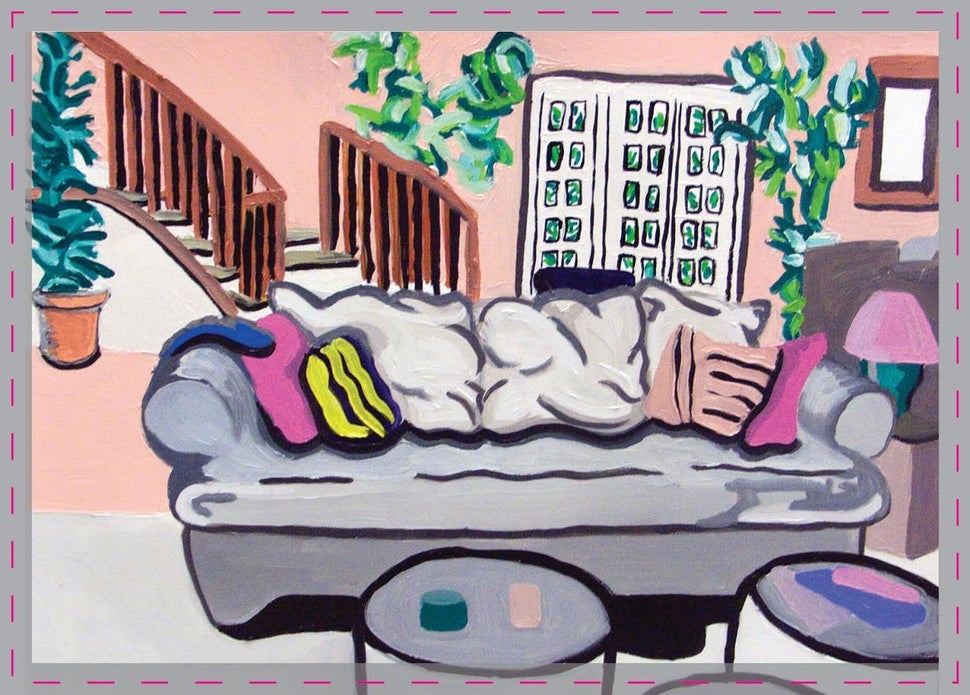 His aim was to capture the potency of nostalgia, and to recall how he viewed the shows as a teenager, as opposed to now, when he's closer to the age of the characters.
"It would seem boring to create a direct representation," Ganjei said of his vibrant works. "If you wanted to find a picture you can Google it. You can find a picture of anything. A lot of these series are based on memories. It's almost dreamlike, trying to recall a dream there are always cracks and imperfections. It makes it more interesting."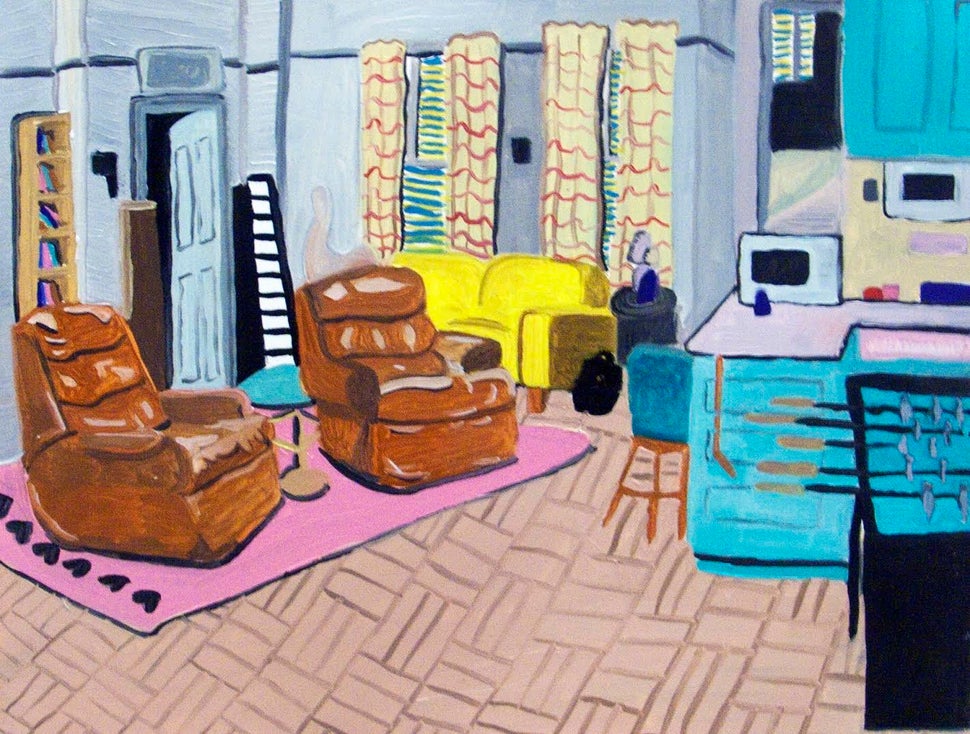 Ganjei began the series while wistfully imagining having a space of his own. As an artist with a son, he's still unable to afford an apartment with ample personal space, and the sitcoms of his youth are aspirational settings in that regard. Of course, much has been written about how unrealistic it is that Rachel and Monica ― struggling baristas and caterers ― or Carrie Bradshaw can afford such lavish, centrally-located living spaces. Nevertheless, the shows uphold the dream of working and living comfortably in urban areas.
"Being a successful artist I still share a room with my son, and he's getting big now so space is becoming a real issue and the greatest luxury I could ever afford," Ganjei said. "An old rerun of 'Frasier' was playing once and I realized I was watching it through the eyes of a teenager as I had done when the show initially aired. Then Frasier said he was 41 and I panicked because I'm not far from that. It made me realize I may not have a space for myself but I've spent years living in the living rooms of [these characters]."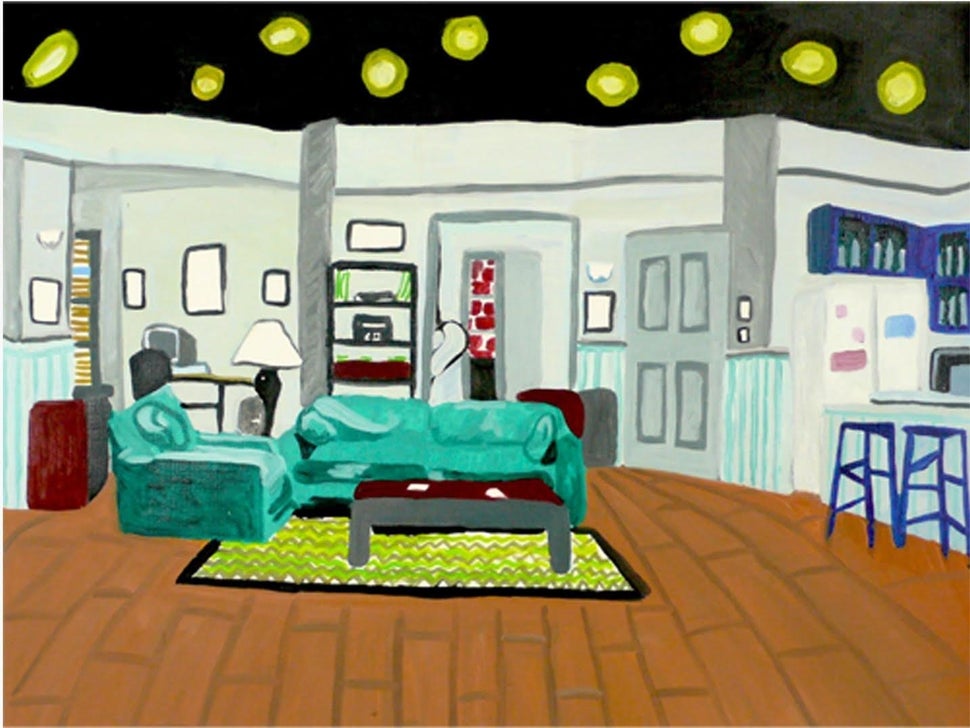 He added that the process of painting the spaces has been a therapeutic means of meditating on his own living situation. "The process of painting and reclaiming the spaces for myself just became quite a cathartic process as I panic about what we are going to do in real life," Ganjei said.
When asked which '90s sitcom living room he'd prefer to occupy himself, he wasn't sure. He said his idealistic side would prefer the space from "Seinfeld," but that Chandler and Joey's easy-going quarters appeal to him, too.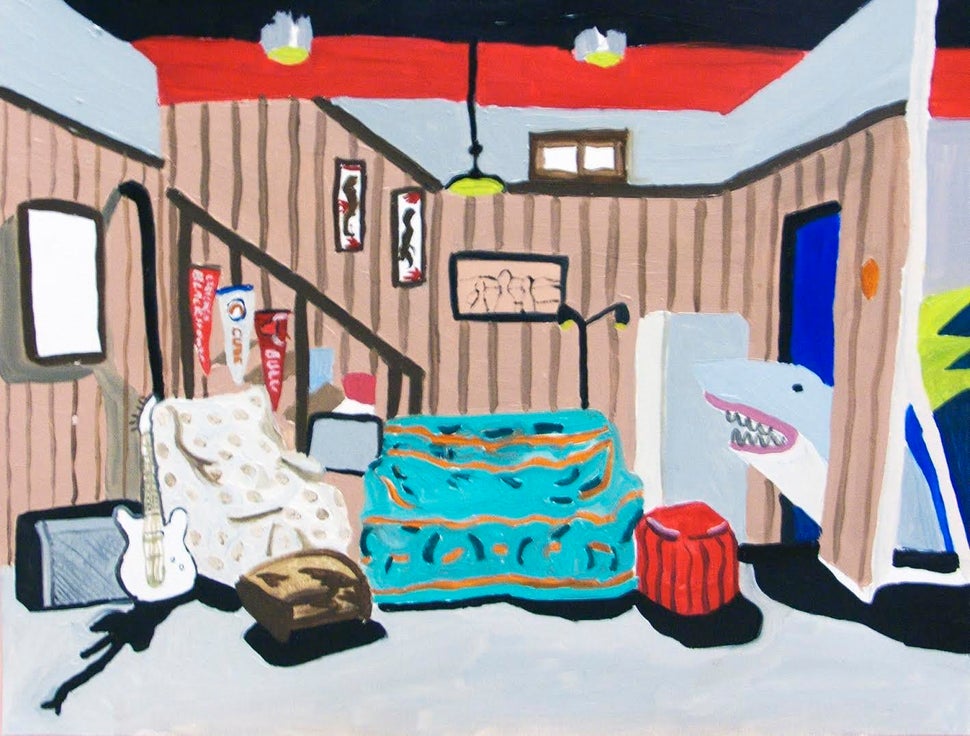 In addition to being nostalgic for the era depicted in the shows, Ganjei says he misses the communal, emotive nature of TV-watching during that period, which has been changed by the binge-watching power of streaming services.
"I do watch a lot of TV but I think the nature of it has changed a lot. These shows are still from a time of weekly scheduling and I think that plays a big part in our fondness for them. I remember the time slots for the shows," Ganjei said. "We can binge-watch box sets now, but we're not growing over time with the characters or the space."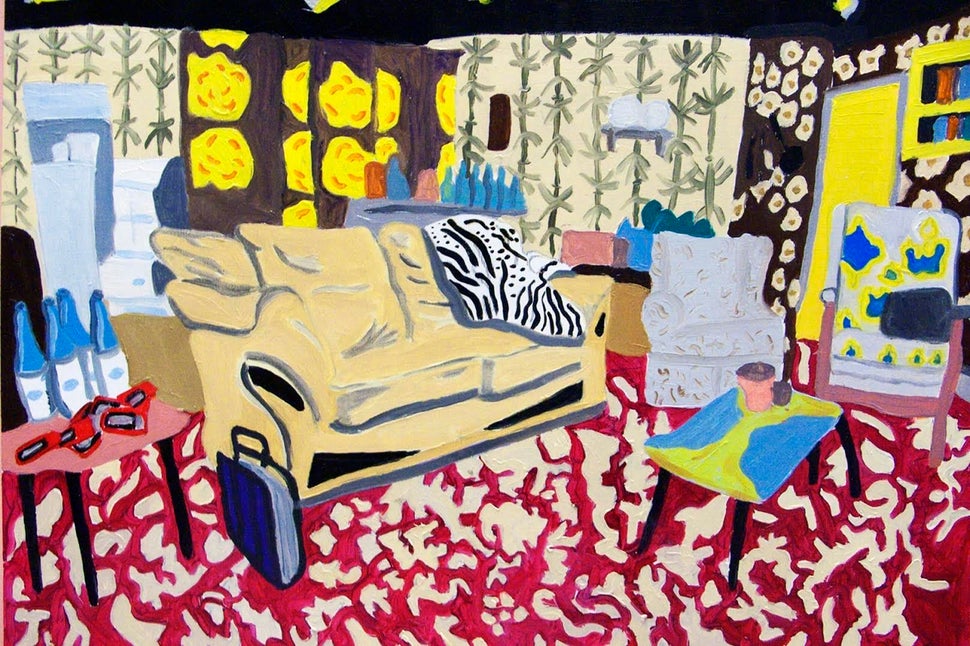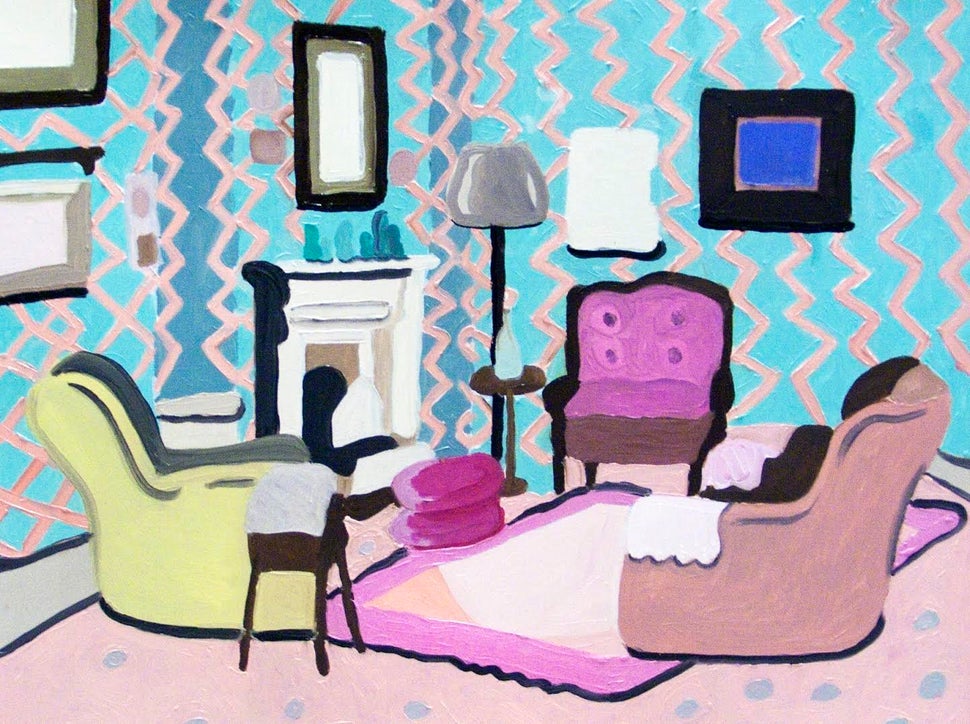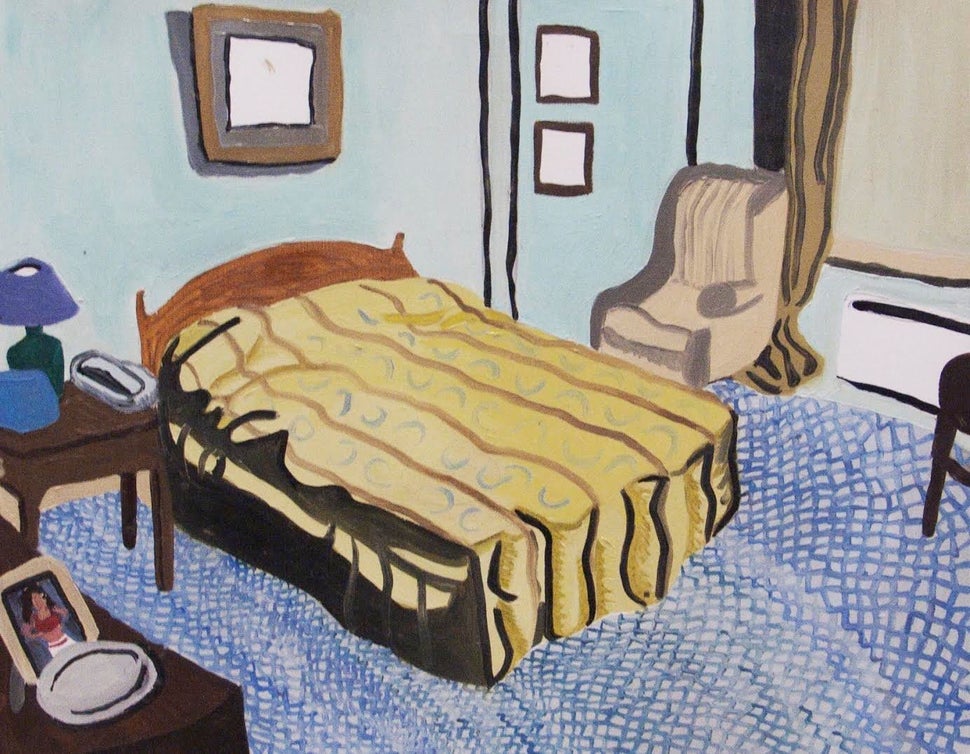 REAL LIFE. REAL NEWS. REAL VOICES.
Help us tell more of the stories that matter from voices that too often remain unheard.
BEFORE YOU GO
PHOTO GALLERY
What Stylish Living Rooms Have in Common