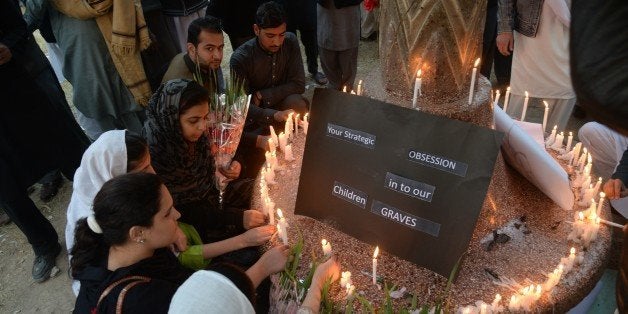 There's a certain glibness prevalent in the discourse of the ostensibly liberal Western and Westernized world today that's epitomized by the vapid Google slogan "Don't be evil." That's much easier said than done. A few days ago Dick Cheney was all over America's gravitas-laden Sunday talk shows, speaking as if for me and my country, claiming that there is no comparison between CIA "tactics" (yet another euphemism for torture) and the actions of terrorists. But is that a comparison we want to make, as if evil justifies more evil? My mother taught me long ago that two wrongs don't make a right.
Moral and intellectual clarity about the world we live in are not compatible with self-exculpating glibness. Our adversaries' wrongness does not mean we are in the right. The substance of the terrorists' victory lies exactly in their indisputable success in having persuaded Western societies to endorse and empower our own authoritarian regimes, and to acquiesce in what seems certain to become a perpetual police state and de facto endless war.
It's not either/or, nor is it "us" in the West versus "them" in the Muslim world. Terrorism is evil. So is the police state we're constructing to combat it. The tragedy is that after 9/11 we did have a choice in how to respond, and we largely blew it, first and foremost by initiating the unnecessary and immensely damaging Iraq war in 2003. To reflect on that is to know the bitter irony in Cheney's defiant assertion that he would do it all again. And if we don't accept how very wrong we were, morally, politically, and historically, to invade Iraq, then we will never achieve either understanding or peace.
These things were on my mind already, and then the Sydney cafe siege happened ... and then, early Tuesday morning in Seattle, I awoke to the news of the terrorist attack on a school in Peshawar. At 6:27 a.m. Seattle time I read a message from Shaheryar Azhar, who for years has been rather heroically doing his part to keep moderate discourse in and about Pakistan alive by running a thoughtful moderated email forum. "Once again, a great tragedy has struck Pakistan," he wrote.
TTP [Pakistani Taliban] terrorists chose the softest target possible, one that would have maximum effect - a large public school in Peshawar that at the time was full of children. As of now more than 130 deaths have been confirmed, most of them of children between ages 9 and 16 with about 200 injured. A large number of the dead kids belonged to serving army personnel. Media reports indicate that there are still terrorists holed-up in the school premises. This dastardly act was clearly a cowardly response from an emasculated TTP in response to Zarb-e-Azab, the military operation going on in North Waziristan against the militants.
Having myself studied at the Cantonment Public School in Peshawar and having worn similar striped blue and yellow tie that I see from chaotic images on the TV as I write these words I suddenly feel very old and very broken. My heart pierced, a gaping hole inside, barely able to muster enough energy to send this message. But this will not weaken us.
This Forum has from the beginning of the conflict called TTP, Taliban, terrorists, non-state actors, whatever name you want to give them, an existential threat to Pakistan. That is, all politics and all other economic and social issues collapse into this one single issue. If we don't get this right, nothing will ever be right. If we don't unite on this issue, there will be nothing left to unite for or against [his emphasis].
There is a profound poignancy in Shaheryar sahib's words that any annotation from me would only diminish. The tragedy for the many patriotic Pakistanis I know and admire is that the state in which they still place their hope against the terrorists is itself severely damaged and compromised. Their best hope is not very good at all. But Pakistanis are not alone in having only bad options; that is the case for us Americans as well. The wheels are coming off here as well as there, and the only discernible upside is that, amid all the confusion and violence still to come, we might eventually arrive at a better understanding of ourselves and our situation.
Both understanding and comfort are available to us from history, and our most urgent compulsion is to seek out and amplify the most humane voices and witnesses, both present and past. I just bought and plan soon to read Albert Camus's long-neglected Algerian Chronicles, recently published in English for the first time. As an Algerian-born Frenchman, Camus watched helplessly as his two countries fought a war to the bitter end, loss and bloodshed the only result for all involved. In her 2013 review in The New York Review of Books, Claire Messud writes that
Camus's profound rejection of terrorist violence is obvious in all that he said and wrote on Algeria, not least in his famous (and often misquoted) exchange with the Algerian student in Stockholm, where he said, "People are now planting bombs in the tramways of Algiers. My mother might be on one of those tramways. If that is justice, then I prefer my mother." Acutely sensible to pain and suffering, Camus could not condone it anywhere: "I am not made for politics," he wrote in his notebooks in November 1945, "because I am incapable of wanting or accepting the death of the adversary."
Popular in the Community