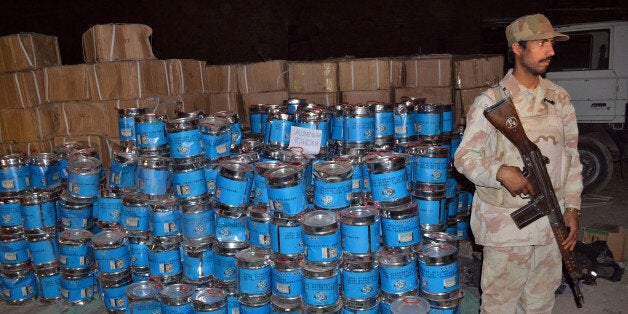 QUETTA, Pakistan Aug 20 (Reuters) - Security forces seized 100 tons of bomb-making material from Quetta, one of Pakistan's most violent cities, on Tuesday night, a security official said.
The material was the same type used in two bombings of a predominantly Shi'ite Muslim part of Quetta this year that killed around 200 people, Col. Maqbool Shah of the Frontier Corps told Reuters.
The raid came a day after two men were arrested driving a truck in the city with 15 tons of potassium chlorate, a chemical used in bomb-making, hidden under boxes of potato chips, Shah said.
Information from the two men led officers to a warehouse stocked with potassium chlorate, circuit wire, sulphur, aluminum powder, acid, detonating equipment, guns and ammunition. There were also machines to mix the materials together, he said.
Eighty drums of material had been prepared and were ready to explode if a detonator was attached, and ten people were arrested, he added.
"I'm very thankful to God that today we saved Quetta especially and Baluchistan generally from a big accident," he told Reuters.
Quetta is the provincial capital of Baluchistan, an arid, sparsely populated and mineral-rich region in the west of the country that makes up nearly half of Pakistan's land mass.
Various militants are active in the city, including the Pakistani Taliban, sectarian groups and separatist nationalist insurgents. Paramilitary government forces have also been accused of abducting and killing civilians, charges they deny.
It was unclear which group owned the cache of bomb-making equipment. But Lashkar-e-Jhangvi, a banned Sunni militant group, claimed the two bombings in Quetta earlier this year.
In one of the blasts, around a ton of explosives was hidden in a water tanker. In the other, militants packed an ambulance with explosives.
Both bombings targeted the Hazara Shi'ite community, an ethnically distinct religious minority.
After both attacks, the relatives of the dead had to sit in the street with the bodies of their loved ones for several days before Pakistani government officials promised to take action.
Pakistan's Prime Minister Nawaz Sharif, whose government swept to power in May elections, has said he is committed to peace.
He has not clarified whether he will focus on seeking talks with militants or stepping up security operations against them.
Experts say whatever his decision, he will need the approval of Pakistan's powerful army. (Writing By Katharine Houreld; Editing by Andrew Heavens)

Support HuffPost
The Stakes Have Never Been Higher
Related
Before You Go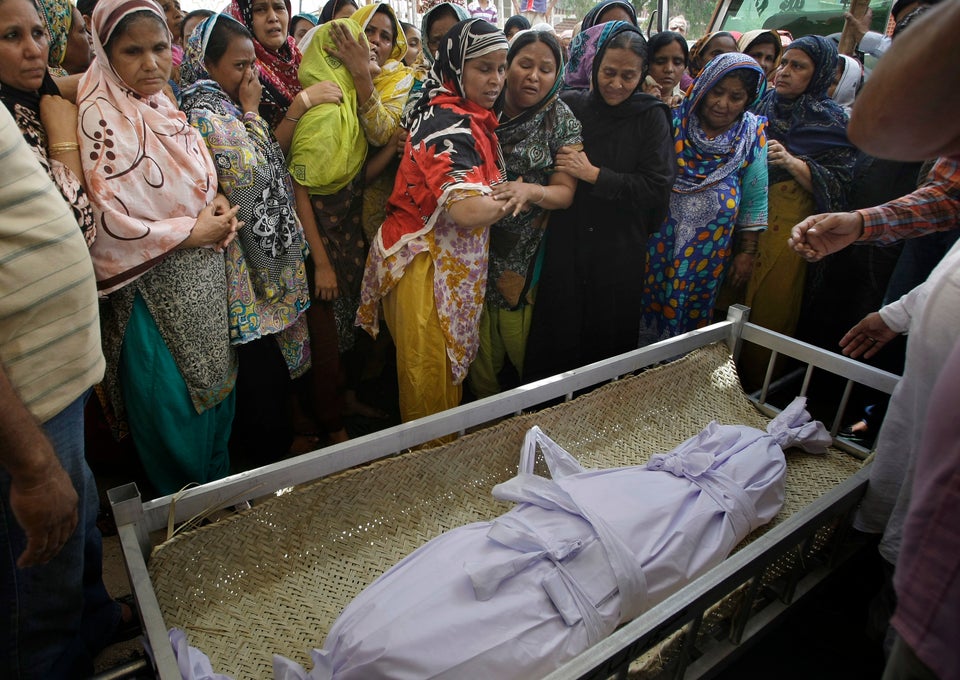 Pakistan Pre-Election Violence (WARNING: Graphic Images)
Popular in the Community