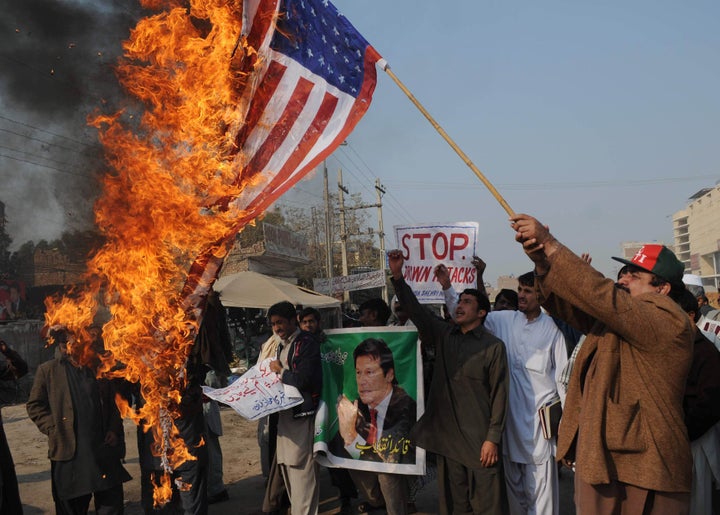 MIRANSHAH, Pakistan, Jan 12 (Reuters) - A second drone strike in two days killed six militants in North Waziristan in northwest Pakistan near the Afghan border on Thursday, intelligence officials said, further marking the resumption of the U.S. campaign paused for almost two months.
The suspected U.S. drone fired two missiles at two cars in the Dogga area of North Waziristan tribal region, killing six.
"The missiles hit two cars that were heading towards the border. Several foreigners were in the cars, but we have no information on their nationalities yet," an intelligence source told Reuters. The source said there might be more casualties.
The strike comes two days after a similar attack killed four militants in North Waziristan, marking the resumption of the unacknowledged U.S. drone campaign, paused after a Nov. 26 NATO cross-border attack killed 24 Pakistani troops. The last drone strike before Tuesday's was on Nov. 17.
Such attacks have been used increasingly in recent years in the fight against insurgents in Pakistan's largely lawless Pashtun tribal areas in the west and northwest who fuel violence across the border in Afghanistan.
Drones armed with missiles have played a significant role in U.S. counter-terrorism operations as the Obama administration winds down the war in Afghanistan and Washington's focus expands to militant havens in countries including Pakistan.
The Obama administration contends that drone strikes have helped weaken the central leadership of al Qaeda and put associated militant groups on the defensive. Others say the lull since mid-November allowed militants to regroup.
U.S. officials denied the drop-off in attacks was part of a deliberate moratorium on such flights linked to the political and diplomatic uproar over the November air strike.
Officials maintained that strikes were based on the availability of targeting intelligence and suggested that such intelligence had been in short supply recently. (Additional reporting by Saud Mehsud in DERA ISMAIL KHAN, and Jibran Ahmad in PESHAWAR; Writing by Chris Allbritton and Qasim Nauman; Editing by Ron Popeski)

Related
Popular in the Community