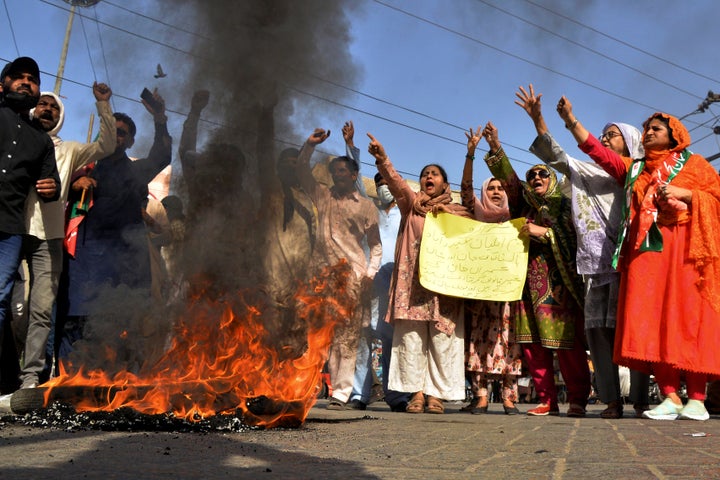 ISLAMABAD (AP) — Pakistan's anti-graft agents on Tuesday arrested former Prime Minister Imran Khan as he appeared in a court in the capital, Islamabad, to face charges in multiple graft cases, police and officials from his party said.
The arrest, which marks a dramatic escalation on Pakistan's political scene, drew nationwide condemnation from the supporters of the popular opposition leader and former cricket star.
Khan was dragged outside the Islamabad High Court and pushed into a police vehicle by agents from the National Accountability Bureau, according to Fawad Chaudhry, a senior official with Khan's Pakistan Tehreek-e-Insaf party.
Chaudhry denounced the arrest as "an abduction." Pakistan's independent GEO TV broadcast images of the 72-year-old Khan being pulled by security forces towards an armored vehicle, which took him away.
Khan was ousted in a no-confidence vote in April 2022. He has claimed his ouster was illegal and a Western conspiracy and has campaigned against the government of his successor, Prime Minister Shahbaz Sharif, demanding early elections.
After Khan was whisked away, a scuffle broke out between Khan's supporters and police. Chaudhry said some of Khan's lawyers and supporters were injured in the scuffle, as were several policemen. Khan's party immediately complained to the Islamabad High Court, which requested a police report explaining the charges for Khan's arrest.
Officials from the anti-corruption body said that Pakistan's National Accountability Bureau had issued arrest warrants for Khan last week in a separate graft case, for which he had not obtained bail — something that would protect him from arrest under the country's laws. The officials, who spoke on condition of anonymity, said Khan would be brought to appear before an anti-graft tribunal later on Tuesday.
Islamabad police confirmed the arrest. Khan was later moved to the garrison city of Rawalpindi, near Islamabad, where he was to be questioned at the offices of the National Accountability Bureau. he was also to undergo a medical checkup, according to procedure, police said.
Khan had arrived in Islamabad earlier Tuesday from the nearby city of Lahore, where he resides, to face charges before the Islamabad High Court in multiple graft cases. He has claimed that the cases, which include terrorism charges, are a plot by Sharif's government to discredit the former cricket star turned Islamist politician.
As the news of the arrest spread, Khan's supporters started gathering in Lahore, chanting anti-government slogans.
The arrest was "blatant interference in the judicial affairs by the powers-that-be," Raoof Hasan, another leader from Khan's party, told Al Jazeera English television. "We are completely in the dark. He was virtually abducted from the court of law."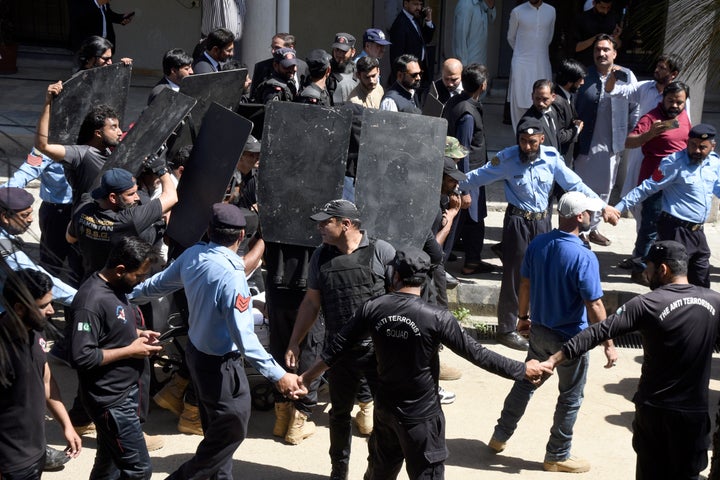 The arrest came hours after Khan issued a video message before heading to Islamabad, saying he was "mentally prepared" for arrest — an indication he may have known what awaited him in the capital.
Khan was wounded by a shooter during a rally last November — an attack which killed one of his supporters and wounded 13. He has insisted, without offering any evidence, that there is a plot to kill him, and has alleged that the country's spy agency was behind the conspiracy to assassinate him.
The gunman was immediately arrested, and police later released a video of him in custody, allegedly saying he had acted alone.
On Monday, the military in a strongly worded statement criticized the Khan of "fabricated and malicious allegations" of its involvement in the November shooting, saying they are "extremely unfortunate, deplorable and unacceptable."
After Khan's arrest, Sharif, whose government is facing a spiraling economy and is struggling to recover from last year's devastated flooding that killed hundreds and caused $30 billion in damages, slammed Khan for assailing the military.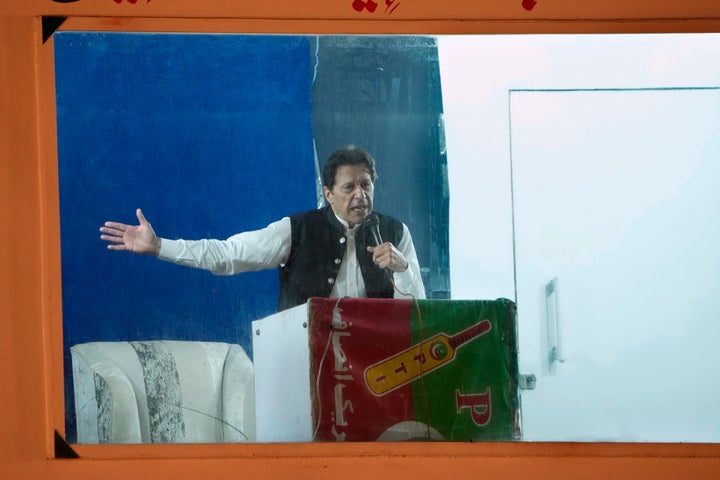 "Let this be abundantly clear that you, as former prime minister, currently on trial for corruption, are claiming legitimacy to overturn the legal and political system," Prime MInister Sharif tweeted.
Khan is the seventh former prime minister to be arrested in Pakistan. Zulfikar Ali Bhutto was arrested and hanged in 1979. The current prime minister's brother, Nawaz Sharif, who also served as prime minister, was arrested on several occasions over corruption allegations.
In March, police stormed Khan's Lahore residence, seeking to arrest him based on a court order in a different case. Dozens of people, including policemen, were injured in ensuing clashes. Khan was not arrested at the time and later got bail in the case.
Khan came to power in 2018 after winning parliamentary elections. His initially good relations with the country's military soured gradually. The military has directly ruled Pakistan for more than half of the 75 years since the country gained independence from British colonial rule, and wields considerable power over civilian governments.
Related
Popular in the Community