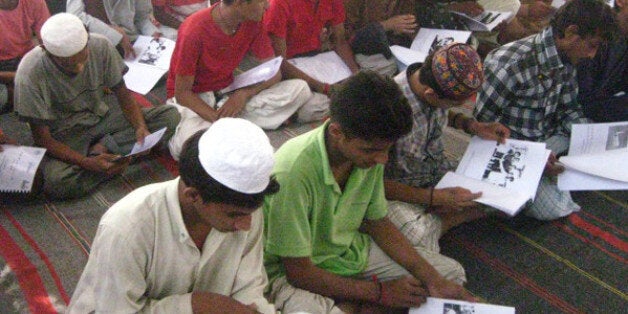 No offense, regardless of its nature and/or enormity, committed at a young age, should be allowed to ruin the rest of an adolescent's life. Like any other adult who intentionally or unintentionally gets caught for any offense and deserves a second chance, I believe that young offenders need to be dealt with in a more sympathetic way. Unfortunately, this is not the case in Pakistan. Ideally, the aim of a prison, detention facility or rehabilitation center is to put the young offenders through a process that equips them with education, awareness, self-esteem and positive energy to cope with the challenges of life in the outside world. The rehabilitation should bring out the best in them, converting them into productive members of society. Unfortunately, the realities on the ground in Pakistan are far from promising. Modern facilities in juvenile prisons are almost non-existent while punishment for crimes is too severe. A large number of incarcerated children never receive a verdict in their cases, as they are too poor to pay for either their lawyers or the bribes needed to get out. When a citizen of Pakistan below age 18 commits a crime, he or she is thrown at the mercy of a juvenile justice system that is riddled with deep loopholes. These young people have to suffer from the consequences of a variety of issues: rampant corruption, resource constraints, detention facilities in poor condition, severe punishments, delayed trials and lack of accountability -- maladies that remain stubbornly embedded in the system. As a result, the young offenders stand exposed to a wide spectrum of evils ranging from life-threatening diseases and mental health complications to the nastiest of abuses, such as violence, drugs and sexual molestations and assaults.
Rigorous imprisonment is awarded to under-aged offenders in violation of a law that clearly and strictly prohibits such a punishment. The question as to how many young offenders there are in Pakistan at a particular point in time remains unanswered due to multiple factors -- lack of proper maintenance of records, incidents of young offenders being registered as adults and frequent change in the number of detainees in juvenile prisons. Ansar Burney, a leading Pakistani human rights activist who has, over the past decades, worked extensively to improve the plight of young inmates, continues to remain far from satisfied with the system.
When I interviewed him in February, he stressed that a massive campaign, spearheaded by the government, needs to be undertaken, and he unequivocally opposed the presence of prisons for juvenile offenders.
"The four provinces including Gilgit-Baltistan should work out a plan to introduce and implement rehabilitation centers," he said. Instead of adopting punitive measures, he said, the primary goal of the reformatory exercise should be to train, educate and prepare them for a post-detention life. Describing the children as veritable "angels," Burney said there should be schools within the premises of the detention facilities where children from outside are also enrolled to study. Alternatively, he proposed that the government should send young offenders to education institutions outside the detention centers.
"But, their link to prison must remain under a tight lid to spare them from any kind of discriminatory attitudes at these schools," he added.
Another issue with these prisons is that children who are born to female inmates often receive either no birth certificate or one with insufficient information. This situation makes things tough for these youths down the road as they move out and try to fit into the civilized world in later years of their life. Burney said a mechanism should be put into place in prisons whereby the practice of female inmates giving birth inside the jail premises is strictly prohibited and all deliveries take place at hospitals. This will ensure that newborns get a birth certificate, clearly bearing the name of the father in addition to other important details. It would also discourage illicit acts discreetly carried out inside the prison, such as rape and/or forced prostitution. The birth certificate of a child born inside a prison used to denote the place of birth as "prison," which proved troublesome for these children later in life. In the wake of activism, the High Court finally ordered an end to this practice and now the place of birth is shown in the certificate as the name of city.
Despite this positive development, youth in prison still have much to grapple with. Zaheer Babar, president of the Society for Health Education and Development, an organization that operates in collaboration with the Sindh government and with the assistance of United Nations International Children's Emergency Fund (UNICEF), observed that the youth who are in trouble with the law have to suffer prolonged delays in trials.
"The worst thing about this is they have to spend all these weeks, months or more in detention, as they are too poor to get a release on bail," he lamented.
The children are brought and kept in the same police stations where adults are detained and interrogated. This exposes them to various risks including violence, sex and drug abuse. The sorry state of affairs is reflected in the growing number of such cases in the country. Babar strongly favors setting up separate courts for young offenders which, he believes, will not only improve the quality of proceedings but also speed up trials.
He added that SHED has so far set up three Child Protection Centers (CPCs) in Karachi and Hyderabad. The CPCs provide youth-friendly space for investigation, maintenance of record, delinquent-victim mediation and rehabilitation of children who are in trouble with the law. "Under a Sindh police order, the FIRs (First Information Report) lodged in Karachi's East, West, [and] Malir districts, are referred to CPCs from which trained officers take care of investigation of the juvenile cases," Babar said.
The organization also arranges health awareness workshops for the juvenile inmates at various detention facilities in Karachi.
These non-state efforts are laudable but since they are being carried out only at a micro level, their scope remains limited. No doubt the challenge at hand is huge with far reaching implications for the society at large. It is imperative for the government to first realize the magnitude of the issue and then devise an elaborate and aggressive strategy to address it effectively in all parts of the country. Nothing less than a serious, sustained and well-coordinated effort coupled with readiness to finance the resource gaps will be required to effect a thorough overhaul of the country's juvenile justice system. To conclude in Burney's words: "A government investment in the vulnerable youth today can go a long way in making the country a brighter, prosperous, and secure place to live in the days to come."
Burney's words echoed in my mind for long time and left me with the hope that the lawmakers will soon realize the gravity of the matter and amend laws so that Pakistan's youth offenders can obtain swift justice and lead a normal life after prison.
REAL LIFE. REAL NEWS. REAL VOICES.
Help us tell more of the stories that matter from voices that too often remain unheard.