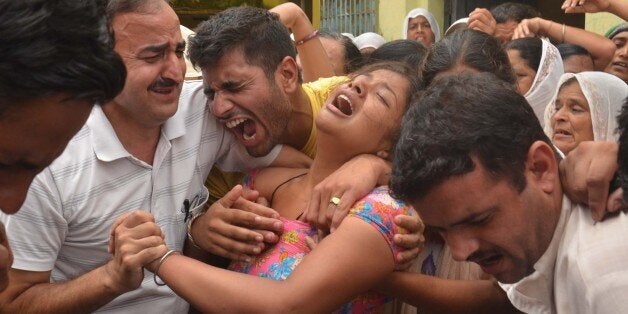 MUMBAI -- When it was obvious that Narendra Modi would become India's prime minister, Pakistan grew alarmed. Modi's party, the Bharatiya Janata Party, is the party that gave India its nuclear status. Indians voted for Modi and the brave India he promised in hopes that his government would not indulge Pakistani predations, and punish them instead.
Pakistan has developed one core strategy in dealing with India over the decades: deploy Islamist militants to attack India while seeking cover from retaliation under its nuclear weapons. It should be noted that while Pakistan is most notorious for supporting Islamist terrorists, it also supports religious and ethnic insurgencies within India as well. Pakistan not only seeks to use terrorism to illegitimately acquire territory in Indian Kashmir, it also wants to resist India's rise in the international system. Until the Modi administration, Pakistan has remained fairly confident that India will not respond militarily to punish Pakistan for its state-sponsored terrorism or to deter it from doing so in the future.
Modi's election prompted Pakistan to wonder how India will respond to a bold Pakistan-backed terrorist attack. Would it follow the path of the previous prime minister, Manmohan Singh, and defuse public demands for revenge in effort to avoiding any skirmish with Pakistan that would impede India's economic growth? Or would it embrace a more hawkish approach that would punish Pakistan?
Would a Modi-led government embrace a more hawkish approach that would punish Pakistan?
Last week, Pakistan tested the water by dispatching three terrorists into Gurdaspur via the Ravi River. The attackers killed seven people, including the Punjab state police superintendent, before the three themselves were killed. Modi's government has been fairly quiet, ostensibly due to the mourning period to commemorate the life of India's president, Abdul Kalam, who passed away on the same day as the attack. Despite the deafening silence, Pakistanis, Indians and the global public are anxious to see how India responds.
This is not the first time that Pakistan has sought to test Modi's mettle: the first time it did so was in May 2014, before Modi had been sworn in. On that occasion, Pakistani terrorists attacked the Indian consulate in Herat, Afghanistan. Analysts believed that the Herat attackers were either associated with Lashkar-e-Taiba, now operating under the moniker "Jamaat-ud-Dawa," or the Haqqani network, both of which operate at the behest of the ISI, Pakistan's intelligence agency. Pakistan has backed several terrorist attacks on Indian personnel and facilities in Afghanistan in effort to compel India to maintain a small footprint in Afghanistan, fearing that India will use its presence there to support militants and terrorists operating in Pakistan.
Then, in June, India's government announced that it had staged a raid into Myanmar's territory to pursue militants who had ambushed an army convoy in Manipur that killed 20 security personnel. India was making it clear that it will not tolerate its neighbors harboring terrorists who act against India. Pakistan, understanding that the message was directed at them, retorted that Pakistan is not Myanmar and brandished various nuclear threats.
Why Gurdaspur?
The attack on Gurdaspur is an important escalation by Pakistan. It is the first attack during the Modi government's tenure that has taken place outside of Jammu and Kashmir, the territory that Pakistan seeks to wrest from India. Yet Gurdaspur, a middling third-tier city that will not capture the attention of India's public for long, does not have the provocation power of, say, an attack on Delhi or Mumbai. It is unlikely, in the minds of Pakistanis, that India would risk war for Gurdaspur. However, it is almost certain that a tepid response to the Gurdaspur attack will most likely invite more ambitious attacks on high-value targets within India. This moment harkens back to an event in 1965 when Indian and Pakistani troops confronted each other in the Rann of Kutch. Pakistan interpreted India's lackluster riposte as a signal of weaknesses and thus launched a more aggressive attack in Kashmir later that year. Pakistan, in that case, miscalculated. India responded by opening a new front along the international border in the Punjab.
Gurdaspur, apart from being an important signal of Pakistani escalation, is a target laden with historical and symbolic significance. Historically, it animates a grudge that Pakistan has nursed since partition: namely, that Muslim-majority tehsils from Gurdaspur went to India in connivance with the British to facilitate India's acquisition of Kashmir. Few Pakistanis ever concede that not all of Gurdaspur went to India -- Pakistan got Shakargarh. Pakistan asserts that this allocation of "Gurdaspur district" permitted India to move troops into Kashmir. Of course Pakistanis conveniently omit that these districts were allocated to India instead of Pakistan likely due to the large population of Sikhs there, and Pakistanis also fail to acknowledge that Pathankot -- with a Hindu majority and close ties to Kashmir -- would have gone to India in any event. Symbolically, the "original sin of Gurdaspur" animates Pakistani military, militant and popular thinking about India.
Gurdaspur is a target laden with historical and symbolic significance; it animates Pakistani military, militant and popular thinking about India.
Gurdaspur is also important because it brings up memories of those bloody days of a terror campaign waged by Sikh militants who committed wanton acts of violence in the guise of an ethno-religious campaign to secure an independent Sikh state known variously as Sikhistan or Khalistan. The so-called "Khalistani militants" enjoyed significant support from Pakistan. In fact, in 1993, I met a Khalistani hijacker who had taken a passenger plane from Delhi, destined for Amritsar and forced it land in Lahore. That hijacker was residing in a prominent Sikh temple (Gurdwara) across from Lahore's famous fort.
Over the years Khalistani activists have continued to enjoy sanctuary in Pakistan. A few weeks ago, the head of the committee that oversees Sikh shrines in Pakistan met with Hafiz Saeed, the Jamaat-ud-Dawa leader and mastermind of the November 2008 terror attacks in Mumbai. Equally disconcerting, Khalistan's most generous support lies in the diaspora communities of Canada, the United Kingdom and the United States where they can freely interact with ISI officials should they desire.
In the weeks prior to the Gurdaspur attack, #Khalistan was trending on social media. Reports of t-shirts and posters celebrating Sant Bhindranwale in India's Punjab have further raised concern about a resurgent Khalistan movement. Bhindranwale was a prominent Sikh militant leader who was killed in 1984 in an Indian army operation against the Golden Temple, Sikhism's most sacred shrine. Bhindranwale had fortified the shrine and used it as a military base from which his lieutenants conducted their terror campaign.
There is reason to believe that Pakistan seeks to reopen the Punjab as a new theater of terrorism.
There is reason to believe that Pakistan seeks to reopen the Punjab as a new theater of terrorism. Pakistan is anxious to persuade militants to stop fighting Pakistanis and resume the fight in India and Afghanistan. To this end, Pakistan has rejuvenated Jaish-e-Mohammad in effort to lure fellow Deobandis out of the Pakistani Taliban and refocus on India. Lashkar-e-Taiba's cadres are also anxious to re-engage in India. To add to India's concerns about the Punjab, the state faces a rampant drug problem which creates numerous opportunities for militant-criminal-trafficking collusion.
Despite tense developments this summer, peaceniks heralded new portents for South Asian peace after Modi met his Pakistani counterpart, Nawaz Sharif, in Russia and made a much-celebrated agreement on a definition of terrorism. This, however, would be of little comfort to Indian victims of Gurdaspur.
Optimism for a breakthrough was misplaced for several reasons. First, Nawaz Sharif does not hold any lever of power that matters. Even if Sharif wants peace himself -- a questionable assertion -- he is not the Sharif that matters: Pakistan's army chief Raheel Sharif is the one in charge. Pakistan's army has no incentive to normalize relations with India; rather, it wants to protect its preeminent hold upon the state, its resources and its people, all of which is predicated upon an interminable, civilizational war with "Hindu India."
Second, such meetings can be productive if there is some glimmer of joint preferences. Alas, there is little evidence of any common ground. Pakistan wants to change the status quo through terrorism backed by nuclear proliferation, while India wants to ratify the status quo and get on with the business of being a rising power. The Gurdaspur attack proves Pakistan's men on horseback do not want peace with India. The attack was a clever move.
The Gurdaspur attack proves Pakistan's men on horseback do not want peace with India.
So far, Pakistan has used terrorism under its nuclear umbrella because it is cheap, effective, difficult to deter and ultimately successful in prompting an international chorus to call for "resolving the Indo-Pakistan problem."
Now What?
If India fails to respond, it will no doubt court further Pakistani adventurism. After the bust-up in Myanmar, a failure to take decisive action to punish Pakistan will mean that Pakistan has essentially called India's bluff.
India has options that include political, diplomatic, economic and military modes of redress. Diplomatically, it can downgrade Pakistan's mission or even oust Pakistan's ambassador. India can engage in economic sabotage. Military options that are proportionate include air raids on terror camps in Pakistan-administered Kashmir from aircraft safely within Indian airspace. These are all options at the lower end of the spectrum.
Politically, India must change the narrative about this conflict with its major partners. India would be behooved to tell its international backers bluntly that there is no "India-Pakistan problem" -- only a Pakistan problem. India's partners should support India in its application of power and join hands to force Pakistan to abandon terror under a nuclear umbrella as tools of foreign policy rather than, as is the case, finding ways of excusing Pakistan's behavior in order to continue writing checks to Islamabad.
Pakistan is not just India's problem. It's time the international community understood this and began acting accordingly.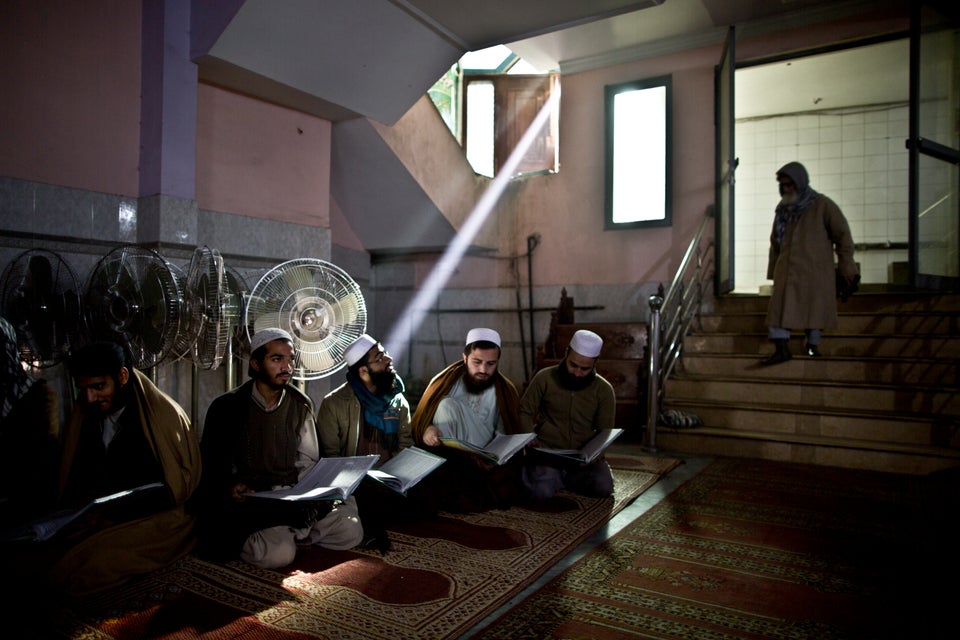 Inside Pakistan's Religious Schools
Popular in the Community