I'm in the office of Dr. Sono, one of Pakistan's most extraordinary social entrepreneurs. Born a Hindu Dalit or "untouchable," he has worked for his country since his youth and emerged as one of the most important grassroots leaders in Sindh. He runs the Sindh Rural Support Organization, a nonprofit company that has emerged as the leading coordinator of local relief during the floods, providing food, sanitation, water and healthcare to six provinces, and serves 60,000 individuals two hot meals a day. With him are Sabiha Bhutto and Asma Soomro who Dr. Sono introduces as his "commandants." Both women carry serious expressions that give them gravitas and weight. Asma wears a black shalwar and an olive-and-rust-colored tropical print shawl over her head. Saibiha wears red-and-white narrow striped cotton. These two women led others to mobilize 80,000 people during the flood emergency.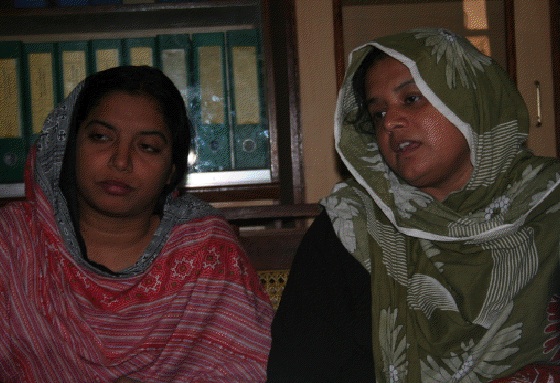 I ask what they learned from the experience. Asma responds, "We learned to really go to their level, speak their language, feel what they would feel, and build trust." This is classic social-organizing language. "During these three weeks, I met a 90-year-old woman. She wanted to see how other people were coping in the disaster because she herself had gone through crises and was herself prepared for what might come. This inspired me a lot."
Sabiha speaks as much with her eyes as her hands. She remembers the sense of panic among people in Shikarpur who were understandably terrified by the threat of floods. "I spread calm to the people, and promised that Shikarpur would make it through the floods. I urged them to help those who were really in need." When local residents wanted to cross the river, she stopped them. She could see what others could not -- buffalos flying through the churning rapids, most of them drowning. Her neighbors trusted her, and lives were saved. I ask what she had learned. "I realize what it means to be brave," she answers.
Neither Sabiha nor Asma consider being a woman a hindrance, even in conservative parts of Pakistan. "People know that we are here for them," says Sabiha. "We've earned their trust." Between them, they've delivered sixteen women to the hospital to enable them to give birth during the crisis period.
Dr. Sono jumps in and says, "Last week, I received a phone call from a nearby village. The caller said people were drowning. And you know, I love that village." His eyes twinkle so that you can feel that love. I adore Dr. Sono for being so exquisitely alive and caring. He continues:
I called Sabiha and Asma and told them to go to the village and help people escape before the flood waters came. It was 10:30 at night, and still they went. This is a dangerous area, and women especially can be killed going out at night. But they went. And by midnight, the village was empty and there was not a single drowning.

The conversation turns to Pakistan's future, and what can be done about corruption.
Corruption is a big problem here. But we are seeing changes. We have minimized corruption at the district level, and now we have to translate that to the top level. We also have to focus on educating people at the grassroots, too, so that they begin to question government. This way, we can start to end corruption.
This way, the world can change.
As I listen to Dr. Sono and these two extraordinary women, I'm reminded of the true power of Pakistan, if only the country would allow it to flourish. Dr. Sono speaks the language of collaboration, courage, self-sacrifice, determination and inclusion. He dreams of a Pakistan where all people can access services. Sabiha and Asma show no insecurities about being women. They risked their lives going to those villages at night, but they saved their fellow citizens.
I could not be prouder to know Dr. Sono and to have worked with him through Acumen over the years. He is a teacher and a mentor, and I'm one of his biggest fans. Over lunch, I learn that it is his birthday today and I tease him about spending it in camps for the internally displaced. "What better thing could I be doing?" he asks with a smile.
Popular in the Community