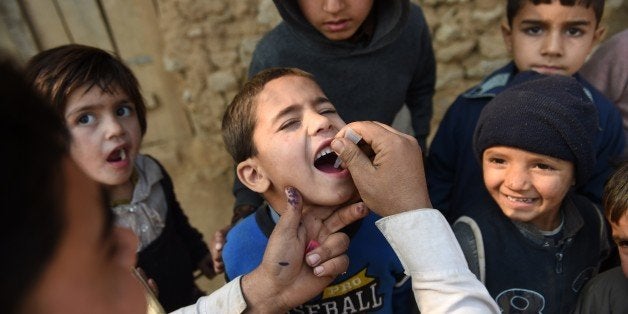 2015, the year Pakistan aspired to eradicate polio in, has seen six new cases emerge in just the first month.
For those who see Pakistan through "Homeland"-style stereotypes, the march of a polio epidemic simply adds to the layers of crises that we get branded with. But even for Pakistan-watchers who privilige nuance over sensation, the question of why our country continues to grapple with a disease that has been preventable for over half a century, certainly begs an answer.
With cases continuing to rise and violence against health workers becoming increasingly common, the threat posed by polio to our children is both great and unprecedented. There can be no argument on the level and urgency of focus needed on its eradication.
So what contributes to our country's ineffectiveness in eradicating this disease?
When talking about polio in Pakistan the first point of discussion is almost invariably the security threat that now just goes with the territory, as it were. Vaccinators today face serious security risks. However, while this is a key factor in why this disease continues to plague our nation, it is not the only one. Along with security concerns, there is also significant religious stigma, inconsistent government commitment to eradication efforts and, after years of targeted efforts, an element of campaign fatigue.
Perhaps the most important element in ensuring that the polio eradication campaigns have the best chance of success is unequivocal support from the government. Health care has consistently been an area of focus for PPP governments, illustrated by efforts like the Benazir Income Support Programme which has continued on under the current government and regardless of whether they change the name it was, is and always will be the Benazir Income Support Programme. Specifically for polio, PM Yusuf Raza Gilani and former President Asif Ali Zardari both endorsed the National Emergency Action Plan, launched in 2012. Polio cases dropped precipitously: according to the Global Polio Eradication Initiative, Pakistan in 2014 had a total of 306 cases compared to 93 in 2013 and 58 in 2012. There was a clear and dedicated commitment to removing polio as a threat to our children.
With the transitionary impact of an interim caretaker government and suspension of the PM polio cell, an invaluable part of the momentum driving efforts to combat polio was lost. Surveillance, communication efforts and vaccination programmes faltered in all provinces. While some developments have been made under the current government, including the creation of a mandatory polio certification programme, lack of government oversight and checks on the system have led to abuses. Reports of families being charged for polio drops that are, and always will be, free are unacceptable and must be addressed.
Understandably, campaign fatigue has also become an issue. When meeting polio workers one of the complaints that arose during a campaign was, "why are you just giving polio drops? My children are at risk of other diseases and you came here last month". Both health workers and the people can see we have far more to deal with than one disease. If we can tackle the mind-set leading to refusals of polio drops, we can remove an entire disease and redeploy the resources to other areas within our health system that are desperately in need of them. Education is one aspect: everyone leader from across the religious and political spectrums claims to support the polio campaigns, however, it is still common to have drops rejected on religious grounds. We need these leaders to come out and join our country's health programmes and help secure our children's future.
And finally, security. The overwhelming threat faced daily by our health workers is a harsh burden that they deal with continuously. Since the first attack on polio workers there have been repeated attacks on polio workers across the country. Even without the security threat, we are a country that is struggling with human resources in health care as we face shortages in almost all fields. And yet, during my four and a half years as Polio Ambassador for Pakistan by the United Nations, I have witnessed the unwavering commitment of these polio workers in the face of such adversity and open hostility. One cannot help but be touched by their stories: one health worker I met had refused polio drops to her child who later contracted polio. Since that time she has gone door to door during every campaign in her province to try and spare other mothers from suffering the hardship she had to endure. Another worker takes her child with her during campaigns and proves to mothers in front of them that her child has taken it therefore they should. This was based on the example my mother Shaheed Mohtarma Benazir Bhutto set when she gave me the first oral polio vaccination (OPV). Their stories and actions leave no doubt in my mind that we as a nation are capable of eradicating polio but we must focus our efforts on ensuring that the infrastructure of the health system will allow for the safe access of polio teams to every child, regardless of their location.
In order to achieve a polio free Pakistan we must have the will from the people, government and religious scholars. We need support from the government that they will keep our health workers safe and will fully commit to eradication efforts. We need to assure the people through our strong and targeted efforts that the campaign will be successful and we will have a healthier Pakistan because of it. And finally, we need to continue to speak out and denounce those endangering our children by claiming a threat exists in the drops. This will all manifest itself in different ways, from educational mass media campaigns run by the government to the resolution of a single health worker to carry on despite the daily threat, but each element contributes to ridding our country of polio. As a people, we have the ability to defeat this disease, but only if we work in unison.