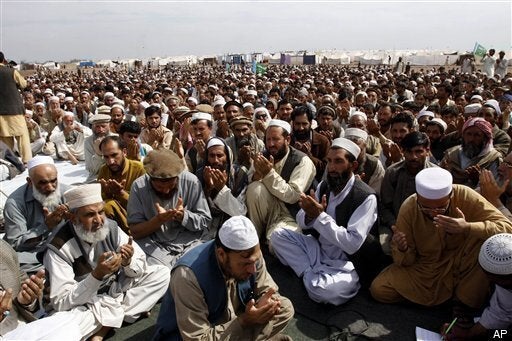 This past Thursday, Prime Minister Gilani announced that a "phased return home" for the Internally Displaced Persons (IDPs) of Malakand Province will begin today, July 13. According to Dawn,
Speaking at a news conference at the PM house (his third in as many days) Mr. Gilani said the government had achieved the targets of military operation started some four weeks back in the restive Swat valley and other troubled areas Malakand division, and the IDPs will now start returning under a plan to be chalked out by Special Services Group (SSG).
Gilani's announcement was echoed in statements by other political and military officials, including Federal Minister for Information and Broadcasting Qamar Zaman Kaira and head of Inter-Services Public Relations (ISPR) Maj. Gen. Athar Abbas, who stated that security forces "successfully completed military operations in Swat and Buner, clearing out militants and making the area safe for return..."
According to media outlets, the return will take place in three phases. Dawn on Monday reported, "Under the first phase of the three-stage repatriation plan, the displaced people from 11 officially designated camps will return to the [Swat] valley from July 13 to July 20." The news agency added, "This would be followed by the return of off-camp IDPs, which would continue for about 10 days." Ultimately, a total of 23,040 families are slated to return home from camps in Mardan, Swabi, Nowshera and Charsadda. According to Abbas, the provincial government has restored services like electricity, gas, petrol stations and banks. Moreover, noted the BBC, General Nadeem Ahmad, who is coordinating the operation, "said every family leaving the camps would receive cash support from the government."
While this appears to be positive news, some have warned the shift is premature, suggesting the IDPs may not be the only ones returning. According to CNN's Nic Robertson, the Pakistani military has claimed they have killed more than 1600 Taliban militants, "but many more had fled the fight and may now be filtering back home." In a BBC News piece, correspondent Syed Shoaib Hasan reported that some militants managed to escape the military aircraft and artillery fire during the Swat offensive by, "using passages they had dug connecting the mines to wells inside the nearby houses." He added, "The passages were built to take take away the emeralds safely, but ended up providing an unlikely escape route for the Taliban...Subsequently, the army was able to quickly oust the militants, who did not put up much of a fight."
BBC News reporter Zubeida Malik spoke to Jamal Nasir Khan, the district nazim of Swat, who said many displaced were wary of returning home because neither the leaders nor the secondary level of commanders have been "taken care of." He noted that many residents feel these leaders, like Beitullah Mehsud, Muslim Khan, and Sufi Muhammad need to be arrested or killed or they will "come up again after two months." A Mingora resident told the BBC, "The army may have seized the region, but it still does not control all of it. The Taliban...are still very strong...After all that has happened, this is our greatest fear - the Taliban can still return."
It is not that the millions displaced do not want to return home. In fact, many have expressed their desire to travel back to their towns as soon as possible. Their caution, therefore, seems to be based on a lack of trust in the government to ensure services and security, as well as an overall fatigue from living with host families or in camps. In fact, noted the BBC's Zubeida Malik, of the two million people displaced by the current conflict, only 280,000 actually reside in the camps. The rest are living in schools or with families. And, while many IDPs in camps receive aid from NGOs and international agencies, those residing with hosts are for the most part unregistered, relying mainly on the goodwill of local citizens. Many of those "off-camp" IDPs have already returned home to Buner, but, noted the Daily Times, received no government support.
If the government can ensure safe travel and basic services for the returnees of Swat Valley in this upcoming shift, great. But their responsibility does not end there. The Swat economy is based largely on agriculture and tourism. Given that the first crop has already been lost, and there is not a single tourist to stay in the 600 Swat hotels, the issue of long-term survival must be addressed. How can these citizens maintain a livelihood within this vacuum so that, even after their return, they are no longer dependent on hand-outs?
Ultimately, the government needs to strike the balance of ensuring not just a safe but also a sustainable return home. Pakistan is a nation fatigued by conflict, and while the offensive has placed a tremendous strain on the nation's infrastructure and people, it should not be sped up just to capitalize on the public's support for the war. It should not be put on turbo speed just because Ramazan [the Muslim month of fasting] is fast-approaching, or because the 3,700 schools currently occupied by IDPs need to be re-opened for the upcoming school year. The displaced people deserve far more than false hope or a repeat of past operations. And, frankly, we all do.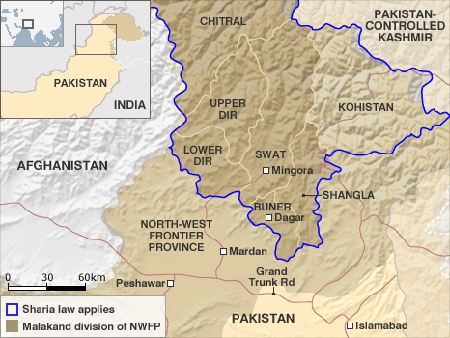 This is part of HuffPost's Spotlight On Pakistan. Eyes & Ears and HuffPost World are building a network of people living in Pakistan who can help us understand what is happening there. These individuals will send us reports -- either snippets of information or full-length stories -- about how the political crisis affects life in Pakistan. This is an opportunity to have a continued conversation with Americans about what's happening in your country. If you would like to participate, please sign up here.
Related
Popular in the Community