The attack in Pakistan's northwestern Khyber Pakhtunkhwa (KPK) province was one of the bloodiest in the nation's history, so brutal that it even drew condemnation from the Afghan Taliban. The massacre comes amid an ambitious army offensive against Islamic extremists in the KPK.
The tragedy of Tuesday's massacre is unimaginable, but it is an all too familiar story for Pakistanis who have been locked in a battle to improve education for their children, often against the will of Islamic extremists. The attack must be understood in the context of life at the border of Pakistan and Afghanistan, especially for schoolchildren.
These figures give some idea of the terror faced by school-aged children in the region:
1,800
The number of militants killed by the Pakistani army in its ongoing offensive in the KPK and particularly North Waziristan, according to The New York Times. The Taliban has claimed that Tuesday's attack, which targeted a military-run school with close ties to the army, was a retaliation for the operation.
838 to 919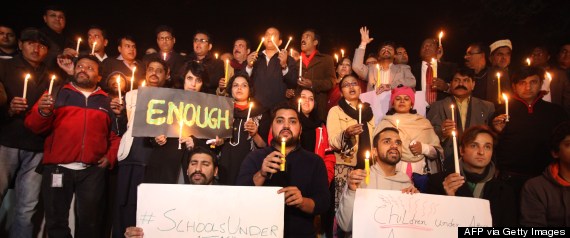 Members of Pakistani civil society and journalists light candles for the victims of the attack. (M SHAHID/AFP/Getty Images)
400
The number of schools destroyed between 2008 and 2012 in the Swat valley region of the KPK alone. Seventy percent of the attacks targeted girls' schools.
50%
At least 30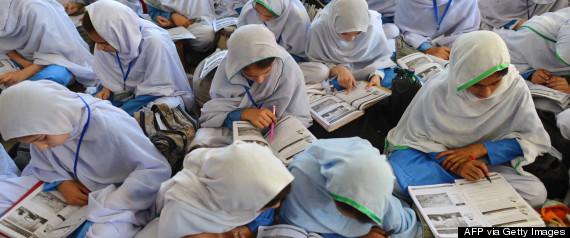 Pakistani girls attend class at a school in the Swat valley. (A. MAJEED/AFP/Getty Images)
29.2%
The national secondary school enrollment rate for girls in Pakistan, according to UNICEF. The enrollment rate for boys, by comparison, is 39.7 percent.
21%
The percentage of Pakistani children aged 6 to 16 who were out of school in 2013, according to the Annual Status of Education Report, which is issued by a coalition of NGOs. Poor children, and particularly girls, are much less likely to attend school. Among the poorest quartile of people surveyed by ASER, 53 percent of girls in this age group were out of school, compared to only 20 percent in the richest quartile.
17.6%
The difference between female and male literacy rates for Pakistanis aged 15 to 24. According to data gathered between 2008 and 2012, Pakistani males in this age group had a 79.1 percent literacy rate, while 61.5 percent of females were literate.
2%
The percent of gross domestic product Pakistan spends on education, the lowest proportion in South Asia, according to the ICG report. In contrast, neighboring India, a historic rival of Pakistan, spends 3.1 percent of its GDP on education.
0%
The percent of government-funded primary schools in Pakistan that had computer labs, according to ASER. Private schools, especially in urban areas, were more likely to have computer labs and other facilities like libraries and playgrounds.
14
Malala Yousafzai's age when she was shot by Taliban militants for her education activism. Yousafzai -- now the youngest-ever Nobel Prize laureate -- rose to international prominence after the Taliban made a failed attempt to kill her while she was on her way to school. She had been an increasingly powerful and public voice for education access prior to being shot, and after surviving the attack, her activism has only grown stronger.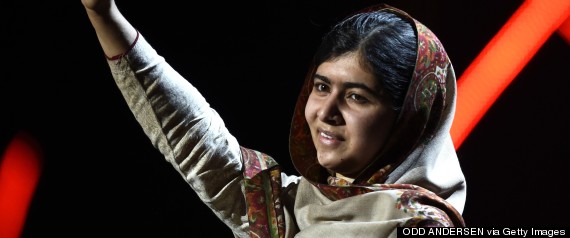 Malala Yousafzai greets the audience at the Nobel Peace Prize Concert at the Oslo spectrum on December 11, 2014. (ODD ANDERSEN/AFP/Getty Images)
40,000
The number of private schools in Pakistan that have banned Yousafzai's book out of fear of extremist retaliation, according to the Associated Press. The All Pakistan Private Schools Management Association, which banned the book in the 40,000 schools it controls, has been hesitant to embrace Yousafzai's message largely because of the Taliban's opposition. Another school group, the All Pakistan Private Schools Federation, also reportedly banned Yousafzai's book in 2013. Earlier this year, the organization also held an "I am not Malala" day and urged the Pakistani government to ban her memoir.
"I am heartbroken by this senseless and cold blooded act of terror in Peshawar that is unfolding before us. Innocent children in their school have no place in horror such as this," she said. "I condemn these atrocious and cowardly acts and stand united with the government and armed forces of Pakistan whose efforts so far to address this horrific event are commendable.
"I, along with millions of others around the world, mourn these children, my brothers and sisters – but we will never be defeated," Yousafzai added.
Correction: A previous version of this story stated that neither government nor private schools had computer labs. Government-funded primary schools in Pakistan were the only group not have any access to computer labs in 2013.
Calling all HuffPost superfans!
Sign up for membership to become a founding member and help shape HuffPost's next chapter