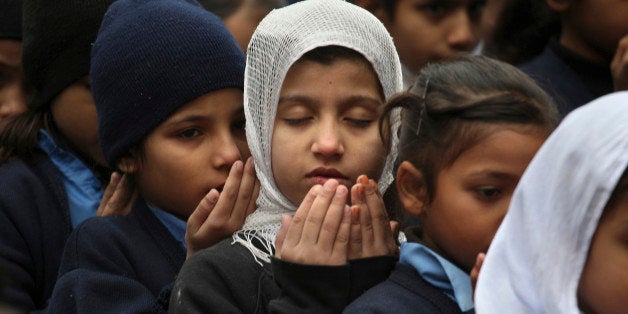 WASHINGTON -- When terrorists stormed a school in Peshawar on Tuesday and killed 141 people, mostly children, it was both one of the deadliest attacks in Pakistan's history and the latest front in the Taliban's war on education.
Although the Taliban said the attack was to avenge military operations that in recent months have left hundreds of militants dead in northwest Pakistan, the targeting of schoolchildren drew immediate comparisons to the 2012 attack on children's rights activist Malala Yousafzai. Just a week earlier, Yousufzai delivered an impassioned plea for ending the assault on education in Pakistan while accepting the Nobel Peace Prize in Oslo, Norway.
"Let us become the first generation that decides to be the last that sees empty classrooms, lost childhoods and wasted potentials," the teenager, who was shot in the head by the Taliban after campaigning for girls' education, said in her acceptance speech.
Yousafzai's words are not only a call for action but also emblematic of how to help in the wake of the Army Public School massacre. In a country where most of the population cannot afford to send their children to school, donations toward education go a long way.
Here is a list of organizations dedicated to helping children in Pakistan receive an education:
The Malala Fund
After surviving an attempt on her own life by the Taliban, Yousufzai created a foundation focused on empowering girls through education.
CARE Foundation
Seeking to end illiteracy in Pakistan, CARE allows donors to sponsor the education of a child, a college student, or an entire class or school.
UNESCO
The United Nations Educational, Scientific and Cultural Organization, the U.N.'s leading agency in the area of education, has an office based out of Pakistan's capital, Islamabad, that oversees its "Education For All" initiative and also works on eradicating gender inequality.
The Citizens Foundation
The nonprofit is one of the leading organizations in the field of education in Pakistan, having established 1,000 school units nationwide since its inception in 1995.
Global Fund for Women
The Global Fund for Women seeks to advance women's rights through access to education, and finances multiple projects in Pakistan.
Oxfam International
Working in Pakistan since 1973, Oxfam lists female literacy among its top priorities in the country.
DIL
Developments in Literacy (DIL) educates and empowers underprivileged students, especially girls, by operating student-centered model schools. It also provides professional development to teachers and principals across Pakistan.
Calling all HuffPost superfans!
Sign up for membership to become a founding member and help shape HuffPost's next chapter