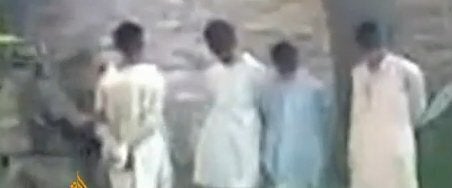 New footage of Pakistan soldiers allegedly executing a group of six civilians has surfaced online, raising troubling questions about the country's stance as a key ally in the U.S. fight against the Taliban, Al-Jazeera reports.
In the grainy video, which appears to have been shot on a cell phone or other low-quality mobile device, uniformed troops purportedly line up a pack of six bound and blindfolded young men before shooting them.
Pakistani officials are so far dismissed the video's legitimacy, calling it "jihadist propaganda" which may have been distributed by the Taliban. U.S. authorities say the investigation is currently ongoing, as law forbids funding foreign military units singled out for human rights violations. "Human rights and the issue of extra-judicial killings has been a part of our ongoing conversation ... with Pakistan," State Department spokesman P.J. Crowley told Reuters.
Watch Al-Jazeera's full report on the video here (warning: contains graphic images):