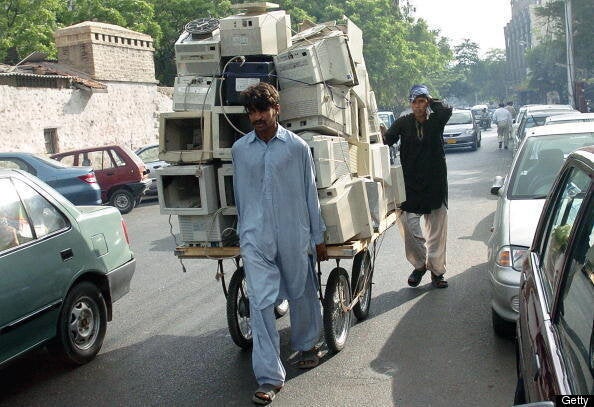 ISLAMABAD -- Soon after the Supreme Court had declared former President Pervez Musharraf's November 2007 emergency rule to be illegal, Pakistani students, doctors, engineers and lawyers went online to express their delight or annoyance.
One social networking website that brimmed with these voices, displaying them within 140 characters or less, was Twitter.
"The nation should promise never to support unconstitutional steps in future!" said one 'tweet.'
"If Pakistan's Supreme Court is so holier-than-thou, how come the blind eye to [President] Zardari's corruption?" said another.
In the West, Twitter is used as much by college kids broadcasting their daily lives as by celebrities, journalists and social activists. But in Pakistan, the site is used mainly by professional, urban youths who primarily seek to vent their political views. Tweets poke and dissect the day's news -- from the recent military operation in Swat to the PPP-led government's failure to produce electricity -- and strive to explain a country that has become a crucial player on the international stage.
But in a country where only 10 percent of people use the internet (17,500,000 users as of March 2008, according to InternetWorldStats.com), Twitter is clearly a very new phenomenon used almost entirely by those with an agenda to raise issues before a global forum.
"I usually don't do personal tweets," said a 25-year-old student, Abdullah Saad, who also runs a hardware and games review website. "You'll find me tweeting either about technology or politics."
Consider a recent tweet by Saad: "Will the international media pick up news about Government of Pakistan trying to stifle political dissent?"
Saad first started using Twitter to organize rallies against Musharraf when he sacked Chief Justice Iftikhar Chaudhry -- almost a year before Iran's citizens hit the news for similar reasons following that country's controversial June presidential election.
"Twitter was easy to use and a fabulous tool to coordinate and get your word out, in little or no time," he said.
But he admitted that the campaign wasn't on a scale observed later in Iran. "There just weren't that many Pakistanis on it."
Data on the number of Twitter users in Pakistan is hard to come by. ComScore, an international marketing research company, reports on 40 countries, but Pakistan is not one of them.
According to some users, the Twitter scene in Pakistan is growing slowly, discretely and far more organically than it did in Iran.
Ammar Faheem, a 22-year-old telecom engineer said: "The Iranian Twitter campaign had all the hallmarks of a well-organized and deliberate campaign. Pakistanis are more genuine on this front."
Pakistani Twitterers are prone to voicing opinions more loudly and clearly than ever before, having grown up in a vibrant and at times aggressive media scene under Musharraf. From ridiculing the National Reconciliation Ordinance that granted Zardari amnesty to, more recently, rejecting a government directive that declared the sending of "indecent, provocative and ill-motivated" text messages and emails an offense punishable with up to 14 years, the Twitterati here is all about defiance.
Hamid Majid Abbasi, a 24-year-old student and freelance writer, said that the government order relating to text and email, though still in place, has largely been rejected by the Twitter community. "It is just another lame excuse to stop a basic human right -- the freedom of speech. Rest assured, it will not succeed," he said.
While text messages can become a significant irritant to the authorities (Pakistan is one of the world's fastest-growing cellphone markets, with user numbers growing 73 percent this past year, according to a 2007 Business Week report), websites like Twitter are hardly on their radar. Most political parties claim rural voter bases where the internet is not widespread but cellphones are pervasive.
While politicians in countries such as the United States have Twitter accounts to connect with voters, not a single Pakistani political leader is present on the website (though there is no dearth of hoax accounts).
Still, it was a small segment of urban activists that cracked Musharraf's regime, not rural voters.
Nauman Qaiser, an active participant in the lawyers' movement for the restoration of Chief Justice Iftikhar Chaudhry, wrote in The Nation, a daily newspaper: "There is no doubt in my mind that it was this unbridled and unrestrained usage of internet and mobile phones -- whereby not only the unpopular politicians were ridiculed...but also large anti-government protests were orchestrated on short calls -- that ultimately proved quite instrumental in the downfall of the Musharraf regime."
Realizing this potential of the online world not just for dissent but for harmonious causes as well,
Pakistan's more experienced Twitter users launched a campaign on the website for the country's Independence Day this year. They encouraged their countrymen to turn their avatars green to symbolize the national flag on Aug. 14. The campaign, titled "Go Green," aimed to make Pakistan one of the "trending" topics on Twitter that particular day. Later, the effort swelled to targeting one million display pictures on all social networks by next year.
"Imagine the dignity Pakistan will have on cyber space," said the campaign's Facebook fan page."It may not achieve anything substantial," said one of the earliest and most active Twitter users in the country, Dr. Awab Alvi, 34. "But I see this movement as an opportunity to show the world that there are decent, peace-loving people here who dearly love their country, and that our country is not all about Taliban, bomb blasts and terrorism."
Popular in the Community