Muslims continue to face attacks from all directions in today's America. The Council on American-Islamic relations recently released their annual report on Islamophobic attacks, finding a 57 percent increase in attacks on Muslims in 2016 from the prior year. The trend does not appear to be abating in 2017. Just last week, a video of a Muslim woman being harassed in line at a Northern Virginia Trader Joe's went viral, showcasing how some now feel comfortable casually harassing Muslims over their faith in the middle of a grocery store. Meanwhile, an Oregon man was just arrested after threatening to kill worshipers at a mosque, and a Muslim family on a beach in Texas was recently subjected to an Islamophobic tirade by a self-proclaimed Trump supporter. To say it is a challenging time for Muslims in America would be an understatement.
Thankfully, there are bright spots for American Muslims in this toxic environment. On May 10, as part of the annual American University School of International Service (SIS) End-of-Year Celebration at the Maggiano's Chevy Chase in Washington, DC, Ambassador Akbar Ahmed, the Ibn Khaldun Chair of Islamic Studies at American University (AU), was awarded the 2016-17 SIS Scholar/Teacher of the Year award. As a leading faculty member of SIS, one of the top ten schools of international affairs in the US, Ahmed received this award in recognition of his "innovative and important scholarship as well as [his] dedicated, rigorous, and inspiring mentoring of our students and [his] service to our community." Joined by several members of his family, including his wife, Zeenat, his two sons, Babar and Umar, his daughter-in-law Melody, and two of his grandsons, Alexander and Gabriel, along with two key members of his research team, Frankie Martin and myself, for the ceremony, Ahmed received this prestigious award before a full house and a standing ovation of SIS staff and faculty.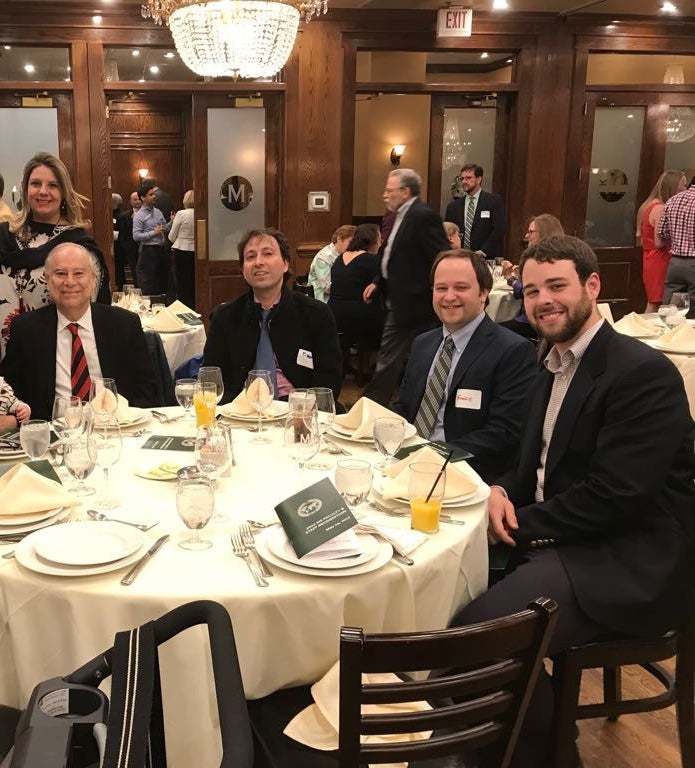 Awarded by Dean James Goldgeier, who said to Ahmed's family, "He is a legend," as he complimented Ahmed, the award ceremony was a momentous opportunity to reflect upon Ahmed's achievements as a member of the SIS faculty. Goldgeier in his remarks spoke highly of Ahmed's contributions to both his field and to the student experience in SIS. He began the presentation of Ahmed's award by sharing with the audience that the BBC named Ahmed "the world's leading authority on contemporary Islam" and speaking of his quartet of studies examining relations between the West and the Muslim world, highlighting in particular Ahmed's forthcoming book, Journey into Europe: Islam, Immigration, and Identity (Brookings Press). Goldgeier also read aloud Elie Wiesel's moving blurb about Ahmed published in the first book of the quartet, Journey into Islam: The Crisis of Globalization (Brookings Press, 2007): "Akbar Ahmed's voice needs to be heard, and his courage strengthened."
Goldgeier then went into the heart of why Ahmed was awarded this prestigious honor - his role as a teacher who goes above and beyond in working with his students. "He has been an extraordinary teacher as well in the school and a real mentor to his students. What has really most impressed me about the students that he has mentored is that they are full collaborators in the work that he does. [They] travel with him, do interviews with him, and really help provide an important voice for the work."
Ahmed's time at AU has been nothing short of remarkable. Ahmed, who served prior as the Pakistani High Commissioner to the UK and Ireland, Iqbal Chair at the University of Cambridge, and Commissioner in the Pakistani regions of Baluchistan and Waziristan, first arrived at AU in Fall 2001. Initially thinking his tenure at AU would be fairly routine, Ahmed was in the midst of teaching his second-ever class at AU when that fateful plane flew into the Pentagon, just a few miles down the road, on 9/11. It was then that he knew that the rest of his life and career would need to be dedicated to bridging the divide between the West and the Muslim world, as it had just ruptured wide open. Over the past sixteen years, Ahmed has written a number of books, including his quartet of studies exploring relations between the West and the Muslim world, three plays, and a collection of poetry, as well as countless articles. He has also produced two films, regularly appeared in media outlets spanning the globe, and delivered countless lectures to churches, mosques, synagogues, universities, government agencies, political bodies, and more around the world.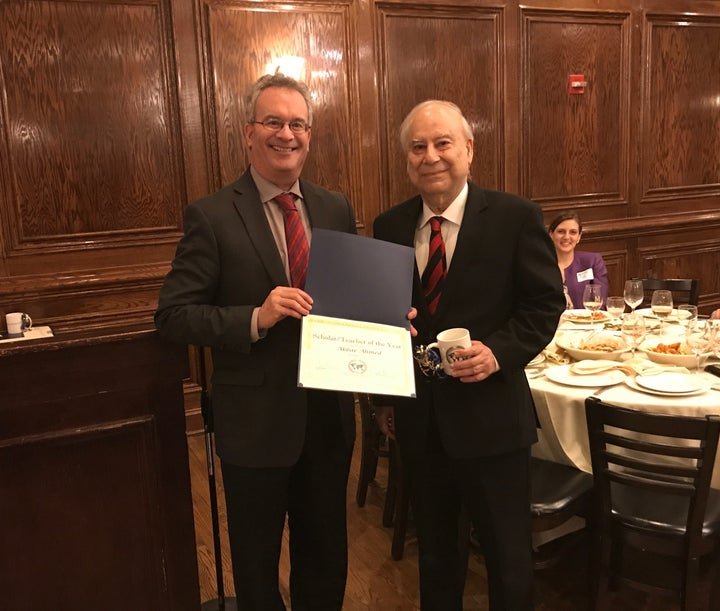 This award is particularly special for Ahmed in light of the challenges he has faced in reaching this pinnacle in his career. To understand Ahmed's position today, one must understand that he only came to the US in 2000, at which point he suddenly had to navigate a complex cultural environment and integrate his own cultural background as a Pakistani Muslim who has also worked extensively in the UK with the norms and expectations of American culture. Yet, as a Muslim scholar, because of current affairs in the US, Ahmed never had the privilege of simply becoming a neutral observer of American society. Ahmed has come to the US at a time when much of the public discourse is about Islam and is swirling with misconceptions about the faith, when Muslims are constantly on the defensive about their faith and culture, when Muslims will actually deny their religiosity in public and claim to not practice Islam as a defense mechanism. Despite these challenges, Ahmed has never sought to hide his faith or culture, but rather to use his unique perspective and his Islamic faith as the basis for building bridges. He has worked hard to bring people together and foster understanding across faith and cultural boundaries in the US and abroad, seeking to foster peace on a global scale while also teaching his fellow Americans about his faith and culture.
The impact of Ahmed's award also reflects in the lives of those of us privileged to be his students. As Ahmed's former student and current Chief of Staff, living and working in a time of great turmoil in the life of our nation and the world, when all forms of prejudice and bigotry are running rampant, Ahmed's leadership and guidance has been more critical in our lives than ever before.
When Ahmed and I first met in the Spring of 2013, I was just another college student from a Midwestern suburb with very little in the way of international or intercultural experience. I was one of ten students in Ahmed's course on Islam in America, and Ahmed used to joke that, as the only male student in the class, I simply could not get sick and miss a class, as our gender would go wholly unrepresented (and sure enough, I came down with severe food poisoning midway through the semester and missed a class!). Two years after taking his course and beginning work with him on the Journey into Europe project, where I was able to contribute my German knowledge to the overall project, I was offered the opportunity to take over as his Chief of Staff. Suddenly, mere weeks after graduating with my Bachelor's degree, I was escalated into an important, demanding role where I would have to maneuver his way and mine through an intricate series of challenges.
In this role, I have been tasked with a number of high-level responsibilities. Straight out of school, I have been involved in setting up meetings with senior Pentagon and civilian officials, ambassadors from all across the world, faith leaders from every major faith community, and academics from all walks of life. This work has not just been the routine scheduling of sessions in some conference room, but has involved issues of the highest sensitivity and have required an impeccable attention to detail. I have also had the terrific opportunity in this position to organize panel discussions, keynote lectures, film screenings, and even a peace rally on Ahmed's behalf in a number of arenas. From sitting in on international conferences to coordinating sensitive high-level dialogues, and everything in between, my mind and my abilities have expanded in ways I never expected by age 24. I have not only learned how to optimize my knowledge, insights, and wisdom to make split second decisions during times of high sensitivity and intensity, but I have learned how to work with people from a wide array of cultures on their terms and read and respond to a whole array of cultural cues. These are skills one can only learn through the experience of working with a skilled teacher and leader, especially when the teacher has himself worked as an administrator in some of the toughest corners of the world.
One famous quote about teachers by William Ward states, "The mediocre teacher tells. The good teacher explains. The superior teacher demonstrates. The great teacher inspires." I am proud to say that I have been inspired by Ahmed. This great teacher has inspired me to aim high in life and look past the challenges of today in working to help create a more peaceful and prosperous world tomorrow. He has helped me uncover my hidden strengths and has inspired my ideas and actions through example. Wherever my life and career take me, Ahmed's inspirational lessons will play a key role in shaping my future. May this great teacher remain uncowed by rampant Islamophobia and teach not only the students of American University, but the students of America and the world how to live and work to their full potential and light the path to peace in our world. It is only a great teacher like Ahmed who has the power to light this path for all. I am so delighted that Ahmed has now received this award which celebrates his remarkable attributes as a great scholar/teacher.
Popular in the Community