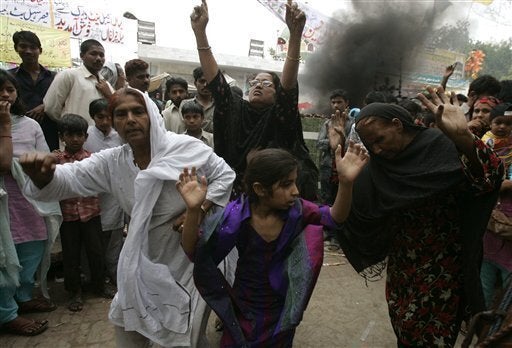 An annual Spring festival in Pakistan's Sindh province has been cut short, from 10 days to only three, following threats from a Taliban affiliate group that has recently increased its presence in the region. The threats are specifically directed towards 18 Pakistani female dancers, whose Sufi music and dance performance is a central feature of the festival. Moreover, the clerics issuing the threats are reported to have been accompanied by provincial police, the BBC reports. More from the BBC:
The clerics who asked the dancers to leave the area were accompanied by local police, witnesses said.

The group, called the JUI-F, has its main support base in the north-west. But the JUI-F (Jamiat Ulema-i-Islam-Fazlur) has been spreading its wings in the south of the country as well. The JUI-F is led by cleric Maulana Fazlur Rahman, who is known for his close ties to the Taleban in Afghanistan.

...

The dancers immediately complied with the orders, they said.

Sufi music and dance have been the main features of the festival and organisers said that without this it cannot proceed. The JUI-F ruled North West Frontier Province (NWFP) from 2002 until 2007. During its rule there the party carried out a sustained campaign against musicians, dancers and cable operators in the province and in adjoining tribal areas, forcing most of them either to give up their business or flee into exile.
Lahore is celebrating Mela Chiraghan - the death anniversary of the elusive saint Shah Hussain who is also known as Madhu Lal Shah for his life long association with a Hindu disciple called Madhu Lal. Each year in spring the festival of lights is attended by thousands of people.

Lighting of lamps is a metaphor for killing the inner darkness that we live with. By invoking spiritual light through love and self-knowledge, we can overcome ourselves and attain the mystical state of union with the beloved.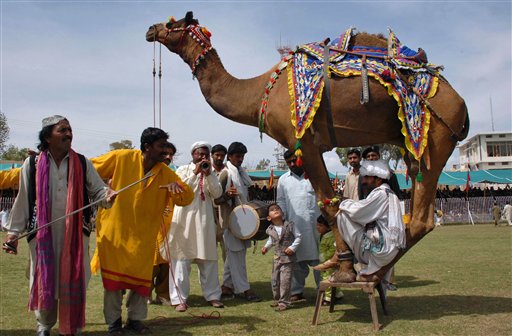 Pakistani folk dancers performing. Pakistani militant groups have been cracking down on musicians, dancers and performers by threatening local police and municipal authorities as they spread south into Sindh and Baluchistan provinces.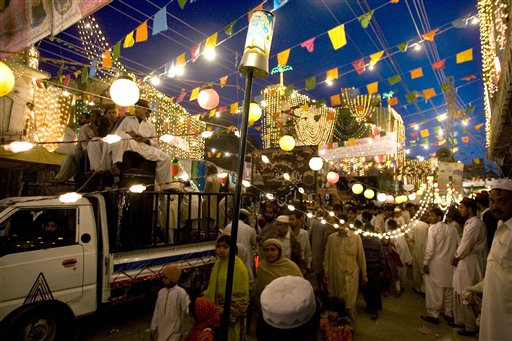 Passers-by take in the sights of the festival preparations, whereby the streets are adorned with symbolic lamps.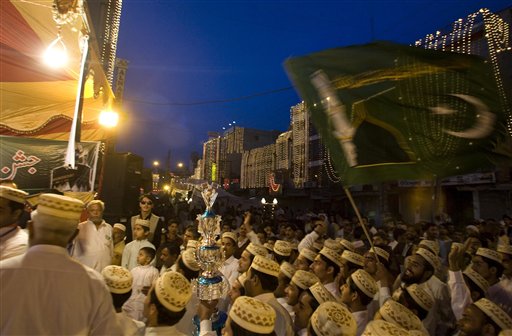 Pakistani Muslims gather around a man holding a trophy as part of a festival event.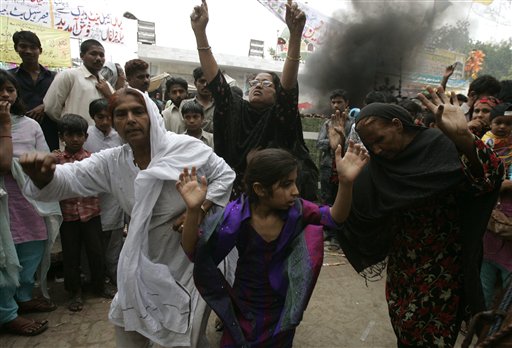 Women performing traditional dance in protest at the shrine of Sufi poet Shah Hussain to celebrate Mela Chiraghan.
Calling all HuffPost superfans!
Sign up for membership to become a founding member and help shape HuffPost's next chapter