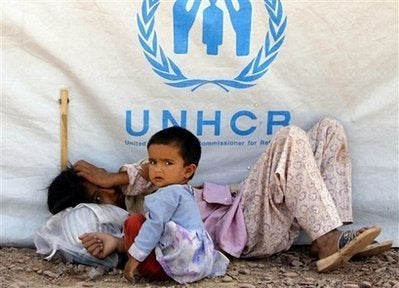 Pakistanis are in for a rude shock. $900 million, almost half of the $1.9 billion aid package that the US House of Representatives recently approved, has been earmarked for "a new secure embassy and consulates".
Why constructing secure housing and office space for American personnel in Pakistan - even for those working on development projects - should swallow up such a large chunk of the aid remains unclear after scouring the detailed Supplemental Appropriations report. The remaining billion is separated into $400M in counterinsurgency aid and only $600M for development, less than half of what Senators Kerry and Lugar have been promising with their much-touted figure of $1.5B in non-military aid each year (the Kerry-Lugar bill is still sitting in the Senate Foreign Relations Committee).
For reasons even more unclear than the breakdown above, this fact has received no coverage in the US or Pakistani media. I have come across it only twice, buried in an early story on the aid package in Dawn, a major Pakistani newspaper, and on Chapati Mystery, the blog maintained by University of Chicago historian Manan Ahmed. Local media reports about President Zardari's triumphant return from his world tour to ask for global support have said nothing of the composition of the $1.9B, and American media seems to be too focused on whether so much aid should come with strings attached to look at what the bill is actually offering.
Sooner or later this matter, like US drones did, will come to light. There could not be a worse time for either.
In a period of less than three weeks, Pakistanis have watched on their television screens almost one and a half million internally displaced people from the North West Frontier Province trudging to join the five hundred thousand who had already fled the war-torn tribal areas since last year. In the fastest human displacement since 1990s Rwanda, and the largest in Pakistan's history since the 1947 partition, over two million people are now living in inhuman conditions in refugee camps or squeezing into relatives' cramped huts and homes in slums and other poor urban areas across the country.
At the same time, portions of the Pakistani press claim that American drones killed 14 terrorist leaders versus 687 civilians from January 2006 to April 2008. This has not been verified officially, but neither government has shared any other set of figures.
So when reports of drone attacks mentioning the deaths of "several children" share front pages and prime airtime with images of thousands of families abandoning their homes, their livelihoods, and all their belongings to beg for room to squeeze onto the roofs of fleeing buses, Pakistanis are even less apt to be charitable about Predators than usual. Add to this the emotional impact of military support ads the government is running on television, with their footage of dying soldiers and oppressed families, and this is not the best time to risk collateral damage caused by anyone other than the Pakistani army, or to slip a billion dollars worth of embassy-building into an aid package. Prioritizing these items above development and refugee rehabilitation goes to the heart of Pakistani exasperation with what Hillary Clinton has recently been calling an "incoherent", short-term Pakistan policy, and seems to be against the spirit of what she calls President Obama's "qualitatively different" approach.
But the tents and shacks that now house two million homeless people are more than just breeding grounds for disease, illiteracy, and unemployment, and therefore an opportunity for America to build a Pakistani fan base by responding to the problem. They are also obvious breeding grounds for disaffected young people who can easily be brainwashed into terrorism, especially if fortress embassies and drone attacks remain the most visible symbols of American power. Anyone who doubts how easily and methodically young boys from disadvantaged families are co-opted into welcoming the "martyrdom" of suicide bombing need only watch Pakistan's Taliban Generation, filmmaker Sharmeen Obaid's latest documentary, to understand a system that one review called "almost infinitely depressing".
The appropriations bill buries the issue of internally displaced people within the section on development aid, without going into any depth on the problem or, most shockingly, earmarking a special amount for it. And the separate $110M of relief announced on May 19 - all aimed at immediate humanitarian measures rather than long-term rehabilitation - pales in comparison to the enormous amount laid out for embassy and consulate building.
Like drones, this issue could turn into fodder for every ideologue who wants to use anti-Americanism to build public support against government efforts to dismantle militant networks in Pakistan. It will also hamstring the government's ability to work with America to the benefit of both countries. On the other hand, this legislation presents a unique opportunity. Before this bill is signed into law, carving out a specific and hefty chunk of it for the long term rehabilitation of refugees - not humanitarian aid designed to meet immediate needs - will go further, for longer, than killing the next mid-level Taliban manager and, along with him, a civilian or three.
Madiha Sattar is a Karachi-based editor and writer at the Herald, a Pakistani monthly covering domestic politics, society and culture. She can be reached at madiha.s@gmail.com.
This is part of HuffPost's Spotlight On Pakistan. Eyes & Ears and HuffPost World are building a network of people living in Pakistan who can help us understand what is happening there. These people will send us reports -- either snippets of information or full-length stories -- about how the political crisis affects life in Pakistan. This is an opportunity to have a continued conversation with Americans about what's happening in your country. If you would like to participate, please sign up here.
Calling all HuffPost superfans!
Sign up for membership to become a founding member and help shape HuffPost's next chapter