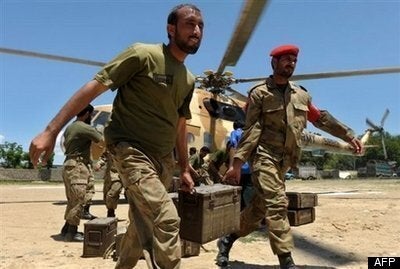 At the time of writing, Geo News reported that a "high level" meeting was taking place in Islamabad. Pakistani President Asif Ali Zardari, Prime Minister Yousuf Raza Gilani, chief and federal ministers and governors met to discuss the state of law and order in Palestine as well as the ongoing operation in and around the Swat Valley region, where the Pakistani military has been battling with the Taliban for a month and as many as three million people have been displaced.
The order will allow thousands of people caught in the battle zone to leave their homes and search for food and other supplies that have dwindled, often to nothing, in the past month of fighting. The loosening of restrictions posed new dangers for residents, however, with one saying he saw soldiers open fire at civilians in Mingora town as they emerged from hiding places, apparently because they suspected they were Taliban.
Meanwhile, over the last 24 hours Pakistani troops were involved in fighting at the Pakistan-Afghanistan border. English-language Pakistani newspaper the Nation, referring to the Taliban militants as "miscreants," writes:
Security forces have entered Kalam and are carrying out cordon and search operations against the terrorists, while 45 more miscreants have been killed in South Waziristan Agency, a known Taliban stronghold near Afghan border, during the last 24 hours.
Most Pakistani media outlets are reporting that the Swat counter-offensive launched by the Pakistani army is largely over.
Dawn.com, the online presence of one of Pakistan's English-language newspapers, reported Saturday, May 30 that the Pakistani army claimed to have "complete control" of Swat's main town, Mingora:
Operation Rahe Rast made a significant progress with the security forces completely securing control of Mingora city, destroying various training centres of terrorists and killing important militant commanders, the military said.
Dawn also discussed provenance of the militants' arms, as well as the scale of the conflict:
The military spokesman said the weapons recovered from militant strongholds included weaponry of American, Russian and Indian origin. General Athar Abbas said so far 1217 militants have been killed while 79 including foreign nationals have been apprehended. He said 81 security personnel have so far laid down their lives while 250 sustained injuries.
The News Daily is heralding US President Barack Obama's decision to send special envoy Richard Holbrooke to Pakistan Tuesday, June 2 in order to visit camps for persons displaced by the conflict. According to the News, those displaced persons now number nearly three million.
Monday, June 1, the New York Times reported that President Obama will send Richard Holbrooke, special envoy for Pakistan and Afghanistan to visit refugee camps for the civilians displaced by the Pakistani military's anti-Taliban offensive in the country's north-west.
Citing a senior Obama administration official, the newspaper said that Holbrooke would depart for Pakistan on Tuesday, accompanied by an inter-agency team of American officials from the Pentagon, the State Department and USAID to look for ways to speed up the international relief effort and to help mobilize international support.
The team will also hold talks with the Pakistani government on ways to address the growing need for relief for the nearly three million Pakistanis who have been displaced by the military operations in Swat, Buner and Lower Dir in northwestern Pakistan.
Pakistan's borders remain porous. Dawn reports that following a suicide attack on a mosque in Iran which killed 25, members of Jundullah, the terrorist group claiming responsibility for the bombing, escaped into Pakistan:
So far Jundullah has claimed responsibility for a dozen terrorist operations in Iran, however according to the FNA, they have managed to escape punishment by crossing into Pakistan.

Tehran has warned Islamabad that it has the power and military means to trace and hunt down terrorist groups in Pakistan if such activity is not stopped by Pakistan. Since the attack, Iran has closed down its border with Pakistan.
Dawn is running a forum for readers asking if this might be the beginning of a move towards regional isolation for Pakistan:
What are the political implications of Iran's decision to close its border? Is this the first step towards the regional isolation of Pakistan owing to the possibility of militancy spreading beyond its borders?
Despite current crises at home, the Pakistani army continues to supply a substantial amount of troop aid to other countries through UN peace missions. Geo News reported Saturday, May 30 that a Pakistani contingent of 210 infantry troops would leave for Liberia to serve as part of the UN peace-keeping forces there.
This is part of HuffPost's Spotlight On Pakistan. Eyes & Ears and HuffPost World are building a network of people living in Pakistan who can help us understand what is happening there. These individuals will send us reports -- either snippets of information or full-length stories -- about how the political crisis affects life in Pakistan. This is an opportunity to have a continued conversation with Americans about what's happening in your country. If you would like to participate, please sign up here.
Calling all HuffPost superfans!
Sign up for membership to become a founding member and help shape HuffPost's next chapter