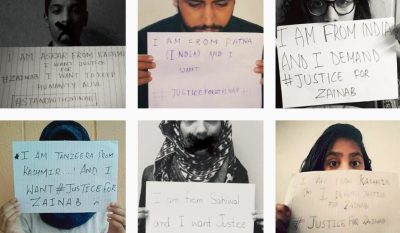 The abduction, rape, and murder of a seven-year-old girl has people in Pakistan demanding swift justice and exemplary punishment for the perpetrator.
Zainab Ansari was discovered in a dumpster on January 9 in Kasur district of Punjab province, four days after she was kidnapped. The post-mortem report suggests that the minor was strangled to death after being raped.
The news triggered clashes in Kasur that left at least two people dead and several injured as police opened fire to disperse angry protesters demanding the immediate arrest of the rapist and murderer, who remains at large.
The protests soon spread across the country, and on January 11 students, lawyers and other Pakistanis took to streets to continue putting pressure on authorities.
Why has Zainab's case caused such widespread outrage?
Footage of violent protests in Kasur, police firing on protesters, an emotional interview of Zainab's parents, and CCTV footage released to the public showing Zainab being led by the hand by an unknown man have all stirred emotions of Pakistanis.
But what moved people to mobilize initially? Columnist and blogger Moeed Pirzada, writing on Global Village Space, a news site that promotes dialogue and understanding, characterized the reason as:
12 young girls, have been raped and murdered in the last one year. Most cases have remained unresolved, and public points out that even when culprits are arrested police and judiciary are unable to convincingly punish them. Failure of Pakistan's "Criminal Justice System" lies at the root of this public anger.
Zainab was the 12th such case of sexual assault and murder to occur within the last year in Kasur. The district was also where an organized child pornography ring came to light in 2015; Zainab's case was a sad reminder of the misery of those nearly 300 children, aged between 10 and 15 years, who were subjected to sexual abuse and videotaped.
An average of 11 cases of child sexual abuse are reported from across Pakistan every day, according to data compiled by child protection charity Sahil. More than 60 percent of the reported cases were from Punjab, the organization said.
In 2016, the Pakistani Senate passed a lawthat criminalized for the first time sexual assault against minors, child pornography and trafficking. But implementation of the law remains a challenge as it involves resource allocation, training of law enforcement agencies and awareness campaigns.
The attention on the cases are important, but what's equally important is sustaining that attention so that the situation finally changes, as an actor and activist Hamza Ali Abbasi argued on Facebook:
There have been 11 Zainabs in Kasur last year, we forgot about them after a brief outrage! Now, will we force Police, Govts & Courts to act on the 12th Zainab or forget about this too after a few days & wait for a 13th Zainab to make us angry again?
Social media demands #JusticeforZainab
While the story has triggered angry demonstrations in the streets, more than half a million social media users have used #JusticeForZainab.
The hashtag was first used by activists for the opposition party Pakistan Awami Tehreek (PAT), but soon was picked up by ordinary people and began trending around the world after two protesters were killed by police.
Activist and lawyer Jibran Nasir talked about breaking taboos on sexual abuse in Pakistan:
Some people highlighted the need to educate children so that they help report offenders:
Others have posted photographs of themselves demanding justice for Zainab:
Nobel Peace prize winner and activist for girls right to education, Malala Yousafzai, has joined the conversation, demanding that the government take action:
While the public's attention was intensely focused on Zainab's case, in Dijkot, a town of Punjab's Faisalabad, the body of 15-year-old boy Faizan was found in a field. He was also sexually assaulted and then killed.
It was a stark reminder of how important protections for children are.
Neighboring India erupted against sexual abuse after the 2012 Delhi gang-rape case. Will Zainab's rape and murder prove to be the tipping point when Pakistan finally moves to protect its children? We'll have to wait and see.
Calling all HuffPost superfans!
Sign up for membership to become a founding member and help shape HuffPost's next chapter
This post was published on the now-closed HuffPost Contributor platform. Contributors control their own work and posted freely to our site. If you need to flag this entry as abusive,
send us an email
.