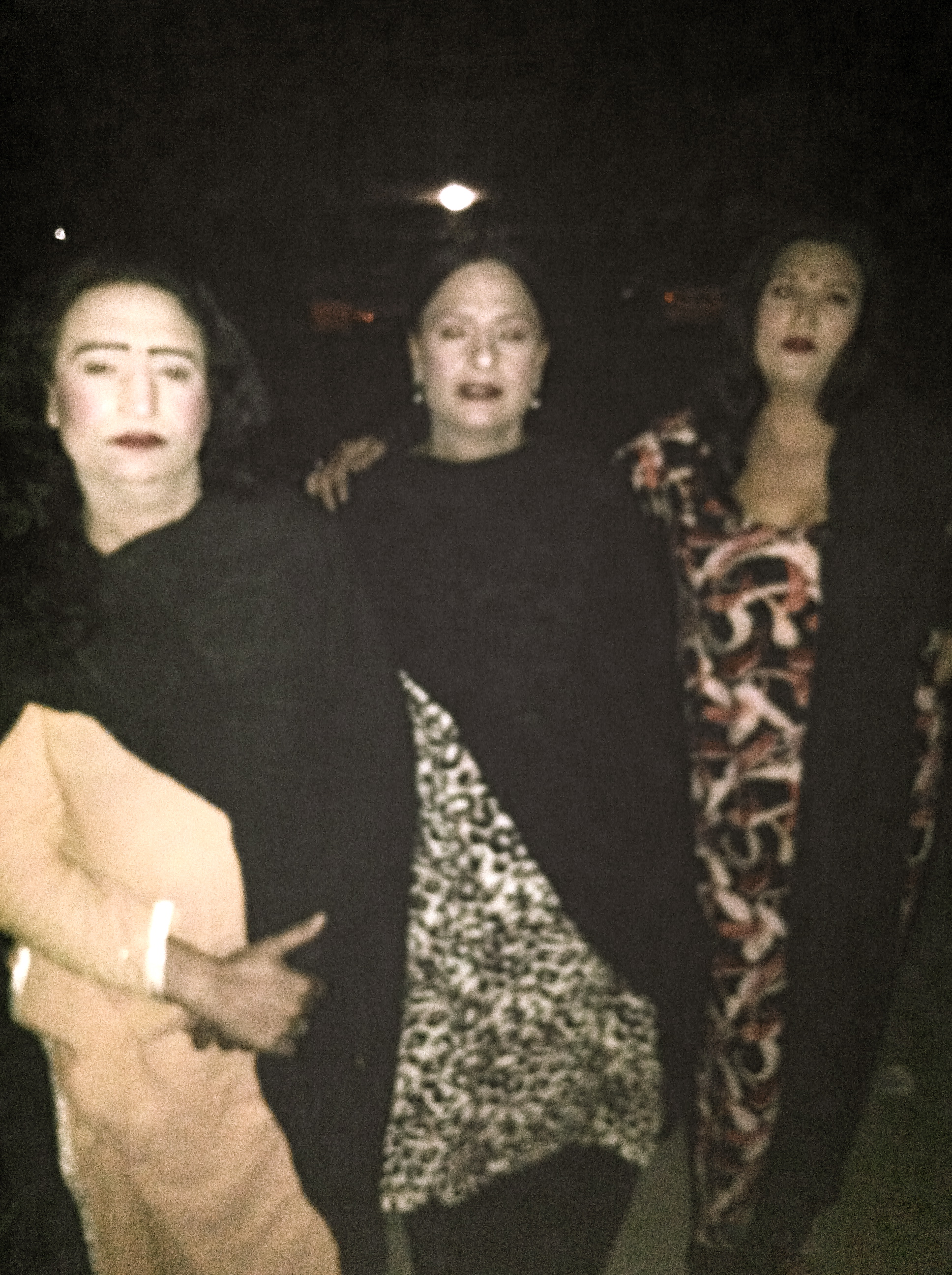 Katrina, Pinky, and Bubbly taking a break from begging in Islamabad's bustling F-10 Market
With no safety net in place, Pakistan's transgender community continues to live in constant fear in the face of immense societal and institutional inequality.
In an isolated parking lot behind a bustling shopping center in Islamabad, Katrina and many of her other transgender friends spend their evenings begging for money. On the outside, Katrina and her friends are heavily made up, dressed in colorful shalwar kameez and wearing bright makeup as they catwalk around the marketplace blessing shoppers and restaurant-goers nearby. However, on the inside, Katrina feels shunned by society. "People look down upon us because they only see us as beggars," she says. "Just like everyone else, we are also God's creation. We were also born from a mother's womb. If we had respectable jobs, why would we humiliate ourselves as beggars?" Katrina's hopelessness resonates with other transgenders who are discriminated against in society and often abused by their own families for not being born male or female. Transgenders -- referred to in South Asia as khwaja seras in polite company, and hijras or khusras otherwise -- are biological males who take on female identities, choosing to publicly dress and behave like women. The transgender population has a long history in the subcontinent, serving as the caretakers of Mughal harems and making significant contributions to art, music, and poetry. Ancient legend has it that a khwaja sera's prayers and bad-dua are answered by God, bestowing them with the unique ability to bring good fortune and fertility. Despite their once respectable position in society, their status has significantly deteriorated over the years, forcing many into begging and prostitution.
Khwaja seras isolate themselves in self-sustaining, close-knit groups where a member leader, or guru, adopts transgender children after they have been rejected or disowned by their parents at a young age. Losing ties with their families and loved ones, khwaja seras become easy victims of extortion, abuse, and sexual harassment. Pinky, a 32 year old khwaja sera I met in Islamabad, came to terms with her transgender identity at the age of 12. "After my parents observed that I played with dolls and kitchen toys like all the other girls in my neighborhood, they insisted that I change my habits. When I didn't, they beat me up." That was when she knew she was different from other boys.
Attitudes have begun to alter in Pakistan, despite the difficulties faced by the khwaja sera community. With countless documentaries and movies, like Shoaib Mansoor's Bol and Sharmeen Obaid-Chinoy's Transgenders: Pakistan's Open Secret that highlight the plight of one of Pakistan's most stigmatized communities, transgenders are slowly gaining greater approval in Pakistani society. Perhaps more importantly, the Supreme Court made a revolutionary judgment in 2011 that instituted a "third gender" category on National Identity Cards (NICs), empowering the transgender community and enabling them, for the first time in the country's history, to be regarded as legal citizens.
Almas Bobby, an outspoken leader of the transgender community and the President of the Pakistan She-male Society proudly declares that, "Because of the monumental Supreme Court decision, we are now protected by law and the police. Before this decision, it was impossible for us to hold birthday parties and other social events. Even if we organized a function in hiding, they would beat us and loot us. You can't even imagine ... and now you see, the police is outside, protecting us."
Despite the significant inroads made into the issue, the push for transgender empowerment has slowed down in the face of bureaucratic lethargy, institutional incompetence, and a lack of political will on the part of the government at large. The recent developments have been paramount, but more still needs to be done.
Until we prioritize bringing transgenders into mainstream society, there is little hope for a shift in people's perceptions and behaviors. Since the Pakistani government is overwhelmed with economic instability and the energy crisis, the issue of transgender rights gets pushed to the periphery. Yasmin Rehman, a parliamentarian, admits that, "with limited resources, the Pakistani government is unable to take care of its citizens, whether they are transgender or not. The government has done nothing for the transgender people. Actually, the topic of transgenders has never been discussed in the Parliament in the last 10 years I've been working here." Ms. Rehman believes that the government must make a serious effort to capitalize on the judiciary's fruitful efforts and thoroughly address this topic in order to integrate the transgender community into the wider society.
Bindya Rana, a prominent transgender leader who contested in the recent election for a seat in the Sindh provincial assembly, reflects that, "Initially, we welcomed the orders of the Supreme Court and were very delighted about the decisions. But we soon realized that all the promises that were made to us got lost in talk and bureaucracy, and little was actually implemented."
After many years of dancing, Rana has established a name for herself by forming an NGO in Karachi, the Gender Interactive Alliance, which works to protect the rights of transgender people. While Rana is grateful for the legal changes which have allowed many transgenders like herself to rise up in politics and represent the community's concerns, she says that, "We have been granted important rights by the judiciary, but now the Parliament must pass laws that actually implement these rulings. Most importantly, the government must follow the Supreme Court's directives and provide transgenders with jobs as part of the two percent employment quota."
The transgender community's inability to find employment serves as the greatest hindrance to their upward mobility. Since transgenders are largely uneducated and unskilled, they are unqualified to work in most professions. Thus, for many khwaja seras the method of making easy money is begging, dancing, and sex work. The most effective proposal to change this trend is to create vocational centers that educate and train transgenders in different areas such as cooking, tailoring, driving, computers, beautician work and gardening, etc.
"We want the government to create separate schools, hospitals, living spaces and training centers for us," says Bubbly, a 25 year old khwaja sera from Islamabad. "We don't want to keep getting harassed by the public. We want to learn a skill so we can have a respectable and decent source of income like everybody else. "By creating centers that are tailored to the needs of this community, the transgender population will be able to gain access to the same social and economic capital that all other citizens enjoy.
Apart from building institutions that cater to transgenders, it is important to include the community in policy making by giving them a voice in the government. This can be done by allotting them a certain number of seats in Parliament. "Just like other minorities have designated seats, members of the transgender community should have seats so our voices and concerns are addressed," says Bindya Rana. She argues that transgender integration must take place through all facets of society, and politics should be no exception.
While khwaja seras are usually seen as victims of our society, their community is not immune from criminal practices and fraudulent money-making. As criminal activity within the transgender community persists and instances of fake transgenders -- men cross-dressing as women to make a quick buck -- increase, it is essential to invest in genuine leaders within the transgender community who are trying to work for the betterment of future generations. One such example is Sanam Fakir, a transgender from Sukkar who has set up a computer center where transgenders can develop and improve their skills in information technology. Sanam hopes that her centre will serve as a constructive way to train transgenders, helping them apply their skills for a brighter future.
Supreme Court advocate Dr. Aslam Khaki believes that the only way transgenders can truly be brought into mainstream society is by engaging with them beyond their work as beggars on the streets. "We should have social activities where we get to know transgenders over a cup of tea or in a cricket match. It's not enough to just pity them. We should get to know them as fellow human beings."
It is time we start treating transgenders as equal and respected citizens of Pakistan and stop viewing them as objects of mockery and ridicule. Katrina concludes her conversation with me by talking about her dreams. She says, "we are deprived of love and the only thing we get are people's gaaliyan, beatings, harassment. Journalists and students have interviewed me several times for documentaries, but look at me. I am in the same place begging the streets every night. The only thing we want from Pakistani people is to take a peek into our lives and see that we are human."
Popular in the Community