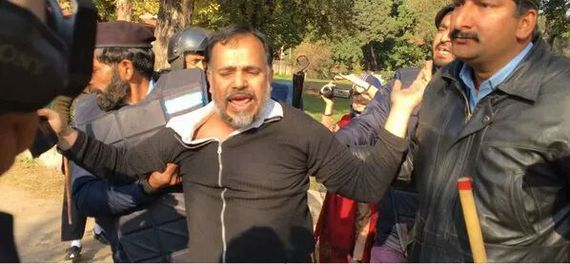 Pakistan's financial capital and largest city, Karachi, has witnessed several gruesome incidents within one week. Social activist Khurram Zaki, who protested against religious extremism, was gunned down by Taliban assailants after he demanded the resignation of the head of paramilitary forces in the city over the death in military custody of a local political leader. Even the US State Department, normally reticent in criticizing Pakistan military on the assumption that it can still be wooed into being a real American ally, had to speak out, showing concern about human rights violations in Pakistan that by all accounts have been going on for years. State Department spokesperson Elizabeth Trudeau told Press Trust India (PTI),
"We have seen the reports of Aftab Ahmed, a local Pakistan leader's death while in military custody, and we would direct you to the Pakistanis for any further information on the events surrounding his death."
Trudeau was responding to a question on the death of Mutahidda Qaumi Movement (MQM)'s, Aftab Ahmed, who died in the custody of Rangers paramilitary force under contentious conditions. MQM is Pakistan's fourth largest political party in parliament, which commands virtual control over Karachi, winning every election since 1987. The Pakistani military, which is the country's most powerful institution, has targeted the MQM with repression and negative propaganda since 1992. Although the secular MQM formed part of the Federal government as well as the government in the province of Sindh for 8 years, it is still being targeted by security forces ostensibly conducting counter-terrorist operations.
The head of the paramilitary Rangers that conduct operations in Karachi under the military's directions, Major General Bilal Akber accepted that the MQM activist was tortured by the Rangers in custody, but maintained that Ahmed died due to cardiac attack. The pictures of Ahmed's tortured body were released on the social media, which forced Major General Akbar to accept that torture happened in rangers' custody. Ahmed was arrested by the rangers on the night of May 1, 2016 and brought to the local hospital on next morning in unconscious condition with severe injuries on his body. The autopsy report mentioned that more than 40 percent of the body was covered with bruises and fractures.
"The provincial government can order an inquiry. Army chief and rangers have also ordered inquiries. But to make it meaningful, the Sindh government should set up a judicial commission."
The same department, whose personnel were involved in the torture, has formed an investigative team for this custodial death.
The latest military operation in Karachi started in 2013. The MQM has accused the Sindh Rangers of at least fifty extra-judicial killings of its members since the beginning of the latest operation. The State Department's 2015 Human Rights report had also criticized Pakistan for human right violation and has marked extra-judicial killing as serious problem in the country. According to Voice of Baloch Missing Persons (VBMP), in 2015, 157 mutilated bodies were found in Baluchistan. According to the report, most of the extra-judicial killings happened with the political activists belong to ethnic minority provinces like Sindh and Baluchistan.
In 2014, the civil and military leaderships of Pakistan began Operation Zarb-e-Azb, a military campaign against militant and terrorist groups in North Waziristan, the tribal area close to Afghanistan. But in December 2014, after six months of this fierce operation which started in June, Tehrik-i-Taliban managed to attack the Army Public School of Peshawar that killed 145 including 132 schoolchildren. Since the National Action Plan to counter terrorism launched in Pakistan, most of the ethnic minorities have seen the substantial rise in the extra-judicial killings in Sindh and Baluchistan.
While Pakistan's ethnic minorities face the state's repressive policy, the founder of Lashker-e-Taiba, Hafiz Saeed, a globally declared terrorist, is freely conducting the religious and social activities around the country. In 2015, he inaugurated the ambulance service, run by LeT charity wing Jamat-ud-Dawah in Karachi. The Baloch activist for missing persons, Mama Qadeer, was barred from arranging an event on Baluchistan in Lahore University of Management Sciences (LUMS), while, in 2016, Hafiz Saeed was addressing to the students in University of Engineering and Technology (UET) in Lahore. Similarly, the Pakistan Electronic Media Regulatory Authority (PEMRA) on directives of Lahore High Court has put a bar on televised speeches and mention of MQM supremo, Altaf Hussain's name even in print media.
It seems like Pakistan has not learned from past mistakes of breeding and allowing terrorists to prosper in the country. Pakistan has already damaged by the policy of harboring extremist organizations to secure its strategic depth in neighboring countries. The terrorist, who considers Afghan and Kashmir jihads as his duty, is a free citizen; while the political activists are getting picked and killed due to their ethnic background.
Human Right Watch has demanded an independent investigation over Ahmed's custodial death. International community should fulfill its obligation in persuading Pakistan to follow its international commitment made to the Human Rights; or else, such feelings of deprivation among different groups, which represent Pakistan as a nation, result in sense of alienation. When even legal recourse of seeking justice is made impossible, then the citizen's trust on the state declines and he may adopt a method that can have a detrimental effect on state itself.
REAL LIFE. REAL NEWS. REAL VOICES.
Help us tell more of the stories that matter from voices that too often remain unheard.