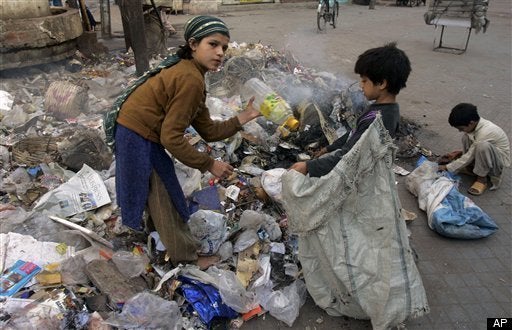 For eight-year-old Hayatullah and Abdul Haq, the day begins early in the morning. They take a wagon down to Islamabad from Faizabad (the main gateway between the twin Pakistani cities of Rawalpindi and Islamabad), where they, amongst several others, begin their work rummaging and sifting through heaps of garbage, lying on the floor, or, in dumpsters.
Their large, intelligent bright eyes stare at me as I ashamedly, and, as subtly as possible, turn off the air conditioner in the car and step out into the scorching heat, into their world. Flies continuously buzz around them and sit on their faces, yet, the children do not flinch. Their clothes are tattered and filthy, fingers blackened and rough, whilst the stench emanating from them is unbearable. The children, following their fathers footsteps, have been garbage pickers for three years now.
"I don't want to go to school" said Hayatullah boldly. "This is easier and more rewarding. I earn 200 rupees (equivalent to $2) a day."
From 8 am to 3 pm they roam the streets of different sectors in Islamabad. Without the use of any instruments, face masks and gloves, these scavengers filter through rubbish in search of paper, plastic, metal and any other recyclable material. When a substantial amount has been collected, they take their collection on their aching, hunched backs to little "recycling" shops. Maqbool Alam, a scruffy looking man who appears to be in his late 50's, is a stall owner in the affluent F- 6/2 sector. He then sells this material to factories where it is reused.
"For the past six months, due to the situation in the country, work has been at a standstill in factories and so it is affecting us," he said.
"No one's an officer for the poor" said Maqbool as he ferociously chews on his paan (Betel leaf). The Capital Development Authority (CDA) threaten the children scavengers and stall owners like him, to pay them money. If they don't, they take away their goods from them, stealing them of their livelihood.
Jabbar Ali lives in Golra Sharif, which is set between urban and rural areas, almost representative of Jabbar's life. It is a half an hour from central Islamabad near the F-11 sector. A winding road forks out from the main area completely transforming the surroundings. The bumpy, unpaved road twists and turns through markets and fields, while an envelope of dust engulfs you.
When the war between Russia and Afghanistan broke out, Jabbar's family, like many others, migrated to Pakistan. Not being a Pakistani national, he argues that many facilities are not open to him and other Afghanis. Finding work, therefore, is very difficult. So he resorts to garbage picking.
It takes Jabbar around three hours to reach the heart of Islamabad, from his home, approximately 30 km away from it. With the prices of rent and electricity shooting up, getting basic necessities for the family seems very hard.
"It all comes down to poverty and corruption," he said.
Malaika, Jabbar's mother, dressed in traditional Afghani garb, adds, "It is because we are poor that my son does not go to school and instead goes to rubbish dumpsters. No government and no charities help us." "The police are the worst. They take our money. And if we do not give it, they threaten us and say they will lock my child in jail," she said.
Over the past several years, the amount of scavengers has multiplied as the poverty situation in the country has worsened. It is no longer just a profession ruled by migrants, but you know see several Pakistani children, including young girls, involved with such work.
Instead of being honored for the environmental and social services of sorting out rubbish for recycling, they are ignored and looked down upon. They are also most prone to several diseases such as scabies and malaria. It is heartbreaking and disappointing to see such hard working and intelligent children, completely ignored by the system.
This is part of HuffPost's Spotlight On Pakistan. Eyes & Ears and HuffPost World are building a network of people living in Pakistan who can help us understand what is happening there. These individuals will send us reports -- either snippets of information or full-length stories -- about how the political crisis affects life in Pakistan. This is an opportunity to have a continued conversation with Americans about what's happening in your country. If you would like to participate, please sign up here.
REAL LIFE. REAL NEWS. REAL VOICES.
Help us tell more of the stories that matter from voices that too often remain unheard.