Nothing best describes Sundays in America like assembling the family and congregating at Church. This ritual is the most common way to express gratitude for all blessings obtained despite life's constant struggles (if you're Christian, of course).
For many members and supporters of the South Florida LGBTQ community, we have a different approach to expressing gratitude. Palace has been a safe space to gather and show the world that we are grateful for our blessings. While society sometimes may shame us, Palace Bar has served as a haven for nearly three decades. A recent message from Palace has caused a stir in the South Florida LGBTQ community and media: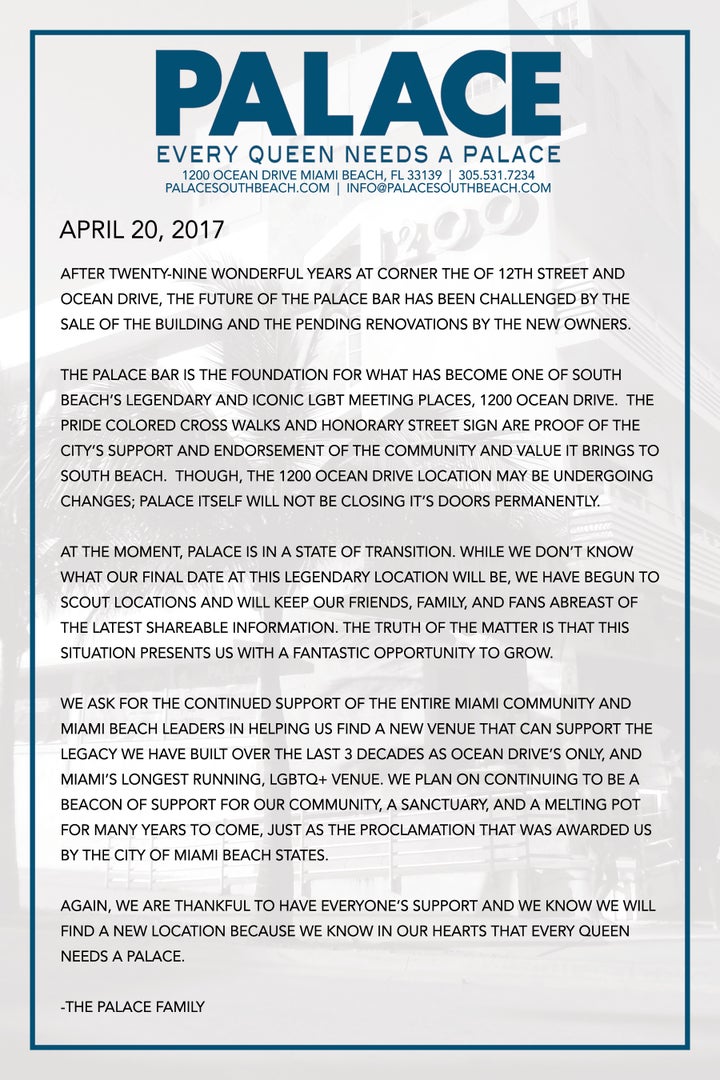 Although the message is filled with optimism and hope, one can't help but to feel grief. Many of my close friends and I recall some of our first gay memories at Palace, and hold the establishment close to our hearts. We're not alone.
Palace Bar is well known to Miami locals and worldwide tourists as a staple in the LGBTQ community. In fact, even many heterosexual individuals and families look to Palace for brunch and vivid entertainment.
The drag queen performances are what make Palace well known and exuberant. The queens take off their clothes, stop traffic, and even interact with toddlers while parents nervously admire the creativity and charisma of the ultra talented South Florida artists.
Where else could Palace possibly move that will live up to the current legendary drag street performances they put on almost daily?
It's difficult to say. 12th street and Ocean Drive in Miami Beach has been coined as an iconic center for the LGBTQ Community and is known as such all over the world. Even so that the specific section of the sandy beach has two gay flags marking our 12th street territory. Now that Palace Bar is moving, will the gay flag over the street sign that reads "12th Street" also move? Will they remove the rainbow painted walk way that connects the 3-way junction of Ocean Drive and 12th Street as well?
Even if Palace Bar promises to continue business elsewhere, it feels as if a chunk of LGBTQ recognition will come to an end. No matter where they move, we must assure the hard work and constant battles we have overcome for LGBTQ rights never become extinct. The recognition Miami Beach has provided Palace and the 12th Street/Ocean Drive 3-way junction should not only move with us, but grow even larger. As mentioned in the statement by Palace Bar:
"The truth of the matter is that this situation presents us with a fantastic opportunity to grow."
And continue to grow as a strong LGBTQ community we will.
Calling all HuffPost superfans!
Sign up for membership to become a founding member and help shape HuffPost's next chapter