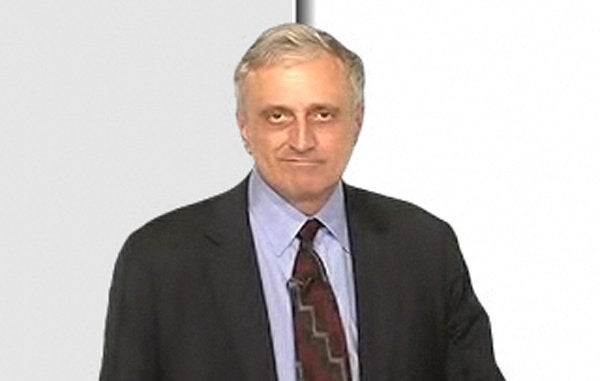 The Albany Times Union has resurfaced October 2009 comments made by New York gubernatorial hopeful Republican Carl Paladino, in which he endorsed comments comparing New York Assembly Speaker Sheldon Silver (D), who is an Orthodox Jew, to "Hitler" or an "Antichrist."
Speaking before a crowd of more than 100 people who attended a public forum sponsored by the Niagara County Patriots at Frontier Fire Hall in the Town of Wheatfield, Paladino said he didn't believe Erie County Executive Chris Collins should have apologized for remarks he made about state Assembly Speaker Sheldon Silver that some construed as anti-semetic. [...]

"If I could ever describe a person who would fit the bill of an Antichrist or a Hitler, this guy is it," Paladino said. "I'm sure Chris had no -- absolutely no -- intention whatsoever of insulting the Jewish faith or the ethnic group or religion."
Paladino Campaign Manager Michael Caputo told the Huffington Post today that Paladino doesn't remember making those remarks, and he blasted the "liberal media" for spreading smears.
I wasn't with Carl in those days, and Carl doesn't recall making those comments. We've become very familiar with the liberal media will misquote Carl anytime they want to to misrepresent his views, so I cannot speak to that specific accusation. However, I can tell you two things. Number one, Sheldon Silver is the worst elected official to ever hold public office in the history of New York State. Number one. He is personally responsible for many of the problems taxpayers are suffering through the last decade. Number two. Anyone who thinks...that that makes him equivalent to Hitler or the anti Christ needs to have their head examined.

He doesn't recall saying it, but you know, the fact of the matter is, Carl speaks in kitchen-table language. He doesn't speak a particular dialect of political correctness, the Albany ruling elite has been peddling for the last 50 years. If the liberal media or the left-wing government officials in Albany are offended by politically incorrect speech, they need to pull up their underpants and get ready for a very difficult ride.
Anti-Defamation League National Director Abe Foxman sharply condemned Paladino's remarks in a call with the Huffington Post. "It crosses several lines. It's outrageous, it's insulting, it's offensive, it trivializes who and what Hitler was and did," he said. "To compare Sheldon Silver -- who also happens to be a practicing Orthodox Jew -- to an Antichrist and Hitler -- and Antichrist is borderline anti-semetic -- to compare him to Hitler is just beyond the pale."
In March, Paladino also said that he'd "try like hell to send Sheldon Silver to Attica. On the way to Attica, we're gonna have him stop in all those little communities along the Thruway, and I'm going let those people beat him up a little bit."
Popular in the Community