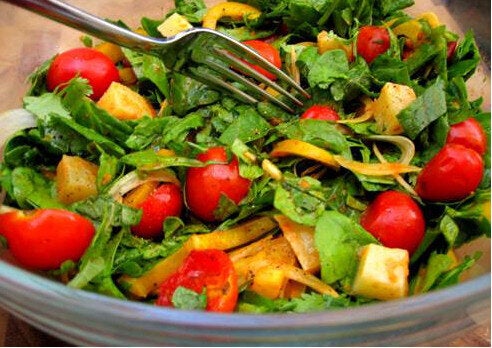 Mushy. Unfortunately, that is the word that many people would use to describe the consistency of Indian food. Of course, Indian food could also be described as exotic, spicy, and aromatic. But the soupy texture that is prevalent in many of India's curries, kormas, and lentil dishes can sometimes give the misimpression that all Indian food tastes the same, or that you can only enjoy those eye-opening flavors if you're willing to chase the food around your plate with a piece of naan. Although there really is a great deal of diversity in the saucier realm of Indian cuisine, I sometimes crave those flavors in a lighter fare. It is in this spirit that I put a crunchy twist on one of my mushy favorites -- Palak Paneer, a creamy spinach curry with paneer cheese. Here's my recipe for a salad that is inspired by the traditional curry. I may even slip it onto my Thanksgiving table this year -- no spoon or bread needed!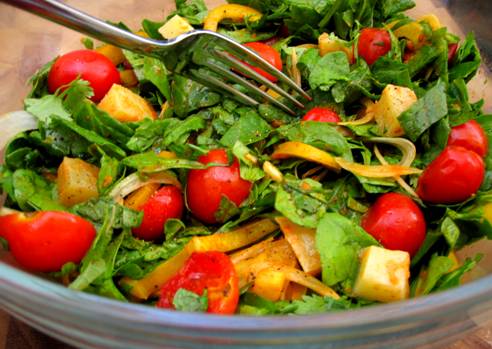 Indian-Infused Spinach Salad Recipe
Ingredients:
2 Tbs lemon juice
4 Tbs of bottled curry cooking sauce (I use Patak's Tikka Masala Curry Cooking Sauce, but any type is fine)
3 Tbs of olive oil
1/3 cup of thinly-sliced onion
1 cup of thinly-sliced bell pepper (yellow or orange)
4 ounces of paneer cheese (you can find this in most natural food stores but can also substitute mozzarella)
1 cup of cherry tomatoes (halved)
6 ounces of spinach leaves
1/3 cup of cilantro leaves
2 Tbs of mint leaves
Salt and pepper

Steps:
In a large salad bowl stir together the lemon juice with 3 tablespoons of curry sauce, 2 tablespoons of oil, and a tablespoon of water. Add salt and pepper to taste, and set this dressing aside.
Slice the bell pepper and onion and toss them into the dressing to marinate.
Cut the paneer into bite-sized cubes. Add a tablespoon of oil to a large skillet over medium heat. After about a minute, toss in the paneer with about 1 tablespoon of the curry sauce and 1/2 teaspoon of salt. Cook for about 3-5 minutes until the paneer is lightly browned. (Skip the frying part if you're using mozzarella). When you have about a minute or so remaining, add the tomatoes to the pan to lightly tenderize them. Remove the tomatoes and paneer from the skillet and add them to the dressing.
Wash, dry, and roughly chop the spinach, cilantro, and mint leaves. Toss the greens with the dressing, veggies, and cheese until all the ingredients are evenly mixed. Add salt, pepper, or extra lemon juice to taste and serve immediately.
(To save time, you can perform steps 1-3 several hours ahead of time -- just refrigerate the marinated ingredients until you're ready to toss in the greens).

Support HuffPost
A No-B.S. Guide To Life
Related
Popular in the Community