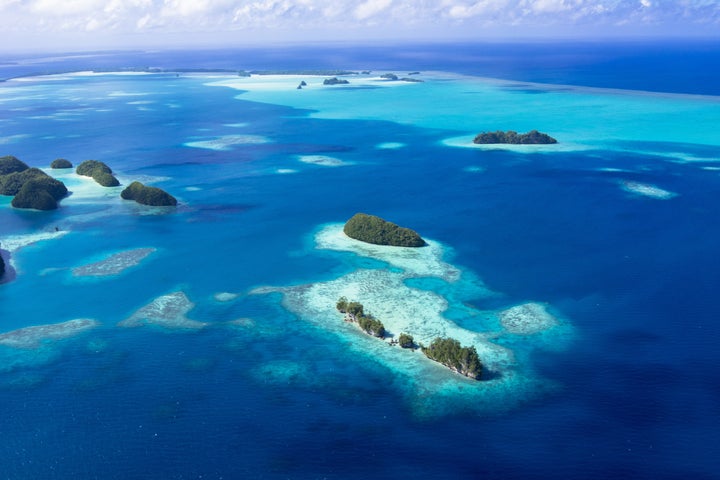 The tiny nation of Palau, an archipelago in the western Pacific Ocean, has long been a international leader in ocean conservation. Over the past decade or so, it established the world's first shark sanctuary, passed some of the most stringent laws banning bottom trawling, and developed a framework for community-based conservation by training local fishermen to collect data on their catch. This week, Palau has conservationists cheering again.
This reserve will be one of the five largest fully protected marine areas in the world.
All told, a record 1 million square miles of ocean have been granted strong protections this year, The Washington Post reported. Among other nations, Britain reserved 333,000 square miles, New Zealand dedicated 230,000, and Chile protected 115,000.
Yet, even with these new dedications, only 1.9 percent of ocean waters are being strictly protected -- in other words, you can't fish, you can't extract minerals and you can't dump trash there. Ocean conservationists would like to see that figure closer to 30 percent.
Elliott Norse, chief scientist for the Marine Conservation Institute, who has been working on these issues since 1978, said he would settle for 20 percent. Actually, he said he'd "give his life" for it.
"I would give my life gladly to see us reach the modest goal of 20 percent by 2030," Norse said. "If we really did it effectively, not just in name but do it in fact, we would be able to save virtually all of the kinds of animals and plants and bacteria and viruses in the oceans whose functioning is essential to our continuing existence on earth."
Nothing is as effective at preserving marine biodiversity and keeping the oceans healthy as protecting large swaths of water, according to Norse. Without that protection, he said, marine life forms will keep going extinct, the oceans will become more and more acidic, and more "dead zones" will appear.
While sea mammals have died out for millennia -- take Steller's sea cow, one of the largest marine mammals in the world, which went extinct in 1768, just 27 years after Europeans discovered it -- the process has sped up over the past half-century. Norse was born in 1947. The oceans, he said, have "emptied in my lifetime."
Palau is still home to some 1,300 species of fish and 700 species of coral. The nation has made a bet that tourism will be a better long-term investment than the fishing industry, and so far the wager appears to be paying off. According to one study, each reef shark swimming in Palau's waters can bring around $2 million to the country over its 16-year lifespan.
But as Remengesau pointed out in a United Nations address last year, Palau cannot protect the oceans by itself. "I return again and again to a question my forebears never conceived of: How much will Palau's efforts matter if the world is not on the same page?" he said.
"The key really will be in enforcement," said Robert H. Richmond, a professor at the University of Hawaii who has been working in Palau since 1986.
This June, authorities in Palau burned four Vietnamese boats that were caught with a 17,000-pound haul from illegal fishing, including protected sea turtle, sea cucumber and reef fish species.
Richmond thinks that Palau's new ocean reserve could be a tipping point, leading to more protected waters. He cited an unlikely source to make his point.
"I was talking with some people in the fishing sector. They said they were not too worried about Palau, because it is just one archipelago," he said. "What they were concerned about was that when Palau does something, the other islands often follow."
Lila Shapiro covers the science fiction of science, the imaginative ways scientists are trying to solve the world's hardest problems. Contact lila@huffingtonpost.com with tips.
Related
Popular in the Community