Sure, your mother compares you to Audrey Hepburn and your grandmother reminds you to wear a hat every time you step an inch into sunlight -- to protect your fragile complexion, of course. But to the rest of the world, you're just a pasty chick who can't get a tan to save her life. Or at least that's what it feels like sometimes.
Rather than try to change the skin I was born with, I decided to embrace it.* Over the years, I've picked up some beauty tips that help my fair skin look as healthy and glowing as possible. Trust me, when it comes to makeup and skincare, one type of product does not fit all skin tones. Here's what I've learned:**
1. SPF is your best friend. I know, this is something you've been told time and again, but it's actually pretty important (see: here). Look for products with broadband protection, which protect against both UVA and UVB rays, like those from Banana Boat, Mustela and Neutrogena -- all of which can be found in the drugstore. Extra points if you opt for products with titanium dioxide and zinc oxide, which are physical blocks that provide extra sun protection. Physical blocks can be thick and leave white residue on the skin, but they actually physically block ultraviolet radiation from entering the skin, unlike typical sunscreens which only reduce UV rays. My favorite is made by Badger. It also doesn't hurt to further protect your eyes with sunglasses.

2. Face powder is your enemy. It's easy to get that caked-on look when you're pale, so beware of adding an extra layer of powder, which can make you look overly made-up and matte (and a bit wan, in my opinion). Instead, if you're not into the dewy look or you're feeling a little oily, try switching to a lighter moisturizer. But honestly, dewy skin is the best way to get that ever-elusive "healthy glow" if you're fair-skinned and can't (or won't) tan. I recommend using a good tinted moisturizer, like the ones from Laura Mercier or Josie Maran (which contains the aforementioned titanium dioxide -- two birds, one stone). You can also try Kiehl's BB Cream if you're looking for a little extra coverage.
3. Try switching to brown mascara and eyeliner. Or at the very least, use black eyeliner with extreme caution. I've always found that lining my eyes in black makes it look like I've used chalk, and black mascara can be a bit harsh for daytime, especially if you don't have a little eye makeup to balance it out. Dark brown eyeliners and mascaras will pleasantly surprise you -- they still highlight your eyes, but they blend in with your skin much better than black does (especially for those with pink-toned skin). Some standbys in my makeup bag include Laura Mercier's Tightline Cake Eyeliner in Mahogany Brown and Dolce & Gabbana's Passion Eyes Mascara in Terra.
4. Don't be afraid to wear bright shades of lipstick. Repeat after me: Neon lipstick will not wash me out. You can totally wear bright red, pink, coral or even purple if you're feeling adventurous -- as long as you keep the rest of your makeup super simple and let the lipstick take center stage (read: no eye makeup or eyeliner). It depends on your skin tone, but as someone with pink skin, I've felt really great wearing Tom Ford's lipstick in Flamingo and Urban Decay's lipstick in Bang.

5. A little goes a long way, especially when it comes to eye makeup. At this point, every woman has at least attempted a smokey eye or some other makeup trend. But if, like me, you never felt totally comfortable with a full face of makeup, the problem might be overzealous application. Color cosmetics can easily look like children's arts and crafts paint when applied on pale skin. While your typical smokey eye can look subtle and chic on someone who's tan, make sure you adjust the shades and amounts used when trying to recreate the look on yourself. Personally, I hate when I'm wearing a lot of eye makeup, but go forth, experiment and see what you feel great in.
6. Harsh products are just not for you. Consult your dermatologist, but in my experience, anything with potentially drying ingredients, including salicylic acid and benzoyl peroxide, only makes matters worse if you're having an acne flare-up. I used to desperately reach for those types of face washes, toners, etc. only to discover that the less I did, the better my skin got. If you're fair with sensitive skin like me, I'd recommend that you wash your face only once a day with a gentle cleanser (I use Cerave's Hydrating Cleanser) and moisturize morning and night (I use La Roche-Posay Rosaliac Anti-Redness Moisturizer). That's it! Put down all of those extra bottles and let your skin relax.
7. Finding the correct shade of blush is crucial. Blush sets the tone for your whole face -- I'm convinced it's what makes the difference between someone saying, "Wow, you look great!" and "Are you feeling sick today?" Make sure to find the tone that looks great on your skin, and avoid any blushes with too much sparkle, which can turn your poor pale face into a disco ball in about .5 seconds. I'm personally in love with Laura Mercier's Second Skin Cheek Color in Lush Nectarine.

*This was after some unfortunate self-tanning mishaps at the age of 13, but I'm only human.
**These are just some things that work for me and I hope will work for others. Of course, we all like what we like, so these tips may not be for every pale woman out there.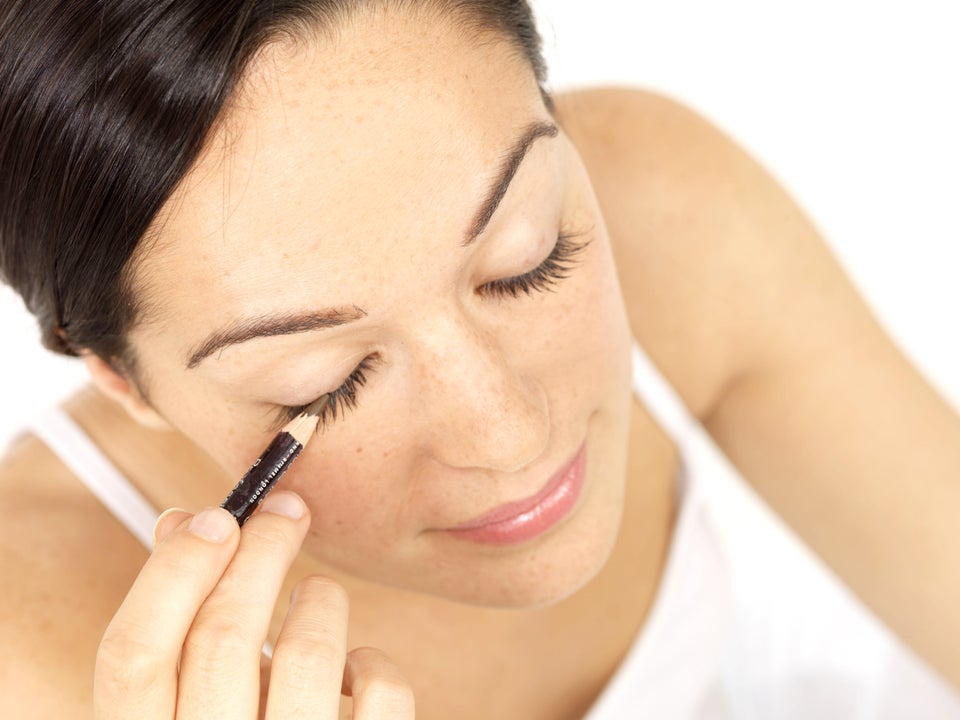 50 Beauty Tips
Popular in the Community