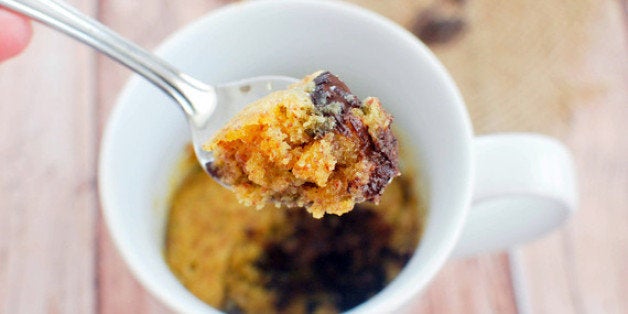 This paleo mug cake is full of chocolate chips and happiness. Seriously. You've got to try it!
Being paleo is hard. I mean, for the most part, I enjoy it and it comes easy but sometimes you want something sweet and you don't want it to be an apple.
So you want a paleo cookie because paleo cookies are delicious, but you don't want to make an entire batch because hello! You can't control yourself around an entire batch of paleo cookies.
Not that I'm speaking from personal experience or anything. I am the picture of willpower. I am never tempted by an entire batch of cookies or a whole pan of paleo cornbread or box of Larabars. Nope, never.
But anyway, I have the perfect solution for when you need a sweet treat! A paleo mug chocolate chip cookie... cake!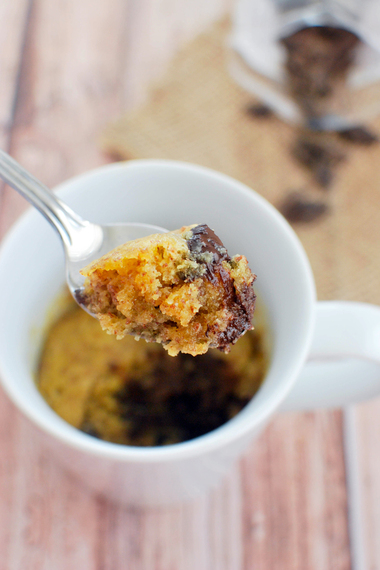 I, on more than one occasion, have complained and complained about how much I hate all those mug cakes and brownies and such because they always turn out spongy and dense and just not good.
But the cookie works! These totally have a cookie texture after microwaving and I couldn't be more thrilled.
I am so into the texture of paleo baked goods that are made with almond meal. Plus a tiny bit of coconut flavor comes through which is always a good thing, and you can't go wrong with dark chocolate! I can't even tell you how many times I have made this recipe over the past few months. It really came in handy during our stressful move.
This is also super simple to make since it is made in the microwave. Plus, I always mix all the ingredients up in the mug so there's really not much clean up either!
This recipe does make two servings (I know, I am so sorry!) but that just means you can share it with your BFF! Or save half of it for an hour later if you're having one of those days.
About Amanda
Amanda makes all kinds of recipes on Fake Ginger, and on more than one occasion, she'll post a super healthy paleo recipe followed by something stuffed with chocolate and covered in Funfetti frosting. We're excited to say we're getting all the healthy stuff, because Amanda's our Paleo Fanatic!