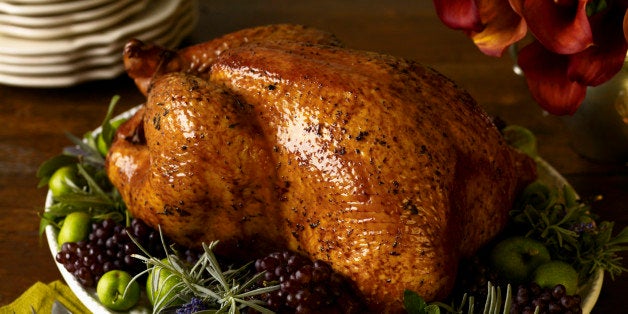 The pilgrims -- or the cavemen? On Thanksgiving, paleo dieters honor both. That means a holiday feast revolving around meat, fish, poultry, fruits and veggies -- with no refined sugar, dairy, legumes or grains. While that's problematic for Thanksgiving staples like bread stuffing, a few tweaks can save the turkey-filled day. "Almost any traditional Thanksgiving dish can be modified to become paleo," says registered nurse Katy Haldiman, health director of the Paleo Movement Magazine. Here are menu ideas for your paleo Thanksgiving.
Appetizers
Haldiman ticks off protein-heavy appetizer ideas: deviled eggs that feature avocado instead of mayo. Chopped veggies with spinach artichoke dip -- made dairy-free with cashews "to create a creamy, cheese-like texture." Or the ever-popular bacon-wrapped dates with almonds, which call for only three ingredients and are touted as sure-thing crowd-pleasers. "There's nothing quite like the saltiness of bacon with the sweetness of dates and the added bonus of the almond crunch," Haldiman says. Other ideas include fig tapenade, smoked bacon oysters or a beet and carrot salad.
The Main Event
Keep the turkey on the table -- it requires few modifications. Most turkey preparation techniques are naturally paleo, Haldiman says. "I like to brine mine with an apple cider mixture for 12 to 24 hours prior to cooking, and then I use an herb butter mixture under the skin and baste the turkey with butter as it cooks," she continues. "I stuff the bird with apples and onions and place some carrots and celery around the turkey, mostly for flavoring." If you're not into butter, substitute duck fat instead -- it's full of healthy monounsaturated and polyunsaturated fatty acids.
Why Stop With The Bird?
Get creative and try a Thanksgiving roast beef or lamb, says Chris Hiestand, co-founder of PrimalPal.net. "Whatever you do, make sure to keep the drippings to make an awesome, paleo gravy," he adds. Meanwhile, paleo expert Mark Sisson -- who blogs at Mark's Daily Apple -- suggests serving roast goose, Cornish game hens with egg and sausage stuffing, prime rib or fresh ham with a holiday spice rub.
Stuffing
Here's where things get tricky. There are paleo stuffing recipes that use "paleo" breads, but Haldiman recommends trying one that doesn't use a bread substitute. "Once you realize how little flavor the bread adds to stuffing, you won't miss it," she says. "I've experimented with many grain-free stuffing recipes, and one of my favorite features ground pork, mushrooms, green peppers, apples and cranberries." Other options include breadless cauliflower and mushroom stuffing or bread-free fruit and nut stuffing.
And What About The Mashed Potatoes?
Sub cauliflower, parsnips, butternut squash or broccoli and carrots in for the spuds. "The first time I put this on my Thanksgiving table, no one noticed they weren't potatoes," Haldiman says of a veggie mash. "Adding herbs and butter to the mashed cauliflower adds tons of flavor and a rich creaminess." Since traditional gravy is thickened with a white-flour roux, Sisson recommends herb gravy, which is made with ingredients such as chicken stock, onions, garlic and thyme.
Dessert
Registered dietitian Kelly O'Connell Schmidt of Paleo Infused Nutrition, who never says no to dark chocolate, also speaks highly of moo-less mousse -- made with ingredients such as avocado, cacao powder, maple syrup and coconut milk. Haldiman, meanwhile, puts in a good word for "warm, comforting" ginger snaps, which she makes using arrowroot flour, blackstrap molasses and fresh ginger. She also likes cherry crisp, touting a recipe that uses almond flour for the crisp.
"There are plenty of ways to 'paleofy' pumpkin pie by using crust recipes that call for almond, coconut or other grain-free flours," Haldiman says. "If you use real pumpkin and add your own spices, your pumpkin pie will be a much healthier version than those you purchase off the shelves." If you're not sure how to get started, check out this video demo, which highlights a recipe that creates crust out of hazelnuts, pecans, organic grass-fed butter and sea salt.
And Remember, Paleo Stress Doesn't Belong At Your Table
"We'd rather take the approach of being on point with your paleo diet 90 percent of the time and using that last 10 percent to give yourself some flexibility during the holidays," Hiestand says. "It's a time to have fun and be with your family. If you're able to cut out grain-based foods and desserts and keep your sugar intake to a minimum, you'll be a paleo champ during Thanksgiving."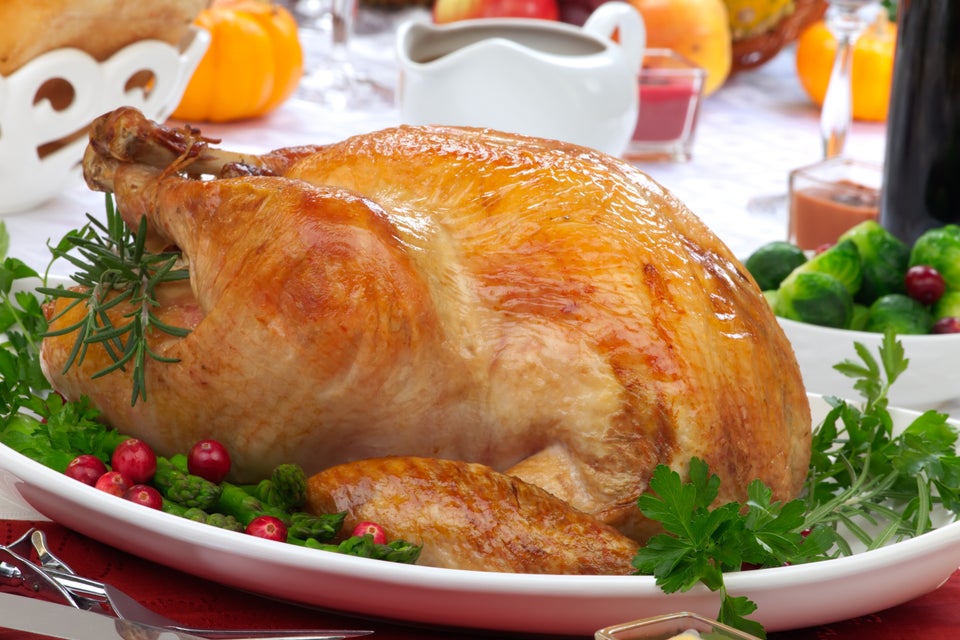 Thanksgiving Nutrition Myths