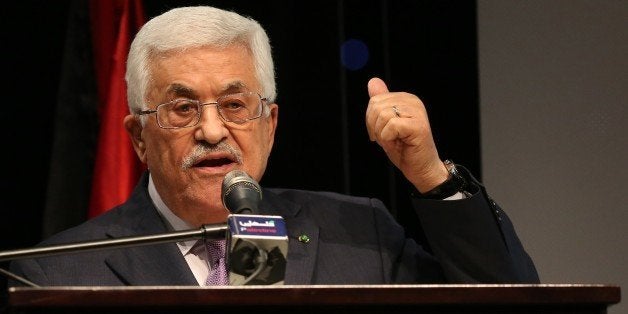 Palestinians rang in New Year's Eve by deploying what Israel has called their legal and diplomatic "nuclear option." Mahmoud Abbas, chair of the Palestine Liberation Organization (PLO), signed the Rome Statute on behalf of the State of Palestine, which has been recognized by the UN as non-member observer state since 2012. Upon ratification of the statute by the PLO, Palestine will become a member of the International Criminal Court (ICC), potentially forcing Israeli military and political leaders to answer for war crimes for the first time and thereby removing Israel's heretofore unchallenged impunity.
The Palestinian move to join the ICC came one day after the UN Security Council failed by one vote to pass a resolution calling for immediate negotiations to establish a Palestinian state within one year and for Israel to end its nearly half-century military occupation of the Palestinian West Bank, East Jerusalem and Gaza Strip within three years.
Nigeria, which was previously expected to vote in favor of the resolution, abstained at the last minute under heavy U.S. and Israeli pressure. Were it not for this Nigerian change of heart, the Obama administration would have had to exercise another embarrassing veto to shield Israel from the international community's disapproval of its policies (the first and only Security Council veto by the United States under President Obama was issued in 2011 to block a resolution condemning Israel's illegal colonization of Palestinian land).
In casting her vote against the resolution, Ambassador Samantha Power, U.S. Permanent Representative to the UN, called it a "deeply imbalanced" resolution that contained "unconstructive deadlines that take no account of Israel's legitimate security concerns." Power, however, offered no alternative timeframe for addressing Palestinians' legitimate security concerns to be free from Israel's crushing military occupation. Instead of a "staged confrontation" at the UN, she affirmed that "peace will come from hard choices and compromises that must be made at the negotiating table."
In a nod to the international community's growing impatience with Israel, Power unconvincingly pleaded that "today's vote should not be interpreted as a victory for an unsustainable status quo." However, by demanding Palestinians revert to more futile negotiations with Israel, the United States is propping up the very state of affairs it claims is untenable.
Last spring, the U.S.-mediated "peace process" sputtered its way to an ignominious end after more than two decades of intermittent negotiations. The Israeli-inspired proposals put forward by Secretary of State John Kerry proved conclusively to the Palestinian negotiating team that a sovereign and independent state would never issue from this rigged game. Kerry had urged the Palestinians to accept a deal in which all the large settlement blocs would be annexed to Israel and Israel's apartheid wall would remain in place, creating a non-contiguous patchwork of territories. A joint U.S.-Israeli military presence in the Jordan Valley would sever the West Bank from its neighbor Jordan. And Palestinians would be denied a sovereign presence in Jerusalem. This truncated, non-sovereign entity in the West Bank would be controlled from without by Israel, much the same as the Gaza Strip languishes today under Israeli blockade.
With the "peace process" dead and their UN resolution defeated, Palestinians have turned to the ICC as their only remaining viable option for attempting to secure their rights and hold Israel accountable for its continued denial of those rights.
The decision to join the ICC, however, is a path fraught with peril for the Palestinians. First, Palestinians will now have to contend with the wrath of an Israel increasingly desperate to maintain its slipping apartheid grasp. Israel has already imposed sanctions on the Palestinian Authority -- withholding more than $100 million in Palestinian taxes collected by Israel -- and more dire consequences could ensue. As Palestinians pushed for accountability for war crimes committed by Israel in the Gaza Strip during "Operation Cast Lead" in 2008 and 2009, as documented by the Goldstone Report, Israel warned Abbas that he was "playing with fire" and threatened to turn the West Bank into a "second Gaza" if he proceeded. Undoubtedly similar or even more serious browbeating will occur to prevent Palestinians from filing claims at the ICC.
Palestinians will now also have to reckon with the consequences of throwing off the shackles of the U.S.-engineered "peace process" and defying the blandishments of the United States to return to the negotiating table. The State Department stated that it was "deeply troubled" by the Palestinian move toward the ICC and excoriated it as "entirely counterproductive." And Israel's bulwarks on Capitol Hill, such as Senator Charles Schumer (D-NY), are already threatening sanctions against the Palestinians if they proceed with charges against Israel at the ICC.
Popular in the Community