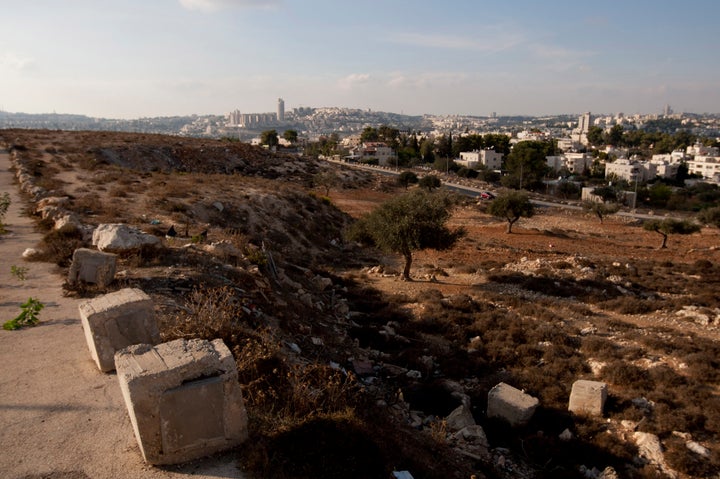 This week, Palestinians around the world commemorated the Nakba, or "catastrophe," referring to the displacement of over 700,000 Palestinians at the time of Israel's founding in 1948. From the West Bank to the West Coast, protestors waved colorful flags and held signs demanding recognition for the plight and rights of the dispossessed.
Yet beneath the barrage of political symbols and slogans lies a human experience of heartache and loss, to which Americans of all backgrounds might possibly relate.
I was shielded from this experience as a child. In Amman, Jordan, where I grew up in the '80s, events across the ever-dwindling river were background noise. My friends at school mostly talked about last Thursday's party and the cute girls in class.
It was at an American summer arts camp, of all places, that I began to confront my family's ruptured past. At age 15, amid Michigan's woodlands and the sounds of Beethoven's Waldstein sonata, I made Jewish friends for the first time. At first, we mostly talked about music.
But before long, our discussions turned to what was apparently the elephant in the room. In the cafeteria, over macaroni and cheese and lemonade, I was told "the land belongs to us" and "we were there first." I felt something was not right, but I couldn't begin to articulate why. My parents -- two oceans away -- told me to keep practicing my piano scales.
Camp ended and I returned to Jordan, determined to connect the dots. Soon after my mother begrudgingly accepted my request to "take me there;" we were on the road westwards. Arriving in Jerusalem, we embarked on a whirlwind tour of the land. I saw Jews of many backgrounds in the malls of West Jerusalem and the alleys of Tel Aviv. I met Palestinian tour guides in Bethlehem, surrounded by military checkpoints and roadblocks, and shopkeepers in Jaffa, the city of my parents' birth and now a rundown suburb of Tel Aviv.
In Ramleh, a depressed town near Ben-Gurion International Airport, I posed in front of the city hall -- the blue and white flag fluttering high above it -- as my mother took photos of what was my great-grandfather's house. It was built several months before the family fled to Jordan, never to return.
I later learned from my grandparents, who refused to join us on that trip, that my family's story was not uncommon. In April 1948, they boarded a bus to Amman, hoping to wait out the violence. Their exile was made permanent after Israeli troops "liberated" Ramleh in July of that year and expelled most of the town's majority Arab population. The one relative who had stayed behind to look after the family properties, which subsequently passed into Israeli government ownership, had to walk to Ramallah, from where he made his way to Amman.
I begged my grandparents for tales of the old country, and their shattered world slowly came to life. I discovered that my family's Protestant roots lie in one great-grandfather's decision to abandon his Eastern Orthodox faith and become a pastor within tayfet al-shilling (literally the "shilling sect"), as Protestants were nicknamed in reference to the British missionaries that had converted them. I listened intently to my grandmother's description of her father, the enterprising Sido Abu Saliba, who had set up a currency exchange business and a bus company to transport him daily to his job. He traded in Gaza's gold market (despite a British ban on the activity) and on Tel Aviv's stock exchange with a Jewish partner. He insisted on sleeping on the rooftop on hot summer nights, only to wake up shrieking one time after being bitten by a 44-legged centipede.
My grandmother recalled less fondly her uncle Samaan, the family's self-appointed moral policeman who had convinced her father to end her schooling at age 11 after having found a love letter addressed to her from a fellow classmate.
I longed for these memories to become my own. My mother wanted nothing less. "I am like an ostrich with its head in the sand," she would say whenever someone mentioned the "P" word. For her and my grandparents, remembering was both painful and futile in the face of the countless wars and political failures. Self-enforced amnesia, combined with a focus on the material present, was the only viable option. Discussion of Palestine at home was so rare -- and abrupt when it did occur -- that I began to wonder whether my family was ever there. I had to rummage through black-and-white photos of Easter parties, frayed property deeds, and obscure Hebrew websites to allay my lingering doubts.
Since 1948, the new society that had risen on Palestine's remains seemed uninterested in what was there before. I had to roam the older parts of Amman, where many Palestinians had settled, to get a feel for the chipped limestone and arched windows of their original homes. I had to trek the Jordanian countryside to imagine more vividly the Palestinian villages that had been razed to make way for idyllic parks or converted into bohemian artist colonies.
I started to see Palestine in everything. In comparison to my ancestors, who had real experiences of their land, my existence felt transplanted and hollow. My mother implored me, "Get Palestine out of your system!"
I thought back to the flag above my great-grandfather's house. It did not seem to acknowledge what lay beneath it. It confidently claimed what was taken by force. It made me feel that celebrating my heritage was confrontational, politically charged. Remembering that 44-legged centipede felt like an act of defiance. I am waiting for the day when these memories are reduced to what they are: the story of a family on a land.
My grandparents' memories, like all that is forbidden, won't let me go. So I keep longing for a place that I never belonged to, yet seem unable to forget.
Wasim Salfiti is a writer living between Amman, Jordan and Washington, DC. He works in development finance.
Calling all HuffPost superfans!
Sign up for membership to become a founding member and help shape HuffPost's next chapter