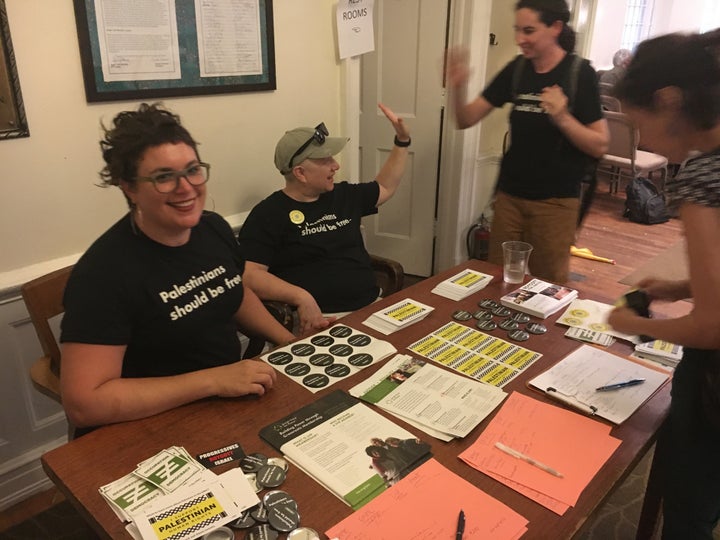 PHILADELPHIA ― Democratic Party leaders may be doing their best to snub Palestinian rights advocates, but the activists were out in unprecedented force at the Democratic National Convention this week.
Sen. Bernie Sanders' (I-Vt.) candidacy, along with young people's changing views of Israel, are emboldening staunch partisans of the Palestinian cause once relegated to the fringes of the progressive movement in the United States.
It is hard to know how significant the small but visible pivot of Palestinian activism into the Democratic tent will be over the long term. But if it proceeds on its current trajectory, it could threaten the virtually unconditional support for Israeli government policies that has been a core tenet of both major parties for decades.
The sight of the Palestinian flag among the "Bernie or bust" protesters in downtown Philadelphia was not surprising, but seeing delegates from Florida raise the Palestinian flag on the convention floor was something else entirely.
Many others in the audience could be seen holding signs that said, "I support Palestinian human rights."
The public displays of Palestinian pride and solidarity were a notable contrast with the Democratic Party platform. Sanders surrogates won major gains on domestic issues like the $15 minimum wage, the public option for health care, and Social Security expansion, but not on the question of Palestinian rights.
Platform committee members supportive of Clinton shot down attempts to even characterize Israeli control of the Palestinian territories as a military "occupation," though the term is uncontroversial in international legal and diplomatic circles.
What the platform does include is a promise to keep Jerusalem "the capital of Israel, an undivided city." Most advocates of a two-state solution, which remains the official position of the U.S. government, believe a shared Palestinian and Israeli capital in Jerusalem is essential to peace ― and would likely feature some divisions.
Clinton herself has taken pains to reassure prominent Israel supporters that she will not only back Israel, but also make amends with the current Israeli Prime Minister Benjamin Netanyahu. (President Barack Obama has been perceived as having a rocky relationship with the conservative Israeli premier, in part due to the U.S. administration's negotiation of a nuclear deal with Iran.)
At a panel discussion in downtown Philadelphia on Monday evening, supporters of the Boycott, Divestment and Sanctions movement, or BDS, expressed little confidence that Clinton could ever be trusted to fight for Palestinians. The BDS movement calls for a boycott of Israel until the Israeli occupation ends, Palestinian refugees are allowed to return, and Palestinian citizens of Israel are treated equally.
The event, organized by the local chapter of Jewish Voice for Peace, a pro-BDS group, put the Palestinian cause in the context of other struggles against "neocolonialism" in Puerto Rico, Honduras and Afghanistan. There were more than 100 people in the audience. 
I don't think [Clinton] is really movable on Israel, but the people around her might be.

Jeremy Siegman
Max Blumenthal, an anti-Zionism journalist and author of Goliath: Life and Loathing in Greater Israel, devoted much of his speaking time at the event to naming and explaining the roles of pro-Israel donors and ideologues backing Clinton's candidacy. Blumenthal singled out for scrutiny donors Haim Saban, Seth Klarman and Jack Rosen, and policy expert Robert Kagan.
Blumenthal has been a source of irritation for the Clinton campaign, since his father, the journalist Sydney Blumenthal, is a longtime friend and adviser to the Clintons. Hillary Clinton's campaign has publicly denounced some remarks made by Max Blumenthal to make clear she has no association with him.
"I am the only member of this panel who has been condemned by the Clinton campaign," Blumenthal said, drawing cheers from the crowd. "I was deeply, deeply hurt by the rumors … that I have ever been a friend of Hillary." 
It is hard to imagine Palestinian advocacy groups viewing past Democratic national conventions as an occasion for organizing, let alone packing a solidarity-themed event full of people who were mostly in town for the convention. 
While Jewish Voice for Peace's nonprofit status precludes it from getting involved in electoral politics, it was clearly hoping to take advantage of the high concentration of progressive activists descending on the city to build on its cause. The day before the panel, it hosted a training session for DNC-related activism, and on Tuesday, it held another panel on the "power of boycotts and divestment as tools for social justice movements."
This year's DNC is different for groups like Jewish Voice for Peace, in no small part because of Sanders' candidacy, which brought more liberal voices into the Democratic Party and expanded the bounds of the debate in the process.
There is the official convention at Wells Fargo Center ― and then there is the people's convention all over the city.

Juan Gonzalez, Democracy Now!
Rania Khalek, an associate editor at Electronic Intifada who moderated Monday's panel, acknowledged that the Sanders campaign represented a watershed moment for the Palestinian rights movement. Khalek highlighted Sanders' willingness to challenge Clinton during an April debate in Brooklyn for being too one-sidedly pro-Israel, and said it was a sign the position is no longer the political taboo it once was.
But Khalek credited activists for pushing Sanders to be more vocal about the matter, noting that in the summer of 2014 he shouted down constituents at a town hall meeting who were badgering him to more vocally oppose Israel's war in Gaza. (Sanders said then, and continues to argue, that Israel acted disproportionately.)
Jeremy Siegman, a Philadelphia resident attending the event, shared Khalek's assessment that Sanders' campaign showed the possibilities for policy shifts.
"I don't think [Clinton] is really movable on Israel, but the people around her might be," Siegman said. "And I think the Democratic party is movable on Israel ― as evidenced by Bernie, as evidenced by [Reps.] Keith Ellison and Betty McCollum."
Blumenthal, Khalek and other dyed-in-the-wool proponents of the Palestinian cause are still not the norm in mainstream progressive circles. But they believe that American demographics are on their side. The percentage of Americans more sympathetic to the Palestinians than the Israelis is higher among younger American age groups, according to the latest Pew polling.
The increasingly illiberal behavior of the Israeli government, which includes cabinet ministers who do not even pretend to support Palestinian independence or human rights, can only help the BDS cause, Blumenthal suggested.
Sanders may not be the Democratic nominee now, the thinking goes, but it is only a matter of time before the party's standard bearer has a view of Palestinian rights that is closer to his than that of Clinton.
Until then, the panelists at Monday's event were content to stage a teach-in that they believe is every bit as subversive as the public protests taking place elsewhere through the city.
"There are two conventions going on here," said Juan Gonzalez, a co-host of "Democracy Now!" who was there to speak about Puerto Rico. "There is the official convention at Wells Fargo Center ― and then there is the people's convention all over the city."
Calling all HuffPost superfans!
Sign up for membership to become a founding member and help shape HuffPost's next chapter
BEFORE YOU GO