* U.N. watchdog examines Israel's record
* Says Palestinian children tortured, used as shields
* Israel questions motives of U.N. committee (Adds quotes from chair, new paras 6-8 and comment at end)
GENEVA, June 20 (Reuters) - A United Nations human rights body accused Israeli forces on Thursday of mistreating Palestinian children, including by torturing those in custody and using others as human shields.
Palestinian children in the Gaza Strip and the West Bank, captured by Israel in the 1967 war, are routinely denied registration of their birth and access to health care, decent schools and clean water, the U.N. Committee on the Rights of the Child said.
"Palestinian children arrested by (Israeli) military and police are systematically subject to degrading treatment, and often to acts of torture, are interrogated in Hebrew, a language they did not understand, and sign confessions in Hebrew in order to be released," it said in a report.
The Israeli Foreign Ministry said it had responded to a report by the U.N. children's agency UNICEF in March on ill-treatment of Palestinian minors and questioned whether the U.N. committee's investigation covered new ground.
"If someone simply wants to magnify their political bias and political bashing of Israel not based on a new report, on work on the ground, but simply recycling old stuff, there is no importance in that," spokesman Yigal Palmor said.
Kirsten Sandberg, a Norwegian expert who chairs the U.N. Committee on the Rights of the Child, said the report was based on facts, not on the political opinions of its members.
"We look at what violations of children's rights are going on within Israeli jurisdiction," she told Reuters.
She said Israel did not acknowledge that it had jurisdiction in the occupied territories, but the committee believed it does, meaning it has a responsibility to comply with the U.N. Convention on the Rights of the Child.
The report by its 18 independent experts acknowledged Israel's national security concerns and noted that children on both sides of the conflict continue to be killed and wounded, but that more casualties are Palestinian.
Most Palestinian children arrested are accused of throwing stones, which can carry a penalty of up to 20 years in prison, the committee said.
The watchdog examined Israel's record of compliance with the children's rights convention as part of its regular review of the pact from 1990 signed by 193 countries, including Israel. An Israeli delegation attended the session.
The U.N. committee regretted what it called Israel's persistent refusal to respond to requests for information on children in the Palestinian territories and occupied Syrian Golan Heights since the last review in 2002.

"Hundreds of Palestinian children have been killed and thousands injured over the reporting period as a result of (Israeli) military operations, especially in Gaza," the report said.
Israel battled a Palestinian uprising during part of the 10-year period examined by the committee.
It withdrew its troops and settlers from the Gaza Strip in 2005, but still blockades the Hamas-run enclave, from where Palestinian militants have sometimes fired rockets into Israel.
During the 10-year period, an estimated 7,000 Palestinian children aged 12 to 17, but some as young as nine, had been arrested, interrogated and detained, the U.N. report said.
Many are brought in leg chains and shackles before military courts, while youths are held in solitary confinement, sometimes for months, the report said.
It voiced deep concern at the "continuous use of Palestinian children as human shields and informants", saying 14 such cases had been reported between January 2010 and March 2013 alone.
Israeli soldiers had used Palestinian children to enter potentially dangerous buildings before them and to stand in front of military vehicles to deter stone-throwing, it said.
Almost all had remained unpunished or had received lenient sentences, according to the report.
Sandberg, asked about Israeli use of human shields, said: "It has been done more than they would recognise during the dialogue. They say if it happens it is sanctioned. We say it is not harsh enough." (Reporting by Stephanie Nebehay in Geneva and Allyn Fisher-Ilan in Jerusalem; editing by Alistair Lyon and Raissa Kasolowsky)

Support HuffPost
The Stakes Have Never Been Higher
Related
Before You Go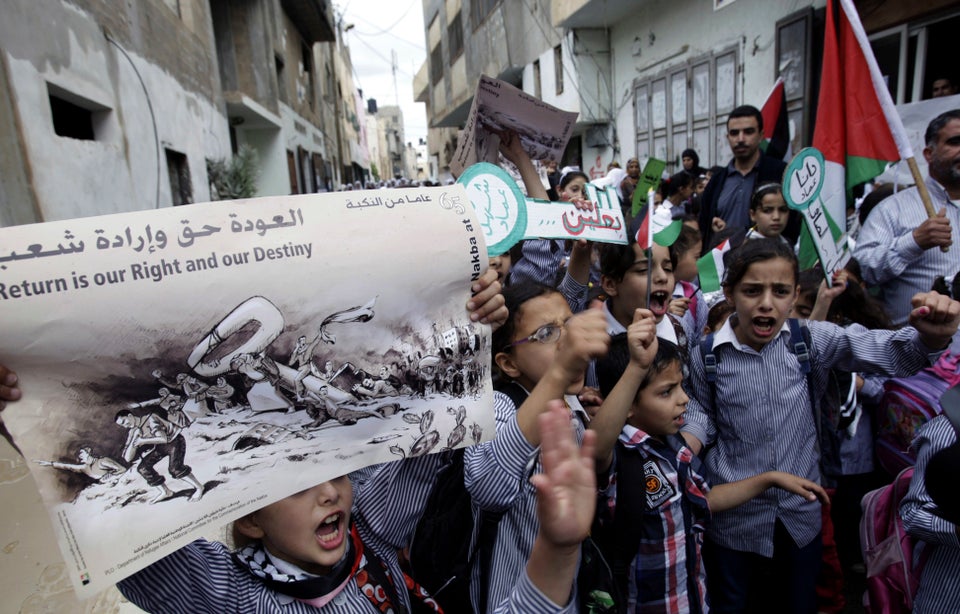 Palestinians Mark 65th Anniversary Of Displacement
Popular in the Community