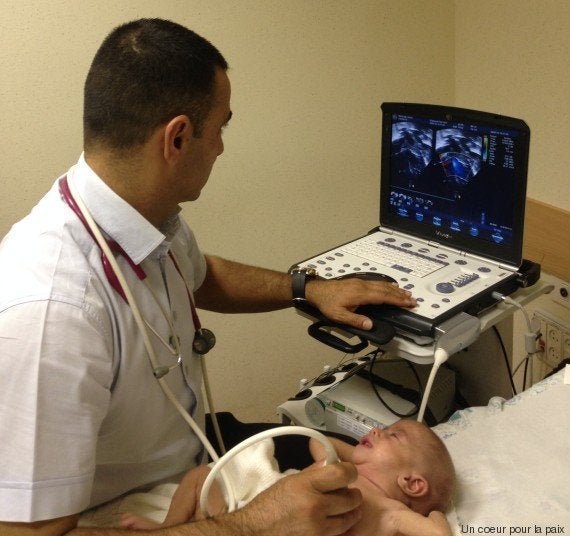 Dr. Ibrahim Abu Zahira doesn't like politics -- but, living where he lives, he can't really escape it. He is a Palestinian pediatric surgeon, born in the city of Hebron on the West Bank. He trained in Paris at Necker Hospital, which has a renowned heart surgery department. Today, he works at the Hadassah Medical Center in Jerusalem, alongside Israeli doctors and staff. He occupies this position thanks to the support of Professor Jean-Jacques Rein, an Israeli pediatric surgeon.
"Here, we don't do politics," Zahira told HuffPost France over Skype. "My family is happy to know that I work well with Israelis. They have never made unkind remarks. On the contrary. One of my brothers knows one of my colleagues quite well. And the environment at the hospital is very good."
"Even during tough moments, the conflict doesn't influence our medical decisions," he continued, "I treat Palestinian and Israeli children without seeing a difference. The hospital is like a family. As for myself, I only dream of freedom, this work offers me that. I am grateful to doctors who help me."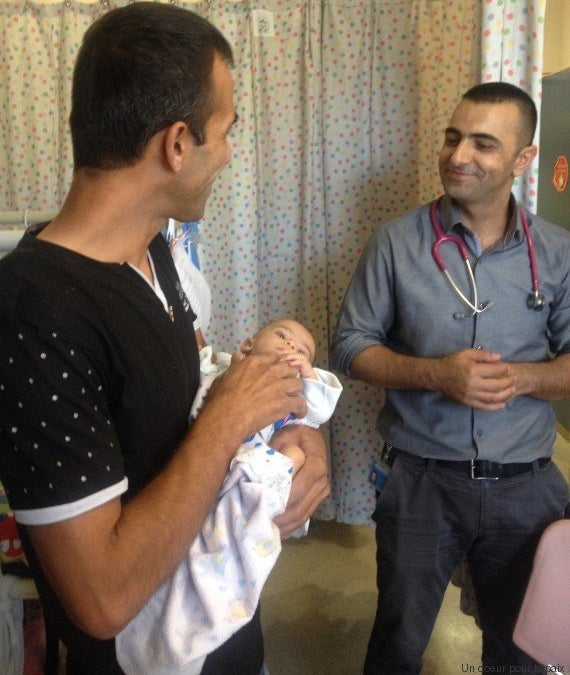 The filter of conflict which maims the region makes one forget that Palestinians and Israelis live and work together on a daily basis. Everyone is aware of the political tensions, and though Abu Zahira does not hide from them, he also says that there are strong bonds that form naturally between Israelis and Palestinians, since people live side by side.
The work he does is a testament to such bonds, especially at Hadassah Medical Center, where the doctors, regardless of their nationality, work together to save lives.
Zahira specializes in treating newborns suffering from congenital heart defects. During the Skype interview, he carried his laptop around the hospital to show HuffPost France a patient he had just operated on.
"This baby was born at the hospital in Hebron. The department head called me, as he found the baby to be very blue. After I made the diagnosis, I told him to begin the treatment right away, even before I had seen the baby," Zahira said. "When I was finally able to visit the baby, I diagnosed a congenital heart defect, and found a slot so that he could be operated on in Jerusalem. His family passed the checkpoint without a problem. I just finished his operation. He is 23 days-old. He is doing well."
Providing medical care to children with congenital heart diseases is embedded within the mission of Un Coeur Pour La Paix, or A Heart for Peace, the organization Zahira works with. While congenital heart defects are the most common birth defects in the world, affecting approximately eight in every 1000 births. Incidence of the disease is estimated to be even higher among Palestinian newborns -- a study conducted in 2010 concluded that roughly 10 in 1000 children born in the Gaza Strip that year suffered from heart defects. The higher rates have been attributed to marriage between couples who are closely related, such as first or second cousins, a practice which remains common in the Gaza Strip. 
The treatable disease is deadly in a region that lacks medical resources and counseling. By providing support and medical intervention when necessary, in the form of catheter procedures or surgery, A Heart for Peace aims to save lives. 
Zahira enjoys the unwavering support of the organization, which was established in 2005 to provide medical care to Palestinian children in need and build bridges between Palestinians and Israelis. Its founder, Dr. Muriel Haïm explains that "since the signing of the Oslo Accords in 1993, Israelis are no longer responsible, in the eyes of the law, for the health of Palestinians."
"Since then, the number of Palestinian children undergoing heart operations fell drastically, leading to death for the weakest,"Haïm continued. "The children can only be operated on in Israel, but the operations are costly -- between [$13,000 and $1500]."
So, the organization, co-founded by professor Jean-Jacques Rein, began to raise funds in 2005.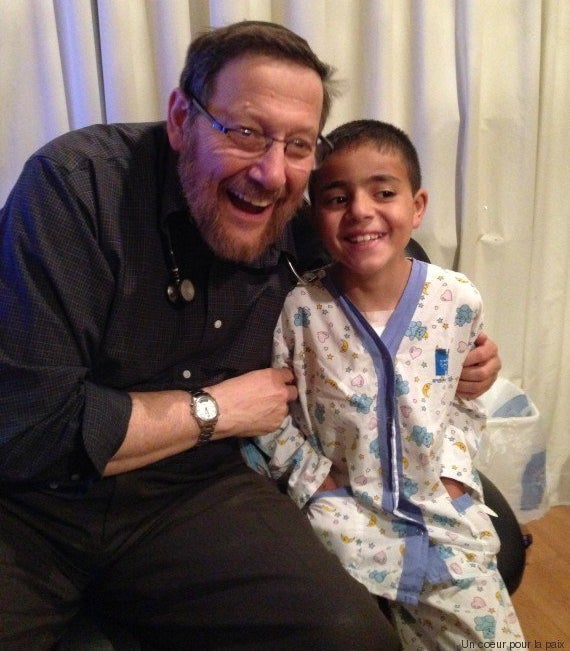 Since then, each week at least one Palestinian child is operated on at Hadassah. The survival rate of young postoperative patients is over 97 percent. And in most cases, a single operation is enough.
"Our organization quickly understood that it was necessary to transfer the knowledge," Haïm said. "In this spirit, a consultation at Ramallah was partially supported for three years. Today, it is self-sufficient. And we do the same with Dr. Abu Zahira at Hebron. The organization pays for three years of his rent, and provided him with an echocardiography machine."
To keep up this momentum, A Heart for Peace visited Paris in October in search of additional funding.
This post first appeared on HuffPost France. It has been translated into English and edited for clarity.